Just because people have purchased something — in the case of Obamacare, under penalty of law — doesn't mean they like it.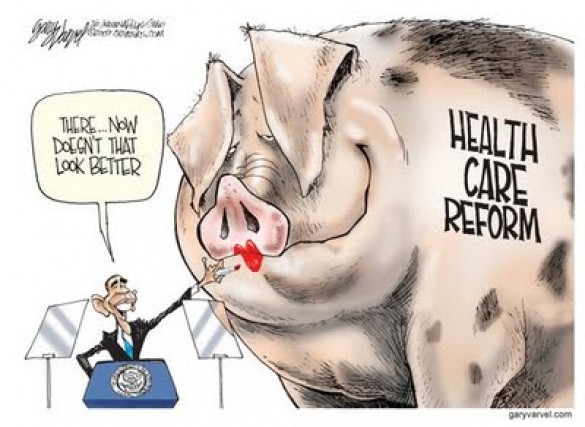 by Byron York
There's been a dramatic turnaround in some Democrats' thinking about Obamacare and the 2014 elections. Where lawmakers once sought to avoid blame for their national health care overhaul, they are now confident, energized and ready to rub the supposed success of Obamacare in their Republican opponents' faces.
At least that's how the party's most visible leaders would have it. President Obama, Nancy Pelosi and other top Democrats are urging candidates to run proudly on Obamacare. And in the cheerleading section of the press, Obamacare is not just a benefit for Democrats but a disaster for the GOP.
"The early plan for Republicans to run on the failure of Obamacare has collapsed underneath them," MSNBC's Chris Hayes said last week. "Now…they are slowly, gently, kind of sadly backing away from something that is working for millions of people."
Maybe that's just partisan bravado talking. But whatever the motive, such statements are simply not in line with the politics of Obamacare today. The fact is, Obamacare not only remains unpopular but also that its unpopularity may be changing — and not in a way that will benefit Democrats at the polls.
In the more than seven months since Obamacare's exchanges started up last year, public opinion has increasingly been shaped by voters' own experiences with the new law and less by their opinions about an abstract political policy debate. Millions of Americans have now had an opportunity to experience Obamacare, and if the polls are correct, more of them have had negative experiences than positive.
In a series of polls on Obamacare, the Kaiser Family Foundation has asked two simple questions that are particularly revealing about the new law's reach: "So far, would you say you and your family have personally benefited from the health reform law, or not?" and "So far would you say you and your family have been negatively affected by the health reform law, or not?"
The percentage of respondents who say they have benefited from Obamacare has inched up, from 14 percent last October, when the exchanges went online, to 18 percent in April. But the percentage of those who say they or their family have been negatively affected has also increased, from 23 percent last October to 30 percent in April.
Of those who say they have benefited from Obamacare, half — that is, half of the 18 percent — say the primary benefit has been to make health care more accessible. About a quarter — again, a quarter of that 18 percent — say the Affordable Care Act has made health care more affordable.
Of the 30 percent who say they have been negatively affected, a big majority says Obamacare has increased their health care costs and narrowed their health care choices.
A recent Pew Research Center poll found that 55 percent of those surveyed disapprove of Obamacare — matching the highest disapproval rating in Obamacare's troubled history. "The recent surge in signups for the new health care exchanges has had little impact on public opinion about the Affordable Care Act," Pew concluded.
The results suggest that Democrats, in their euphoria over the "8 million" sign-ups to Obamacare, made a mistake in concluding that signups equal approval. In truth, a significant number of those signing up for health coverage on the exchanges might be unhappy about losing coverage elsewhere, or unhappy about the (unsubsidized) price they are paying, or dissatisfied with the choices available under their new coverage.
"Can't assume the millions who've signed up for Obamacare are happy with it," the blogger Mickey Kaus tweeted recently. "Millions have signed up for Time-Warner Cable." With no offense to cable companies, Kaus had a point: Just because people have purchased something — in the case of Obamacare, under penalty of law — doesn't mean they like it.
In response, Obamacare's defenders always fall back to the position that polls show a majority of Americans do not favor repeal of the law. That is true, but not much comfort. A majority would almost certainly support gutting Obamacare — favoring, for example, doing away with the spectacularly unpopular individual mandate. The law's future, at least as currently structured, is not by any means secure.
There has always been a debate among Republicans, in public and behind the scenes, over how much to emphasize Obamacare in this fall's campaigning. There's no doubt the economy is still more important to voters. But Obamacare will likely remain a key issue this November — and an unhappy one for Democrats.
.     .     .     .     .     .     .     .     .     .     .     .     .     .     .     .
Byron York is chief political correspondent for The Washington Examiner.