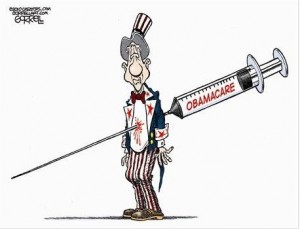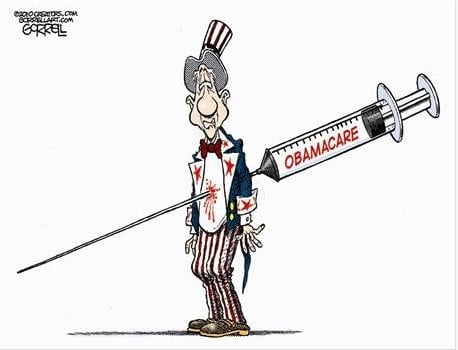 by Peter Roff
Rather than devote all possible resources to the implementation of the new health care law, which even some prominent Democrats agree is going off the tracks, the Obama administration is spending time and money on a propaganda campaign intended to convince people they like Obamacare.
It is, to be sure, an odd strategy, but they don't call Washington "Disneyland on the Potomac" for nothing.
Getting people to comply with the new law was supposed to be a simple matter. That's why the authors put in an "individual mandate" that requires people to purchase health insurance of one kind or another or pay a penalty – which the United States Supreme Court decided was constitutional because it was the same thing as a tax. It's an easy choice: Either buy insurance or pay the government.
For some reason the Obama administration thinks that's not enough of an incentive to induce compliance. Perhaps the polls that repeatedly show the more the public learns about the new law the more they hate it has the White House convinced of the need for a public relations campaign that persuades people Obamacare is a good thing. U.S. Secretary of Health and Human Services Kathleen Sebelius certainly thinks enough of the idea that she was apparently willing to call insurance companies, whose business practices her department is in a position to influence, to ask them to donate to a special fund that would be used to pay for the campaign. More on that after Congress is done looking into whether it was legal for her to do so.
It's not just that the administration is spending money on "PR" that could be used to fund mammograms or early childhood health centers or diabetes education programs for the elderly; it's that they feel the need to mount a campaign at all. The whole thing is reminiscent of the scene in the movie "Dave," where the president asks the secretary of commerce to explain why the U.S. government needs to spend millions of dollars to convince people to be happy with a car they've already bought while they're cutting money for homeless shelters. It's that they are spending money on it at all, including $30,000 in prizes for a national contest seeking videos that will appeal to the "YouTube generation."
"We're encouraging folks to create a song, or a graphic, or a video about the law's benefits," Sebelius said. "Like staying on their parent's plan until they're 26, not being denied coverage because of a pre-existing health condition."
One group that has risen to the challenge Sebelius laid down is Crossroads GPS. The normally center-right organization has entered the contest with video of its own designed to tell younger folks the truth about what Obamacare means to them. (The video is shown below.)
"We're in it to win it," said Crossroads GPS president and CEO Steven Law. "There is an ugly side to this law, and we expect the government to communicate those less savory aspects of the law to young people just as they are hyping some of the benefits. We hope every young person will watch this video – and vote for it."
These videos may be an interesting way to pitch the new law to America but, with nearly half the statutory deadlines for its implementation missed, according to the Congressional Research Service, the public is going to need more than a series of 60 second spots to feel confident that their healthcare will not be adversely affected by Obamacare.
THE CROSSROADS GPS VIDEO:  PROPAGANDA
[youtube http://www.youtube.com/watch?v=hfP6LmJiSec]
.     .     .     .     .     .     .     .     .     .     .     .     .     .     .     .
Peter Roff is a contributing editor at U.S. News & World Report, where this article originally appeared. Formerly a senior political writer for United Press International, he's now affiliated with several public policy organizations including Frontiers of Freedom and Let Freedom Ring.