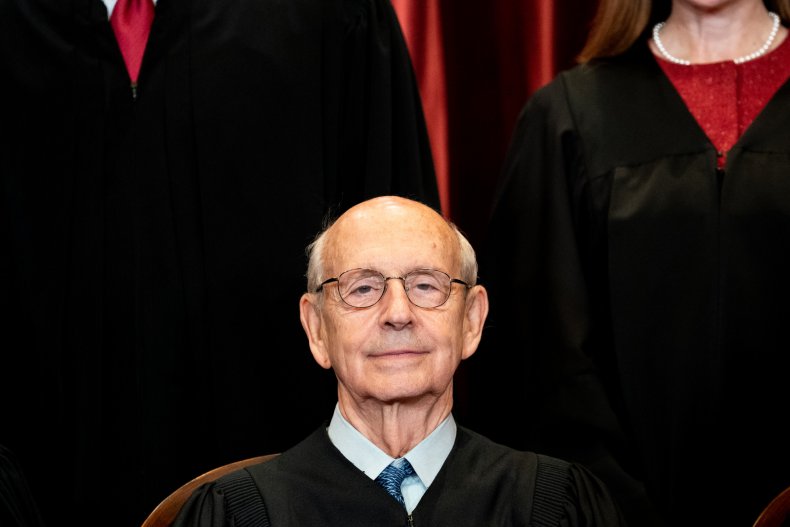 In a ghoulish turn of events, progressive legal activists are invoking Justice Ruth Bader Ginsburg's legacy in an attempt to persuade Justice Stephen Breyer to step down from the United States Supreme Court.
Speaking to CBS News about the 82-year-old Breyer, Demand Justice's Brian Fallon said, "We want to avoid a repeat of the unfortunate situation that occurred last fall," when Ginsburg—a liberal icon—died while a Republican was in the White House and a GOP-controlled Senate was able to confirm her replacement.
Justices are appointed to the Supreme Court for terms ending only upon their death, resignation or removal. The Founding Fathers wrote this provision into the Constitution to insulate the Court and its members from political pressure.
Ginsburg's death after a long, valiant struggle with cancer produced a rare moment of bipartisanship in the nation's capital. Republicans and Democrats alike praised the justice for her devotion to her work, her tremendous success as an attorney who championed equality under the law and her longtime friendship with the late Justice Antonin Scalia, which proved that people with wildly divergent views could work together and be genuine friends.
That era of good feeling shattered shortly after President Joe Biden entered the White House. Progressives immediately started whispering about Breyer, a stalwart defender of the Court's independence, needing to step down.
"There are a lot of people that were filled with regret after [Ginsburg's] passing because she did not take the opportunity to step down when Barack Obama was president," Fallon said on CBS News. He faulted Ginsburg for refusing to resign after the severity of her eventually terminal illness became known, which would have allowed the then-president to replace her with someone even further to the left. "We don't want to have that situation reprise itself this time with Justice Breyer who is—the Court's oldest justice," Fallon told the CBS anchor.
As the Court has moved rightward, it has come under increased scrutiny from liberals and progressives who once accepted its decisions as binding and unassailable, at least when they liked the outcome. Nowadays, those progressives are enthralled with the idea that Congress can overturn rulings they consider incorrect, such as Citizens United v. FEC.
Rhode Island Democrat Sheldon Whitehouse has been especially hard on the justices. Recently he attempted to use his Senate subcommittee to demonstrate the influence of the "dark money" Citizens United set loose. He demanded that justices share their time and travel records so their critics could uncover any unsavory relationships between them and what Teddy Roosevelt called the "malefactors of great wealth."
There's an argument to be made that Supreme Court justices stricken with severe illnesses should step down. The Court faced a crisis after Justice William O. Douglass suffered a debilitating stroke and refused to resign even though his colleagues said he could no longer fulfill his duties. Breyer, by contrast, seems to be in the best of health and does not show signs of impairment or loss of enthusiasm for the job. He has no apparent reason to retire unless he himself has decided it's time.
What progressives are doing now is unseemly and ugly. Were the shoe on the other foot, they might call it ageist and discriminatory. Some will, no doubt, suggest that conservatives would do the same. But liberals tend to advance their agenda and their candidates for elected office and the federal bench by saying they are better. They themselves ask to be held to higher standards.
The jockeying over federal judges didn't begin with Trump. It started back in the 1980s when Ted Kennedy waded into the slime and ooze on a mission to destroy Robert Bork's reputation along with his nomination to the highest Court in the land. Judging by what progressives are now saying about Justice Breyer, they're still stuck in the muck.