The Clinton-McCarthy spat is a shame. Trey Gowdy has led a model search for the truth.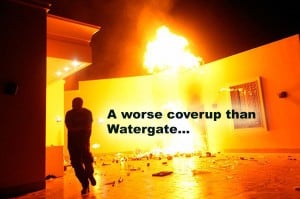 by Kimberley A. Strassel     •     Wall Street Journal
Kevin McCarthy unexpectedly withdrew from the House speaker's race on Thursday, a casualty of a fractured Republican conference. The Californian didn't do much to inspire confidence last week when he suggested that the House Benghazi committee had been designed to attack Hillary Clinton.
One pity of the McCarthy comments is that they tainted the committee's work with politics. The bigger pity is that they are dead wrong. South Carolina Republican Trey Gowdy is 18 months into the committee that the House purpose-built to investigate the 2012 terrorist assault in Libya that killed four Americans, including U.S. Ambassador Chris Stevens. His Benghazi investigation has been a model of seriousness, professionalism and discreetness.
The statistics alone bear this out. The committee has so far reviewed 50,000 new pages of documents. Less than 5% have anything to do with Mrs. Clinton's work as secretary of state. It has interviewed 51 witnesses. Forty-one of those were brand-new—no committee had bothered to speak with them before, though seven were eyewitnesses to the attack.
Not that you will have seen any of this testimony. Congress generally loves public hearings—members relish parading in front of cameras, grilling and humiliating witnesses. But Mr. Gowdy, a former prosecutor, is more interested in getting information. All 51 of the committee's interviews have been done in private, attended by committee members or staff from both parties. In a public hearing, the majority Republicans get more time than Democrats to speak. In private interviews, time is divided equally. Mr. Gowdy is fine with that.
If Republican Rep. Darrell Issa were running this committee, is there any doubt that he would have put Clinton fixer Sidney Blumenthal in the public hot seat? Mr. Gowdy's committee interviewed him privately. When Mr. Blumenthal's lawyer said he would be out of the country on the proposed interview date, Mr. Gowdy rescheduled; he wanted the Democratic operative to have competent counsel. Former Clinton chief of staff Cheryl Mills's private interview concluded with the remarkable sight of her, Mr. Gowdy and ranking Democrat Elijah Cummings together at a post-interview press availability, where she thanked the committee for its "professionalism" and "respect."
The House Select Committee on Benghazi has held three public hearings. Mr. Gowdy allowed Democratic members to choose the first two topics. They predictably focused on the work of the State Department's Benghazi Accountability Review Board, which they like to claim has already settled what happened in Libya. Mr. Gowdy nonetheless committed to thorough hearings. When Washington Democrat Adam Smith looked likely to miss a hearing because of hip surgery, Mr. Gowdy set up a Skype connection so that he could ask his questions. Mr. Gowdy made the same offer to Illinois's Tammy Duckworth, who'd just had a child. When she politely declined, he allotted her question time to Mr. Cummings—a fair-play move rarely seen in D.C.
Washington lawmakers love their powers, and Mr. Gowdy has plenty. He has exercised them prudently. The Benghazi committee has issued only threes subpoenas. One to Mr. Blumenthal, whom the committee had trouble tracking down. One to the State Department for a specific batch of emails. And one to Mrs. Clinton, when the news first broke that she had maintained a private server for her email. When Mrs. Clinton later claimed that she was not under subpoena, Mr. Gowdy didn't complain, he simply released the subpoena to set the record straight. He has declined to answer questions about whether he thinks she has committed any crimes.
Mr. Gowdy hasn't needed to use subpoenas because agencies are willingly giving him documents. He has obtained materials from the CIA and Defense Department that those agencies refused to give to other committees. The White House has also agreed to give him material. Mr. Gowdy inspires confidence that, unlike most congressional committees, his group isn't going to leak information to sabotage political targets.
That's because Mr. Gowdy handpicked a staff of 16 professionals, many recruited from law-enforcement and legal backgrounds, headed up by retired Lt. Gen. Dana Chipman, who was an Obama-appointed Army judge advocate general. Mr. Gowdy told every hire on day one that leaking was a firing offense.
Keeping the Benghazi committee on the straight and narrow hasn't been fun. Democrats work with Mr. Gowdy in private but then berate his committee in public. Conservative activists and talk-radio hosts blast him for depriving them of the drama they crave—for not running a get-Hillary committee. The State Department blocks him. And now his own side has made his job that much harder.
Don't expect Mr. Gowdy to give up. He has run his committee with one goal in mind: finding answers for the families of four dead Americans. Mrs. Clinton flatters herself if she thinks it's all about her.