Representatives Alexandria Ocasio-Cortez (D., N.Y.) and Rashida Tlaib (D., Mich.) rushed to defend fellow left-wing Democrats after a colleague blamed their socialist messaging for her near loss in Tuesday's election.
In a chaotic call with other House Democrats Thursday, Virginia congresswoman Abigail Spanberger, who eked out reelection by less than 5,000 votes, blamed left-leaning Democrats' push to defund the police and defense of socialism for the closeness of the win.
While Spanberger insisted that Democrats should never again utter the word "socialism," though, Ocasio-Cortez and Tlaib, two leftists known for squabblingwith more moderate members of their party, aren't backing down.
Ocasio-Cortez tweeted Friday that she hasn't seen "any compelling evidence" that her progressive push let Republicans flip 10 House seats on Tuesday. Instead, she blamed Democrats' failure to widen their House majority on poor digital messaging.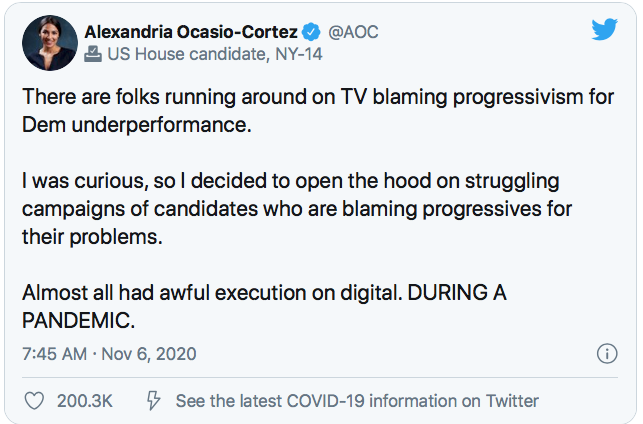 The Bronx native then claimed that every Democratic representative who had backed her progressive environmental and health care measures won reelection.
In reality, two Democrats who cosigned the Green New Deal, Florida representative Debbie Mucarsel-Powell and New York representative Thomas Suozzi, fell to Republican challengers.
After the call, Tlaib declared that she wouldn't change her messaging.
"Look, I want to feed the poor," Tlaib said Thursday on The Mehdi Hasan Show. "I want to make sure that we are not picking corporations over people. I want to make sure that we have equity in education funding in our school systems… Nothing's going to change."
The Democratic Congressional Campaign Committee, whose purpose is to secure congressional victories for Democrats, hosted the post-election phone call. Tensions ran high over Republicans' upset victories and the forecasted blue wave that "never materialized."
While Spanberger managed to cling to her seat, 10 other House Democrats lost their reelection bids Tuesday, preventing the party from expanding its majority. Despite polling numbers that forecast Democrats taking the majority in the Senate, they have failed to do so there as well.