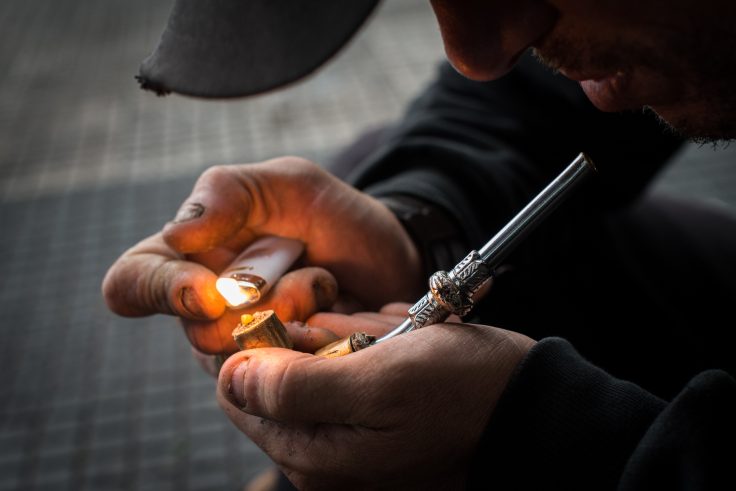 The Biden administration last week was forced to vehemently deny it will fund the distribution of crack pipes, after the Washington Free Beacon's reporting uncovered plans for "safe smoking kits" included in a $30 million "harm reduction" grant. The denial surprised not only administration officials—who still seem unsure if they were ever going to distribute pipes—but also some advocates, who claimed the administration was letting "clickbait" and "racism" drive policy.
A bigger question has been lost in the dispute over the administration's plan: Why did anyone think handing out government-funded crack pipes was a good idea in the first place? Why would HHS be funding "safe smoking kits" which, even if they don't contain "stems," do include other paraphernalia that facilitate the use of crack cocaine, meth, heroin, and other drugs?
Such methods are just one example of "harm reduction," an approach to drug policy that has attracted attention in some big, blue cities; the "unprecedented" harm-reduction grant program is one of several signs that federal policymakers are similarly interested. Amid a historic wave of drug overdose deaths, it's little surprise that policymakers are considering unorthodox ideas. But while some harm reduction ideas have merit, the label is often a cover for radical proposals backed by the shoddiest evidence, proposals that could do real harm.
In principle, "harm reduction" refers to practices that mitigate the harms of drug use without reducing use itself. Such approaches need not be controversial. HHS's grant outline, for example, mentions funding disease-testing kits to help people who use drugs be informed about their HIV or hepatitis C status, and therefore hopefully reduce transmission. In the broader context of drug policy, harm reduction can operate alongside enforcement, treatment, and education to minimize the harms of illegal drugs.
But the term can also include policies pushed by more activist-minded "harm reductionists" who are concerned not just with particular policies, but with a wholesale critique of (their understanding of) American drug policy.
These activists tend to view the "drug war" and drug criminalization as more harmful than drug use. They argue that overdose deaths are driven by an "unsafe" supply of drugs, which is itself (they claim) a product of criminalization. Some—including Columbia University professor Carl Hart—insist that most drug use is not problematic, and that most problematic use is a product of social "stigma" rather than the intrinsically dangerous characteristics of drugs.
The distribution of "safe smoking kits" including "glass stems" is typical of the harm reductionist approach. As the Drug Policy Alliance, a major harm reduction group, describes it, such policies are meant to "meet people where they are at, and keep people free of diseases and alive so they have a chance of recovery and healing." The group claims that distributing safe smoking kits is an "evidence-based" practice, rhetoric often deployed by harm reductionists to paint political opponents as "anti-science."
In reality, the evidence on which safe smoking kits are based is paper-thin.
One common argument for crack-pipe distribution is that it reduces hepatitis C and HIV infection among users, by reducing pipe sharing and therefore hypothetical contact between drug users' cut lips. This was HHS's stated justification for funding safe smoking kits, for example.
But the evidence that pipe sharing is actually a disease risk is weak, relying on surveys of drug users that correlate sharing with infection while doing little to account for confounding variables. Notably, the Centers for Disease Control and Prevention does not seem to accept the "pipe spread" theory, counting needle sharing as a risk factor for HIV and hepatitis C, but not pipe sharing. One study claims to find an effect of Vancouver's pipe distribution on users' self-reported health, but there appears to be no actual trend in the data. Some evidence suggests that pipe sharing persists even when pipes are distributed, possibly because sharing is done as a social activity as much as out of necessity
A better-supported argument for distributing pipes is that users may switch from injecting to smoking, which can in turn reduce disease and other risks. The measured effects are not huge, though: One year after a safe smoking program was rolled out in Ottawa, 56 percent of users reported injecting at the same rate, while only 29 percent said they had started smoking more. Further, it's hard to square that evidence with the harm reduction commitment to also distributing syringes, something HHS will also fund.
The standard argument against the distribution of drug paraphernalia, and indeed many harm-reduction interventions, is "moral hazard," the idea that if policy reduces the risks of a harmful practice, people will be more likely to engage in that practice. Even if pipe distribution reduces the average user's risk of infection per use, for example, it might also lead him to smoke more, increasing the total number of infections overall.
Harm reductionists often dismiss "moral hazard" as a non-issue, but it can show up in even seemingly benign policies. Studies have found that expanding needle exchange programs may lead to an increase in opioid deaths, and that laws which make it easier to access the overdose-reversing drug naloxone in turn cause an increase in opioid-related ER visits, and no reduction in opioid-related deaths. The latter study, by economists Jennifer Doleac and Anita Mukherjee, attracted fierce criticism from harm reductionists when it debuted—criticism that was often more personal than "evidence-based."
The aforementioned examples do not mean, of course, that pipe distribution necessarily increases drug use or OD deaths. But the evidence is not there to say that distribution works, either. That makes it alarming that states and localities have accepted it as standard practice, or that the Biden administration will fund safe smoking kits—in whatever form—without better research into their effects.
Indeed, policymakers are increasingly accepting harm reductionists' favorite policies absent evidence against the risk of moral hazard. Major U.S. cities have recently opened so-called safe consumption sites, facilities where people can consume drugs under the supervision of medical staff with access to overdose-reversing medication. The evidence to support their efficacy is similarly weak; some sites saw increases in deaths and drug use in their immediate vicinity.
Nevertheless, the Biden Department of Justice indicated earlier this month that it was "evaluating" such sites "as part of an overall approach to harm reduction and public safety." That would be a reversal of the Trump administration's enforcement of the federal ban on drug consumption spaces, and another sign of sympathy for harm reduction from the White House.
Such a policy shift would be uncharted territory, at least for the United States. With drug overdose deaths pushing 100,000 a year, the experiment might be worth it. But it will more than likely cost more lives than it saves, a risk to which progressive leaders seem plainly blind.