by Pete Hegseth     •     RealClearPolitics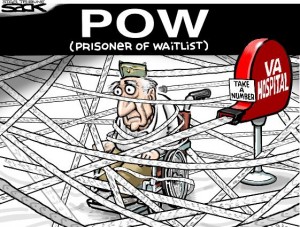 We now know without a doubt what it means when a scandal-ridden government agency pledges accountability for corrupt and underperforming employees: It's an empty promise.
That's the conclusion we can draw from the minuscule number of employees fired from the U.S. Department of Veterans Affairs (VA) a year after a nationwide patient scheduling scandal was exposed.
The question now is, what will it take to get the VA and the Obama administration to take their responsibilities to veterans seriously?
After VA officials falsified wait-list records to make it appear patients were receiving care on a timely basis, thereby delaying and denying care to ailing veterans, the number of employees fired for performance one year later is "at most, three," according to an April 22 report in The New York Times.
Based on documents provided by the VA to the House Committee on Veterans Affairs, "the department punished a total of eight of its 280,000 employees for involvement in the scandal," the Times reports. "One was fired, one retired in lieu of termination, one's termination is pending and five were reprimanded or suspended for up to two months."
When Congress responded to the scandal last summer by passing a sweeping reform bill, the VA Access, Choice and Accountability Act, it was promised that VA officials would be held accountable for the serial failures and ethical lapses.
In signing that bill into law, President Obama made it clear that poor performance and corruption would not be tolerated: "If you engage in an unethical practice, if you cover up a serious problem, you should be fired. Period," the president declared. "It shouldn't be that difficult."
But as is too often the case with the president's grand pronouncements, there is a massive gulf between the promise and the execution. While the VA claims that "more than 100 other employees were facing disciplinary action," very few are likely to be fired.
Many will simply be transferred to new positions (a favorite bureaucratic tactic for "solving" personnel problems); some will retire early, with full benefits; others will spend months on paid leave while they appeal their cases.
"It shouldn't be that difficult" to fire problematic employees, as the president emphasized—and yet it is.
Which is why we must continue pushing to make it less difficult to remove those who deserve to be fired. Rep. Jeff Miller, the Florida Republican who chairs the House VA Committee and who has been a tireless champion for reforming the department, has proposed legislation to make it easier to fire corrupt or incompetent employees for cause. The law signed last summer applied this level of accountability to senior VA executives—Miller's proposal would extend that firing authority to all VA employees.
Key to Miller's proposal (H.R. 1994) is a tightening of the appeals window. Terminated employees would have the right to file an appeal with the Merit Systems Protection Board within seven days, with the final decision within 45 days—all in an unpaid status. This would expedite removals, and keep corrupt and incompetent employees from milking the system for lengthy periods of paid leave while they await their appeals.
Miller's bill would also lengthen probationary periods for new VA workers to 18 months, rather than one year, and includes special protections for whistleblowers (who have been shamelessly targeted and harassed by vengeful VA superiors for their efforts to expose wrongdoing at the department).
Like clockwork, government employee unions are apoplectic. "Everyone deserves their day in court," they claim. We of course agree, but failed employees should not get months—and in some cases years—of paid administrative leave in the process. The needs of the veteran and the taxpayer must come before the bureaucracy – and yes, even the before the union.
The strength of Miller's bill rests not only in its tough approach to employee accountability. It's also a clear signal to the VA bureaucracy that Congress, veterans and taxpayers are paying close attention, and will not tolerate further inaction. Miller's bill sends a message that if the VA bureaucracy thinks they can simply "wait it out" and then return to the status quo, they're in for a rude awakening.
After the wait-list scandal was exposed last year, a White House report concluded that "corrosive culture has led to personnel problems across the department that are seriously impacting morale and, by extension, the timeliness of health care."
A year later, next to nothing has been done to begin the process of reshaping that toxic dynamic. Changing a corrosive culture requires changing the personnel who have created, sustained, and continue to cover up for that culture.
Of course, simply firing problematic employees won't fix everything that's wrong—but it's a critical first step to changing the department's dysfunctional culture and restoring service to veterans at the heart of the VA's mission. As President Obama rightly said, "It shouldn't be that difficult." This time, veterans are going to fight to ensure his deeds match his words.
Pete Hegseth is the CEO of Concerned Veterans for America and a Fox News Contributor. As an Army infantry veteran, Pete served tours in Afghanistan, Iraq, and Guantanamo Bay.