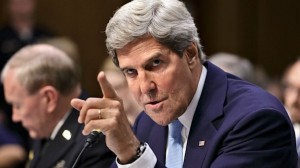 by Gordon S. Jones
He may not.
But if he doesn't it will most likely be because there is no vote. Getting a resolution authorizing military action on Syria through the Senate is no sure thing, and if the Senate defeats it, why should the House even take it up?
But if the resolution makes it through the Senate, I predict it will fail in the House, because it can't get enough Republican votes. (It may not be able to get enough Democrat votes either, but that is a different problem.)
Republicans won't vote it down out of love for Syrian Dictator Bashar Al-Assad.
They won't vote it down out of indifference to the barbarous use of chemical weapons and concern about their proliferation.
They won't vote it down out of indifference to the suffering of ordinary Syrians.
They won't vote it down because they are worried that the fall of Assad will advance the fortunes of Al Qaida (or however we are spelling it this week).
They won't vote it down because they don't want to offend Iran. Or Russia. Or the United Nations. Or the Muslim Brotherhood. Or the British House of Commons. Or [fill in the blank with your own choice of international do-gooder] _______________.
(Offending all these worthies is actually a strong reason for most Republican members of the House to support the resolution.)
A resolution that targeted Assad for regime change, that targeted the Syrian government's military capacity (particularly its air force), that directed humanitarian and military aid to the least religiously radical of the Opposition forces, that expressly said that the United States was acting in its own interests, and didn't give a red rat's rufous rump for the U.N., or any other organ of "world opinion," that kind of resolution would command a majority of House Republicans. And, I might add, a majority of U.S. citizens and voters.
But even then, I suspect that a majority of Republicans would vote NO, and for one simple reason: they have no confidence that this president would even understand such a resolution, let alone have the will and skill to carry it out.
"For if the trumpet give an uncertain sound, who shall prepare himself to the battle?"
If there was ever a presidential trumpet giving forth an uncertain sound, it is this one. Syria puts a capstone on five years of the most feckless foreign policy ever inflicted by an American president on the world. Such incompetence cannot be accidental; it must be consciously designed to degrade theUnited States in the eyes of the world, and in its own eyes.
And exactly why would House Republicans follow that into battle?
They won't.
.     .     .     .     .     .     .     .     .     .     .     .     .     .     .
Gordon S. Jones is a senior fellow at Frontiers of Freedom.  Jones is also an adjunct professor at Utah Valley University and Salt Lake Community College. Jones has extensive experience in Congress, in public policy, and elective politics.