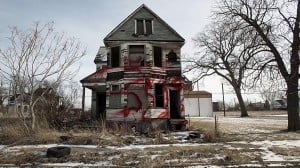 by Kerri Toloczko
House flipping is trendy for American real estate investors, and a spectator sport for those addicted to shows like "Flip This House."
Although Detroit 's extreme fiscal and social problems cannot be fixed by replacing the siding on City Hall, the fundamental flipping formula of asset management, structural changes and attracting investors should be considered by city leaders serious about returning Detroit to a livable community.
It took more than 40 years of decline for Detroit to hit rock bottom, and it may take that long to fix it. But its historic bankruptcy must be reversed as its effects are reverberating throughout the economy.
The state of Michigan and, to a lesser degree, the federal government will have to provide financial support to the city at a time when working Americans are already taxed to the max.

Everyone should be worried.
Detroit is $18.5 billion in debt with an operating deficit of $390 million and cannot raise enough money today to pay the day's expenses. Despite losing more than half its population since 1960, its union-controlled city bureaucracy remains its largest employer and still has not shrunk in accordance with the loss of its people and tax base.
The official 16.3% unemployment rate in Detroit is a government data smokescreen. Incredibly, there are more labor-eligible people in Detroit not looking for work than there are Detroiters employed.
Sell The Museum
The municipal bond market, key to the fiscal health of cities and towns nationwide, has been down since Detroit's bankruptcy was announced in July. Michigan bond sales are at their lowest levels in 10 years.
Michigan Gov. Rick Snyder's wobbly stance on whether the state would direct Detroit to honor the preferential status historically provided to general obligation municipal bonds — $530 million in this case — has given the bond market and American mayors a serious case of financial jitters.
Like any other bankrupt entity, Detroit must painfully look to all assets to satisfy its debts. Privatization and divestiture are not only moral and financial obligations, but the only option for short-term, quick cash flow.
Selling or privatizing assets does not mean they go away. The key for Detroit is turning appropriations into revenue sources — using all available options.
Individual, philanthropic and corporate collectors often purchase treasures and put them on exhibit in their original venues, and the Detroit Institute of Arts and Detroit Historical Museum are bulging with assets — art, classic cars and historical memorabilia.
Experts value the combined collections between $2 billion and $4 billion. Selling these assets would cover most of Detroit's current $3.5 billion in unfunded pension liabilities for its retired public-sector union members.
Belle Isle Park is an unclaimed jewel of financial resources. Currently, the 985-acre park on the Detroit River is a drain on the city's budget. It already has four marinas and two golf courses and is screaming for revitalization.
It could be sold to developers looking to create a new world of hotels, restaurants, stores, theaters, offices, condos — and jobs.
Offering it as an enterprise zone free of the taxation (Detroit has the highest property tax rates in the country), union demands (Michigan is now a right-to-work state) and outrageous regulations that previously have squashed small-business development would bring hundreds of millions into city coffers right away and flip it from expenditure to revenue source.
In any effort to sell assets both for immediate profit and future tax revenue, Detroit also has an unusual ally — its churches.
Detroit's Greater Grace Temple operates a historic golf course it bought from the city in 2007.
Formerly a municipal money pit, the Rogell Course is now a privatized profitable venture.
Forget The Box
A foundation affiliated with the Hartford Baptist Church purchased at bargain prices distressed land that it leases to Home Depot and several fast-food chains.
Another local church used its nonprofit development arm to train entrepreneurs and invest in office space and a senior citizen complex. Several churches have for-profit management companies that turned abandoned property into retail stores and apartment homes.
Churches are uniquely positioned to attract and partner with investors, revitalize neighborhoods, and create jobs and social stability.
In Detroit, only 9% of households with minor children are headed by married adults, and 70% of births are to single mothers. It has the highest rate of poverty and violent crime of any U.S city over 200,000 people.
Not only could Detroit churches serve as perfect intermediaries for individual developers, philanthropies and corporate investors, but they are the best hope for curing debilitating social problems that have contributed heavily to the city's extraordinary decline.
It's time for Detroit to not just look outside the box, but to challenge the box's existence.
Only creative thinking during this time of difficult rebuilding can flip the old, decayed Motor City into a new and exciting identity uniquely its own.
.     .     .     .     .     .     .     .     .     .     .     .     .     .     .     .     .     .     .     .
Kerri Toloczko is a senior fellow at Frontiers of Freedom, a public policy institute dedicated to promoting individual freedom, limited government and free enterprise. This article was also published in the Investors Business Daily.