Crack pipes are distributed in safe-smoking kits up and down the East Coast, raising questions about the Biden administration's assertion that its multimillion-dollar harm reduction grant program wouldn't funnel taxpayer dollars to drug paraphernalia.
The findings are the result of Washington Free Beacon visits to five harm-reduction organizations and calls to over two dozen more. In fact, every organization we visited—facilities in Boston, New York City, Washington, D.C., Baltimore, and Richmond, Va.—included crack pipes in the kits.
The kits became the subject of national attention in the wake of a Free Beacon report in February indicating that a $30 million harm-reduction program was set to fund the distribution of free crack pipes in "safe-smoking kits." Pressed on the matter in a Feb. 9 press briefing, White House press secretary Jen Psaki issued a full-throated denial.
"They were never a part of the kit, it was inaccurate reporting," Psaki said of the pipes. "A safe smoking kit may contain alcohol swabs, lip balm, other materials to promote hygiene and reduce the transmission of diseases."
While the contents of safe-smoking kits vary from one organization to another—and while those from some organizations may not contain crack pipes—all of the organizations we visited made crack pipes as well as paraphernalia for the use of heroin, cocaine, and crystal methamphetamine readily available without requiring or offering rehabilitation services, suggesting that pipes are included in many if not most of the kits distributed across the country. All of the centers we visited are run by health-focused nonprofits and government agencies—the types of groups eligible to receive funding, starting this month, from the Biden administration's $30 million grant program.
None of the organizations responded to inquiries about whether they applied for government grants. It is not clear which organizations will receive those grants, nor has the administration said how it will ensure the kits will not contain crack pipes. The Department of Health and Human Services, which will oversee the Biden grant program, declined to provide a list of groups that have applied for funding, citing "confidentiality." The Biden administration is set to announce grant recipients on May 15.
The Free Beacon's findings contradict claims from a raft of fact-checkers who, based on the White House's ex-post-facto denial, deemed the Free Beacon's reporting false.
A USA Today headline asking, "What's inside a safe smoking kit?" answered: "No, it's not a crack pipe." The outlet based its fact-check solely on the administration's denial and does not appear to have done any additional research on safe smoking kits. The author, Michelle Shen, did not respond to a request for comment.
A survey of more than two dozen harm reduction organizations found that not all harm reduction organizations distribute safe smoking kits, but those that do almost always provide crack pipes. The few that don't include crack pipes in their kits say they are willing to, but unable to.
At Washington, D.C.'s Family and Medical Counseling Service, Inc., for example, a member of the group's needle exchange team told the Free Beacon that the organization would love to offer crack pipes as part of its safe smoking kit but hasn't been able to purchase them.
"I would if I knew how," said Tyrone Pinkney, who distributes clean needles from a recreational vehicle and said he did not know where to buy crack pipes to include in the kits.
Pinkney, however, appears to be an exception. Here is what the Free Beacon found in each city.
Baltimore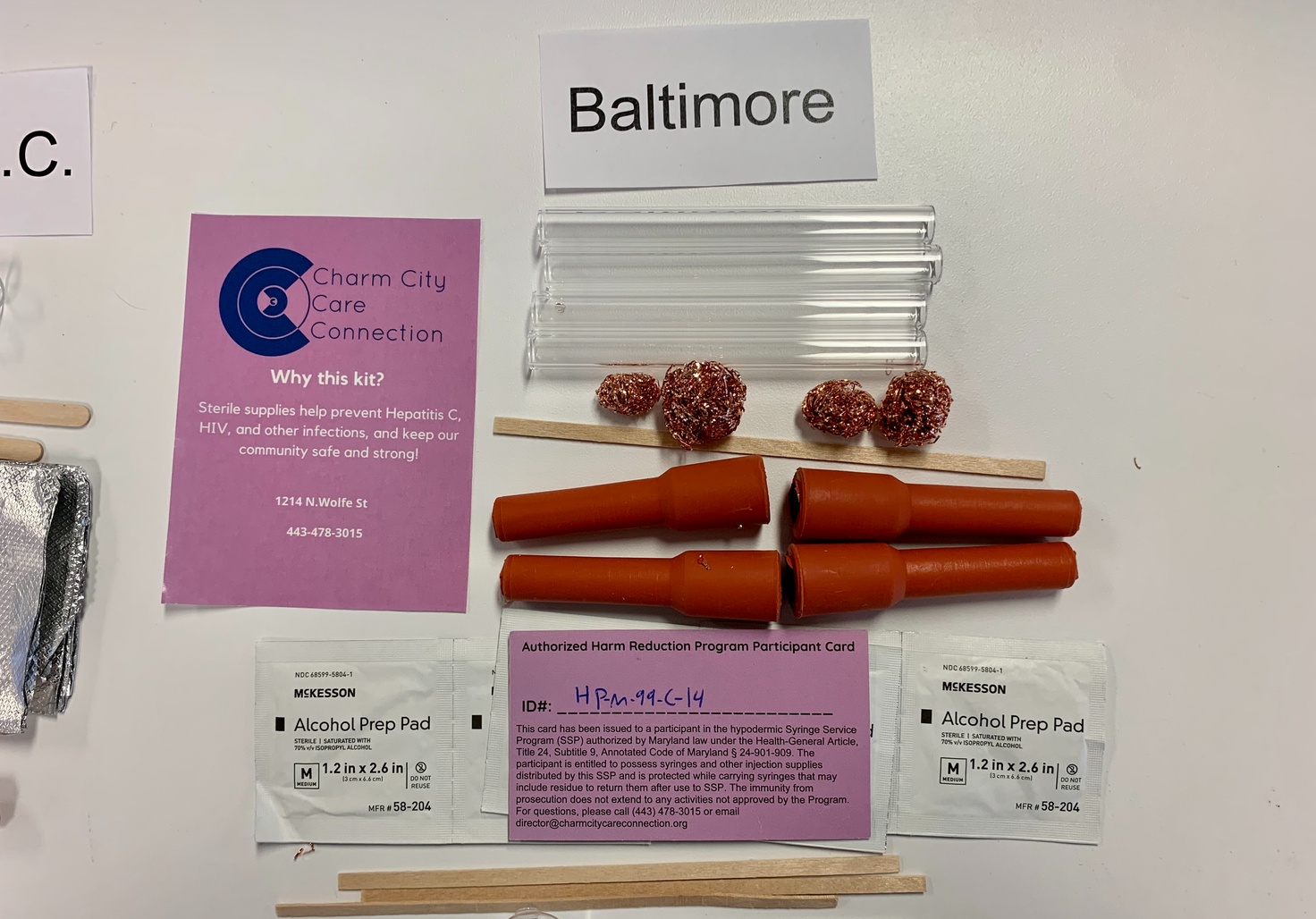 At Charm City Care Connection, a nonprofit that provides harm reduction services to combat "oppression," an employee said that identification is not required to receive a smoking kit, but did ask for initials, a date of birth, and zip code before handing over two smoking kits containing glass crack pipes as well as Chore Boy copper mesh, a cleaning product used to hold the crack rock at the end of the pipe.
The bag included directions for how to use the pipe, heat-resistant mouthpieces, wooden sticks for packing the mesh into the pipe, and alcohol wipes. Most importantly, the organization provides all drug paraphernalia recipients an "Authorized Harm Reduction Program Participant Card" that serves as a get-out-of-jail-free card to show to law enforcement, because the paraphernalia is otherwise illegal in the state of Maryland.
Charm City Care Connection receives funding from both the Baltimore city and Maryland state governments, as well as at least $200,000 from left-wing billionaire George Soros's Open Society Foundations as part of the organization's "Addiction and Health Equity Program." According to the group's disclosures, it received $200,000 in government grants in 2019. It has a partnership with Johns Hopkins University and half of its board of directors work for the university.
Women in Baltimore can have crack pipes delivered to their door. Katie Evans, the outreach director of the SPARC Women's Center, says the organization will deliver smoking kits with crack pipes to anyone with "non-men identities." The center, which is run through Johns Hopkins University, will also deliver syringes, snorting kits, and "sex supplies," Evans said.
Evans would not say whether SPARC Women's Center applied for a Health and Human Services grant. Charm City Care Connection also did not respond to a request for comment about whether it had applied for a Health and Human Services grant.
Boston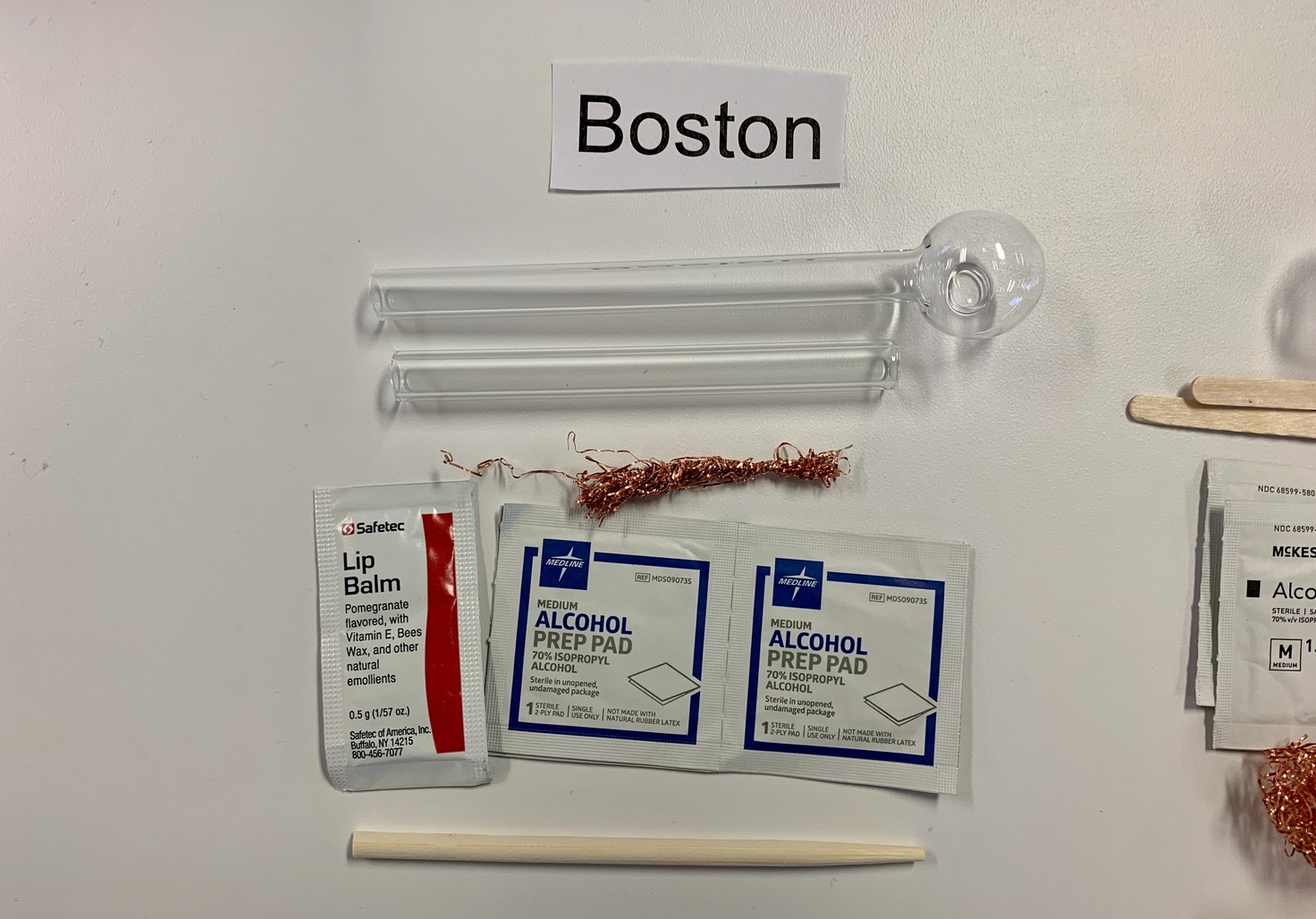 In Boston's South End neighborhood, a man was seen injecting a needle into his calf about 30 feet away from a police car outside the Access, Harm Reduction, Overdose Prevention and Education facility, which is run by the Boston Public Health Commission.
Inside the facility, an employee recorded our initials, date of birth, housing situation, and HIV status before offering an array of drug equipment. The bin of crack pipes was visible just above a bin of syringes labeled "biggie smalls" and "ultra fine," different options for injecting drugs into different parts of the body.
"One pipe per person, once a day," a worker, who emerged with a crack pipe, meth pipe, and additional drug accessories such as Chore Boy copper, told the Free Beacon.
An employee said the facility no longer offers get-out-of-jail-free cards because the police don't arrest people for drug possession any longer.
"We're way past that," the employee said, though possession of drug paraphernalia is still a crime in the city. The Boston Police Department did not respond to a request for comment.
The Boston Public Health Commission did not respond to a request for comment about whether it had applied for a Health and Human Services grant.
New York City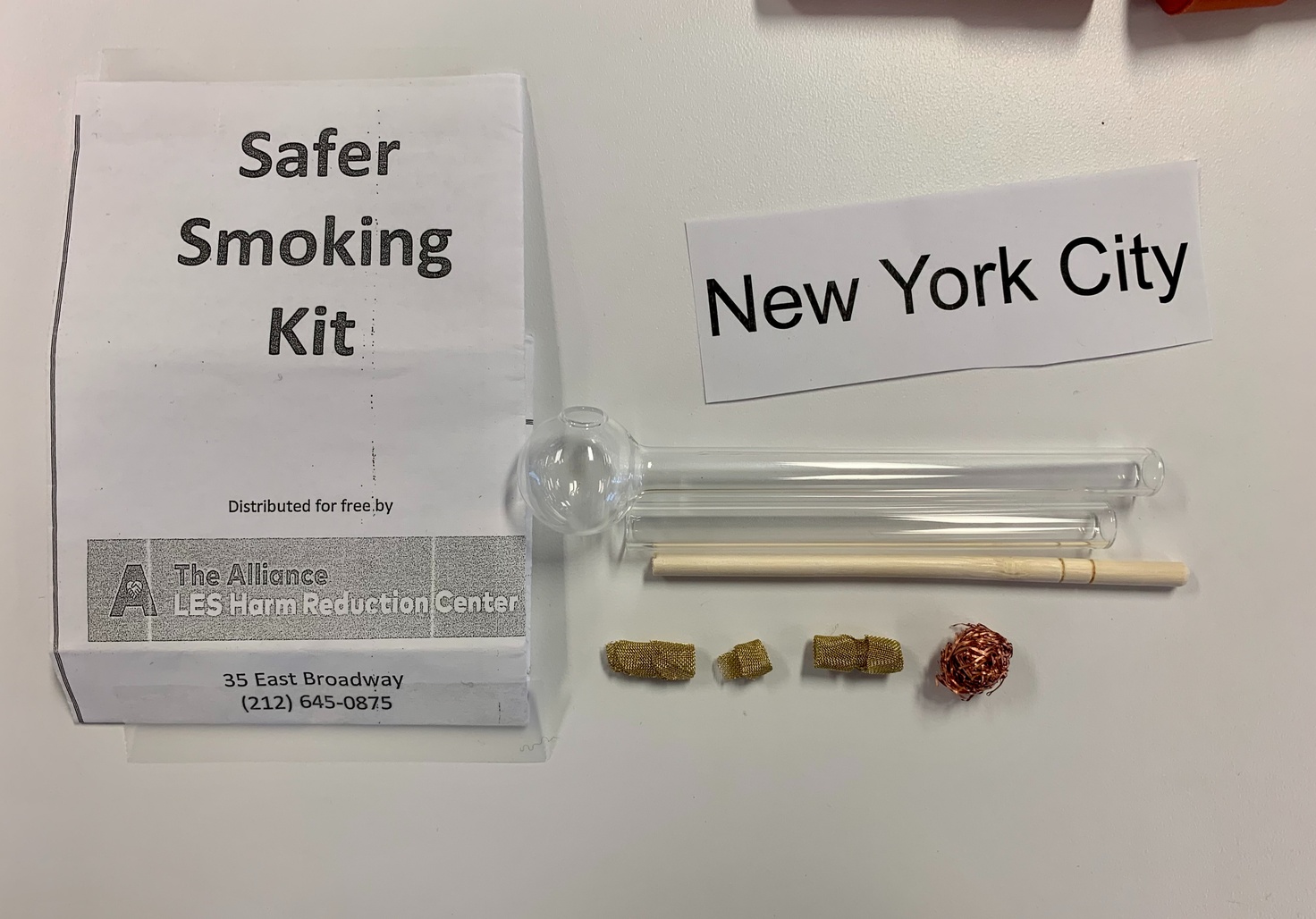 At the Alliance's Lower East Side Harm Reduction Center, a young staffer offers up a long menu of drug paraphernalia available free of charge. Included on the menu was a "booty bump" kit for rectal ingestion of narcotics, which is recommended by many harm reduction centers as a safer way to use meth.
After providing initials, date of birth, and zip code, the Free Beacon was given two drug pipes, one for crack and one for meth, as well as an authorized program card similar to what was given out in Baltimore. The smoking kits include literature with "safer smoking tips," including a warning that "crack and meth use can lead to unprotected sex by increasing your sex drive or making you more sexually passive." Other tips advise addicts obtain crack from a "source you trust," and to "smoke only a little bit first if unsure about its purity."
In addition to the Chore Boy copper mesh, the center gave out pipe screens, which work as an alternative to hold crack rocks in the pipe. The center advertises that its pipes are made of Pyrex, a stronger tempered glass designed for high heat.
The Alliance for Positive Change, also known as AIDS Service Center NYC, has received $20 million from Health and Human Services since 2004—mostly for AIDS and HIV-related programs—with the majority of grants distributed during the Obama administration. The organization has received $74 million in government grants since 2009.
The Alliance for Positive Change did not respond to a request for comment about whether it had applied for a Health and Human Services grant.
Washington, D.C.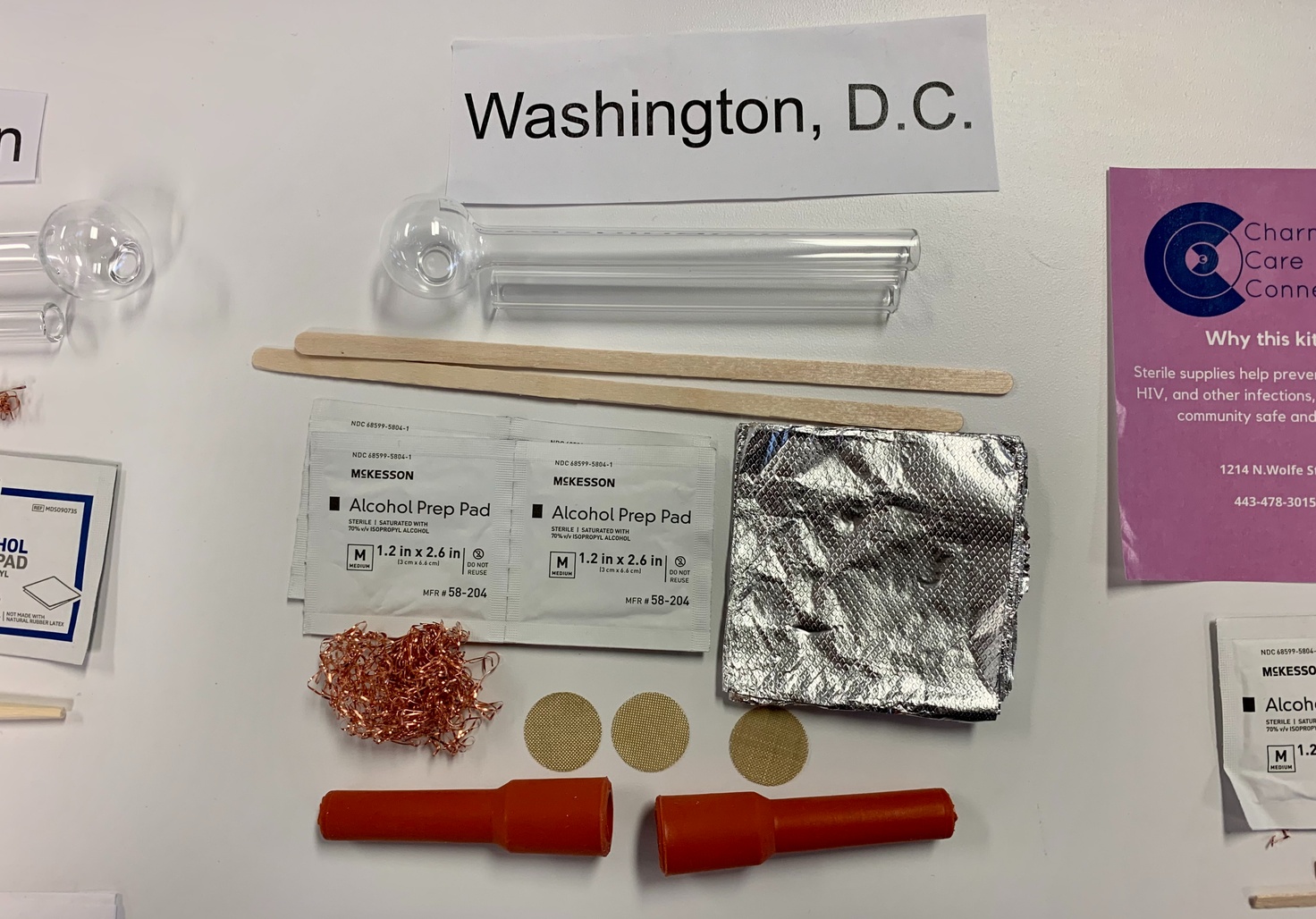 Just about a mile from the U.S. Capitol and within blocks of two elementary schools, a harm reduction center in Washington, D.C., had readily available pipes for crack and meth, as well as Chore Boy mesh, copper screens, and the same mouthpieces offered in Baltimore.
"Which kind do you want?" a volunteer asked after this reporter inquired about smoking kits. No information was recorded, and the center declined to look at identification that was offered. Program cards are no longer distributed by the center because possession of drug paraphernalia is decriminalized in the nation's capital.
The harm reduction center goes by HIPS, which formerly stood for Helping Individual Prostitutes Survive but has been altered to stand for Honoring Individual Power and Strength.
HIPS since 2018 has received $3.1 million from Health and Human Services' Substance Abuse and Mental Health Services Administration, which oversees the Biden administration's harm reduction program. The funds are provided through two separate programs: one for LGBTQ housing and another for medication-assisted treatment.
HIPS did not respond to a request for comment about whether it had applied for a Health and Human Services grant.
Richmond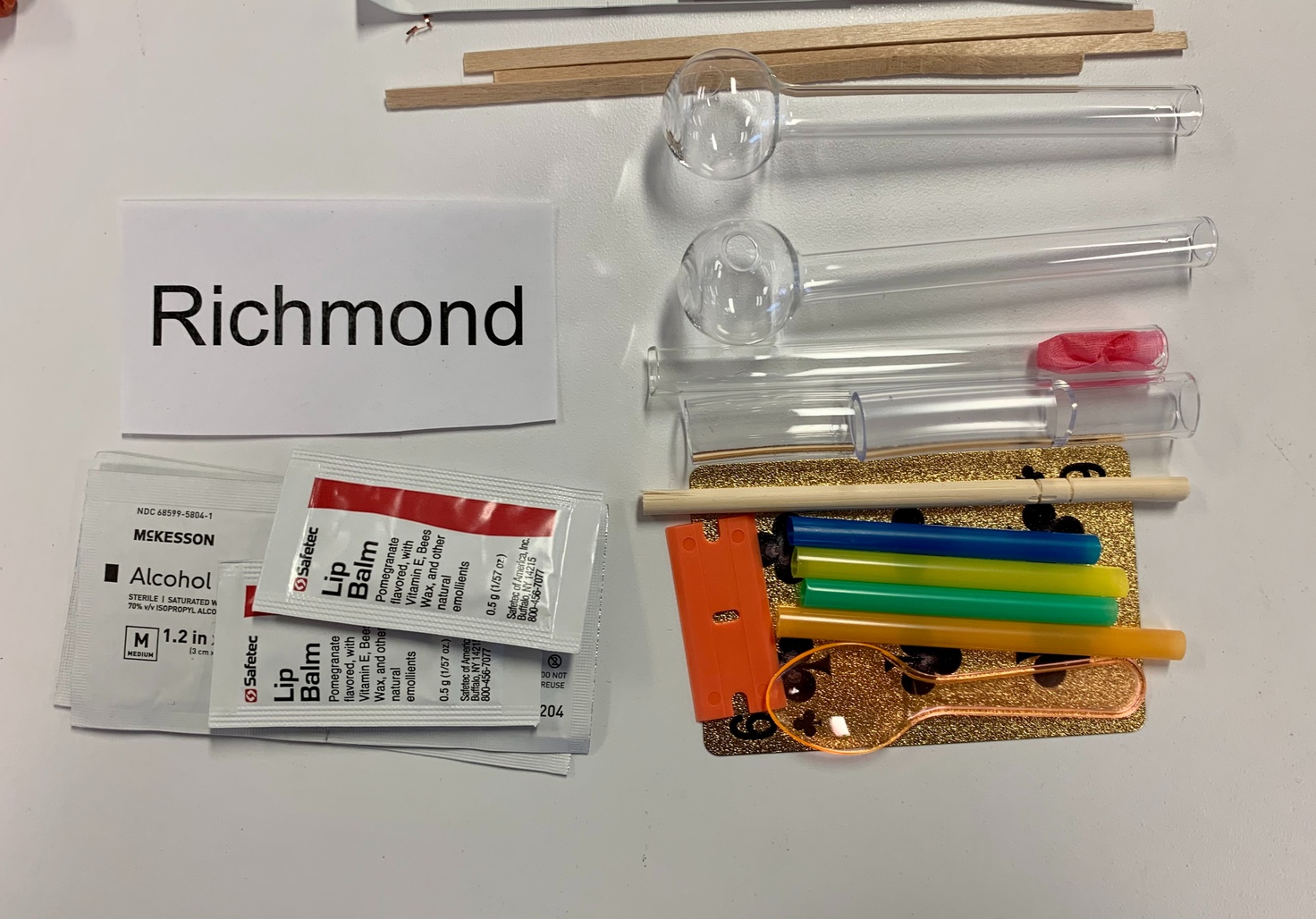 Employees of the River City Harm Redux organization were found at a table set up outside a hotel on the outskirts of Richmond, Va. This reporter asked for two crack smoking kits, but was told only one remained in the day's offerings. To make up for the shortcoming, the employees added a meth pipe along with two "snorting kits," which include straws, a plastic razor blade to break up drugs, short plastic straws, a small spoon, and a bedazzled playing card to snort drugs off of.
The organization is not an authorized harm reduction site recognized by the Virginia Department of Health. Possession of drug paraphernalia in Virginia is a Class 1 misdemeanor. A conviction for possession of drug paraphernalia can result in up to 12 months in jail and a fine of up to $2,500.
"If they are not authorized they are not protected by the law that allows sites to furnish paraphernalia," Bruce Taylor, the drug use coordinator for the department, told the Free Beacon. Taylor said Virginia does not allow harm reduction facilities to include crack pipes in their smoking kits, and that his department is not aware of River City Harm Redux.
River City Harm Redux did not respond to a request for comment about whether it had applied for a Health and Human Services grant.