For the first time in ages, the political right has had a massive boon dropped right into its lap. Democrats are shaking in their boots over the political implications of their institutional support for the state-sponsored racism known as critical race theory.
Their initial attempts to Jedi mind trick away people's concern by insisting CRT isn't real failed, and even Nancy Pelosi mouthpiece Politico is reporting how CRT in schools is deeply offending the independent and Democrat voters crucial to the Democrat Party's competing grievance groups.
So what is the institutional right doing to capitalize on this amazing opportunity? A few states are banning it from classrooms — amid the usual friendly fire butt-covering for do-nothing Republican politicians — while Democrats prepare for total war to maintain their control of the national child-indoctrination apparatus known as public schooling.
If the conservative movement and Republican Party were serious like the left is serious, here's what it would be doing to use the CRT uproar for tactical advantage instead of maxing out their energies on chest-thumping panel discussions and TV appearances while parents with kids and full-time jobs try to do all the groundwork without air cover.
1. Counter the Unions with a Litigation Army
The nation's largest teachers union announced it's filled a $5 million war chest to provide legal defenses for any teachers caught pushing CRT. The Biden administration has nominated to a key U.S. Department of Education legal post a leftist extremist who previously wielded federal power to institute racist policies that forced schools to discipline children according to their skin color instead of their actions: "Under her leadership, civil rights investigations became tools of harassment to coerce changes in school policies."
These institutions are going to use the might of the federal government, an army of lawyers, and the nation's largest teachers union to defend their territory. Who is helping parents go on the offensive against state-sponsored racism?
One-man journalist army Chris Rufo is recruiting lawyer volunteers via Twitter. That's great, but he shouldn't have to do this himself. The professional conservative movement should be moving massive amounts of money to support parents' efforts and harden them as a target of this leftist legal onslaught. Stop platforming leftist propaganda outlets and start hiring effective marketing strategists, investigative journalists, and scads of lawyers.
2. Vote Against All Nominees Who Support Disparate Impact Racism
Max Eden points out in City Journal that when racial extremist Catherine Lhamon underwent confirmation hearings as Joe Biden's nominee for assistant secretary of USDOE's Office of Civil Rights: "Republican senators… did not challenge Lhamon on her record on school discipline. Nor did they ask any questions on the issue at the forefront of so many voters' minds: critical race theory."
Later, one senator, Ranking Member Richard Burr, sent Lhamon written questions about racial extremism and Llamon dodged, claiming she could not answer any "hypothetical" questions. Eden notes:
While Burr deserves credit for forcing Lhamon to make her ambivalence about racial discrimination a matter of public record, it is a shame that no Senator was willing to ask her any of these questions directly during her hearing. The American people deserved to witness her reluctance to condemn racial discrimination. The exchange could have made national news and framed Lhamon's nomination as what it likely is: a referendum on whether or not the Department of Education's Office for Civil Rights should permit anti-white racial discrimination.
Republican senators are not elected by the people of their states to rubberstamp racial extremism. The least we ought to be able to expect them to do is probe and bring out nominees' unfitness for office, then vote against those nominees as a consequence. Explaining that vote to constituents should be a no-brainer. Get better, Republicans. Kids being recruited by racists are counting on you.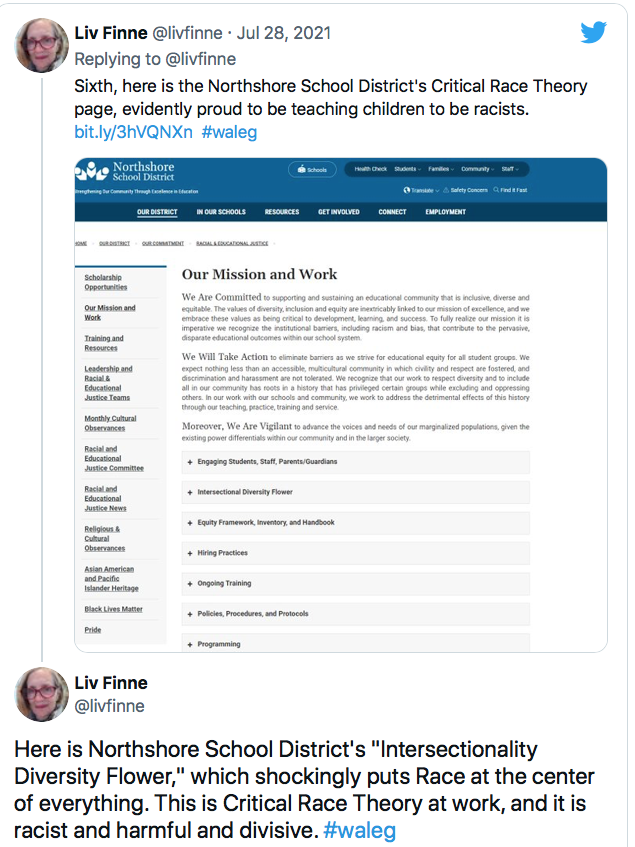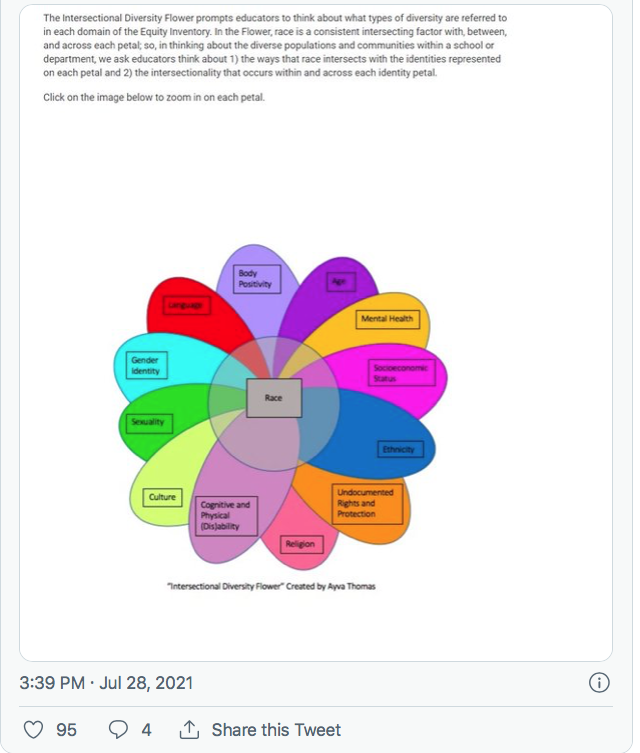 3. Make Effectively Opposing CRT a Litmus Test for Office
It should also be a complete no-brainer to make effective opposition to critical race theory a litmus test for public office, including appointments and judges. Not just saying "I oppose CRT," but displaying an effective track record of opposing it or things like it, or presenting a specific plan about how the candidate proposes to combat it with the power he wants voters to grant him.
We're talking about an ideology that pushes eight-year-olds to rank themselves and their classmates according to their racial and sexual (?!) "privilege," demonizes people according to their skin color, says babies can be racists, and encourages leading children in chants to an Aztec god. Opposing CRT should be like taking candy from a baby. If a candidate can't or won't do it, he's worthless and better disposed of.
4. Pressure Elected Officials with Ads and Primaries
How does one dispose of weak public officials who won't stop taxpayer dollars from funding racists? Pressure. The Republican Party and all its various local branches should make CRT opposition a requirement for getting their campaign dollars and other assistance.
If primary season is coming up, primary them. If it's not, run ads pressuring them. Send journalists to look into the public money and institutions politicians oversee and whether it's funding CRT, and ask them to comment on why this is allowed. Get allies to go on TV and ask why Politician A who oversees the education committee wouldn't comment about evidence of tax dollars funding racism. This is politics 101, people. Lefties do this in their sleep.
5. Map the CRT-Enabling Policies to Destroy
Richard Hanania pointed out earlier this year that, months into the CRT explosion, National Review editor Ramesh Ponnuru and Republican Sen. Tom Cotton publicly stated that neither had any policy ideas about how to fight cancel culture. Hanania responded by noting that the cancel culture use of "racism" to tar and feather perfectly normal and nonbigoted ideas is backed by an entire legal apparatus that has accreted over the years under the "disparate impact" doctrine, sprouted from race-conscious "diversity" laws and jurisprudence.
"Disparate impact" is, of course, what critical theorists use to absurdly accuse the United States, babies, and white males of inherent and systemic racism. It is very much linked to policies that can and should be reformed. Hanania gives these suggestions for such anti-CRT reforms:
1) Eliminating disparate impact, making the law require evidence of intentional discrimination.

2) Getting rid of the concept of hostile work environment, or defining it in extremely narrow and explicit terms, making sure that it does not restrict political or religious speech.

3) Repealing the executive orders that created and expanded affirmative action among government contractors and the federal workforce.
This is a starting point for think tanks to delve into various laws and regulations to put out actually useful whitepapers. Give politicians and bureaucrats a map of exactly what policies the real antiracists want them to search out and destroy. That way we can better hold them to it.
6. Fund CRT Escape Pods
Philanthropists should get together and stick a bunch of money into an endowment — or endowments! — that distributes "critical race theory escape scholarships" for families stuck in school systems that are trying to make their kids racists.
State lawmakers should sponsor bills to create "antiracism choice scholarships" that make state funds available to families in school districts that are found to be teaching racism. As Chris Bedford notes, this is the time to institute universal backpack funding so parents never have to negotiate with racial terrorists again. Churches should step up to their historic commitments to provide a Christian education to all Christian children, and to serve the poor, by starting schools or crowdfunding CRT escape scholarships.
State think tanks should help fundraise for any and all of these, or provide startup funding and assistance to groups of parents to start non-racist charter and private schools, education "pods," and homeschool communities. The possibilities for direct action to give affected children immediate lifeboats out of desperate situations are myriad.
7. Give Chris Rufo a Journalism Army
Parents need help using research skills such as filing open records requests to find out what their school systems are doing with their kids and tax dollars. They may also need lawyers to send threatening letters and even file lawsuits if school districts refuse to disclose this public information. This kind of discovery, and amplifying it, would be largely the work of journalists if the profession weren't such a mess.
Again, Rufo is amazing, but he should be duplicated as much as possible. Get the guy a research assistant, and journalists and lawyers to extend his work to as many school districts as possible. How many parents really know what their children are being told in school? Very few.
Scared parents in my local district in a red state recently sent around an "I do not consent" form letter to bring to school this fall stating that they don't want their children taught critical race theory. How is that enforceable? How would they know if the school went ahead and ignored them? Why is it even a thing that parents should feel the need to send letters like this to an institution they are funding and sending their children to? Who is backing them up?
I know who it should be: Those with the resources to make their concerns heard and enforced, through as many avenues as possible. The time to press this advantage — one of the few people on the political right have right now — is immediately, and as hard as possible. Don't squander this moment. Who knows if and when another one like it will arise.