Public support for the president's foreign policy is waning—and he's losing Democratic lawmakers
by William A. Galston     •     Wall Street Journal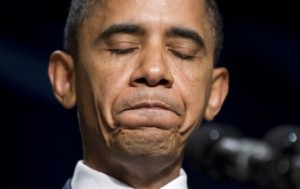 In March my Brookings colleague Robert Kagan memorably observed that President Obama was giving the American people the foreign policy they wanted—and they didn't much like it. Overseas events have only deepened public concern. A Pew Research Center survey released Aug. 28 found that only 35% of people approve of the president's handling of the crises in Iraq and Ukraine. Only 15% think we play a more important and powerful role in the world than we did a decade ago, compared with 48% who think our role is less important. And 65% believe that we live in a world more dangerous than it was a few years ago.
The Pew study also finds compelling evidence that Americans are beginning to change their minds about what they want. The share of those who think the U.S. does too much in the world has fallen to only 39% today, from 51% in November, while the share who thinks it does too little has nearly doubled, to 31% from 17%. In the early months of the Obama presidency, only 38% thought the president was "not tough enough" on national security; today, 54% believe that—a figure that includes more than one third of all Democrats.
Leading Democrats are starting to reflect this shift. Responding to Mr. Obama's post-vacation remarks on Iraq and Ukraine, Dianne Feinstein, the chairwoman of the Senate Intelligence Committee, said that Mr. Obama "is very cautious. Maybe, in this instance, too cautious."
The perception of rising threats is also changing the public's willingness to countenance the use of American military power. Fearing that neither Congress nor the people would support him, Mr. Obama famously shied from bombing Syrian regime forces last September. In early August a Pew Research Center/USA Today survey found 54% approval for airstrikes against Islamic State terrorists in Iraq. There is no reason to believe that the public would reject extending these strikes to the group's strongholds in Syria—if the president offers a clear and compelling justification for taking that step.
This brings us to the other burning issue of the day—Vladimir Putin's blatant aggression against a sovereign state in the heart of Europe. It turns out that the American people have been paying attention. In November only 38% believed that growing tension between Russia and its neighbors was a major threat to American interests; now 53% see it that way. Notably for these polarized times, the view is shared across partisan lines: 54% of Republicans, 54% of Democrats and 52% of independents.
Here again, leading Democrats are beginning to speak out. On Sunday Robert Menendez, chairman of the Senate Foreign Relations Committee, characterized recent events in Ukraine as a "direct invasion by Russia," adding pointedly that "we must recognize it as that." (Mr. Obama has thus far declined to do so.) The senator added that the U.S. should provide the Kiev government with the weapons it needs to defend itself against well-armed Russian and separatist forces. Mr. Putin, Sen. Menendez observed, had decided that the West would not help arm Ukraine, adding that "we have to prove him wrong." Indeed we do.
As Mr. Obama ponders this advice, he should consider how unlikely it is that economic sanctions alone will deter Russia from continuing its westward advance. He should seize the opportunity to unite Democrats and Republicans in defending American interests. And he should make it clear that although the U.S. must be cautious about engaging its own forces abroad, we will not hesitate to help our friends. The government in Kiev deserves to hear this message; so do the Kurds in Irbil.
Events overseas present Mr. Obama not only with policy challenges, but also with an opportunity to re-energize his depleted presidency. They also have implications for Republicans. As recently as last November, 52% of Republicans said that the U.S. does too much abroad; only 18% thought we do too little. But their sentiments have shifted dramatically. Now, the share of Republicans who think we do too little abroad has surged by 28 points, to 46%, while the share of those who think we do too much has fallen by 15 points, to 37%.
This sea change could reconfigure the race for the Republican presidential nomination. By advocating a less assertive stance overseas, with a narrower definition of core American interests, Kentucky Sen. Rand Paul has had the wind in his sails. But the wind has shifted, creating new opportunities for Republican aspirants—such as Florida Sen. Marco Rubio —who are preparing to run as the heirs of Ronald Reagan's muscular internationalism. We will soon find out whether he—or any other Republican—has what it takes to seize the moment.
.     .     .     .     .     .     .     .     .     .     .     .     .     .     .     .
William Galston holds the Ezra K. Zilkha Chair in Governance Studies and senior fellow at the Brookings Institution. Formerly the Saul Stern Professor and Dean at the School of Public Policy at the University of Maryland,Dr. Galston specializes in issues of American public philosophy and political institutions.