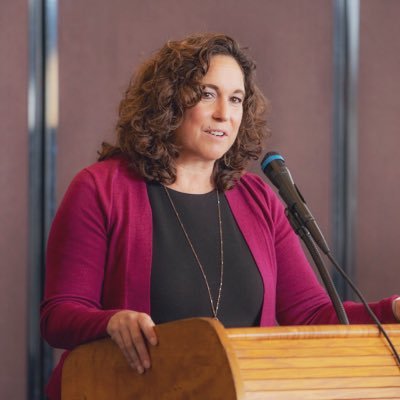 President Joe Biden's pick to be deputy secretary of education is still fighting to keep students out of the classroom in San Diego, where she's school superintendent.
Cindy Marten, the longtime superintendent of the San Diego Unified School District, has been a vocal opponent of bringing back in-person instruction for public school students. The district had pledged to give a timeline for reopening on Jan. 13, but Marten failed to follow through, announcing after the deadline that no date for return will be set.
"Despite the progress that is being made and all of the best efforts of all of our employees, it's important that we recognize that the virus continues to spread and it's out of control in our communities," Marten said. "This is not the time to let up on our efforts to defeat this deadly virus."
Marten's refusal to set a timeline for schools to reopen is in direct contradiction with Biden, who has vowed to have schools reopen within the first hundred days of his presidency. Dr. Anthony Fauci, Biden's chief medical adviser, has said the government's "default position" should be to get kids back in the classroom.
Recent peer-reviewed studies confirm that transmission of COVID-19 in schools is "extremely rare," but teachers in some of the biggest districts in the country continue to resist going back to the classroom until there is mass vaccination of both teachers and students.
Former San Diego county supervisor Kristin Gaspar, a Republican who lost her district race in November, praised Marten's "passion" for her work but said she has been hamstrung by her commitment to pleasing the unions.
"Superintendent Marten should be praised for her passion at the reins of San Diego schools," Gaspar told the Washington Free Beacon. "Unfortunately, Marten has consistently favored the loudest voice at the decision-making table, and that is the teachers' union. It's alarming to us as parents to witness the strong influence of labor unions on the continued closure of public schools."
As she works to keep public schools closed, Marten, who also serves on the board of the California Teachers Association benefits organization, continues to make over $300,000 in the taxpayer-funded role, between salary and benefits. While San Diego's public schools continue their restrictions on in-person education, a majority of their private counterparts have opened their doors for in-person learning. A November survey found that 84 percent of San Diego students in private schools are attending in person to varying degrees, compared with only 32 percent of those in San Diego public schools.ADVERTISING
The actual curriculum of San Diego Unified School District's classes may pose additional hurdles to Marten's nomination. A report from the City Journal found that, amid a global pandemic, the district has prioritized abolishing deadlines for homework, mandating diversity trainings where teachers were told they are guilty of "spirit murdering" black children, and instituting an ethnic studies curriculum.
Five years into her tenure as superintendent, a Voice of San Diego report found that "gains have been incremental and difficult to measure" and that "the achievement gap Marten pledged to tackle at the outset has gone virtually unchanged." Katrina Hasan Hamilton, the local NAACP education chair, criticized Marten's "historical pattern of allowing the excessive suspension and expulsion of black students in San Diego."
Marten has received support from her fellow California Democrats, including Tony Thurmond, California's superintendent of public instruction, who has made institutionalizing sex education a priority from kindergarten onward.
Gaspar said she hopes Marten will reverse course if confirmed as deputy secretary of education and make the well-being of children her top priority.
"The inability to open our schools has led to severe increases in anxiety, depression, higher incidences of child abuse, doubling of child sex trafficking, and a rapidly growing socioeconomic divide," she said. "As deputy secretary of education, may Cindy Marten find the strength and grace to first prioritize the well-being of students across this country that will be entrusted to her care."
Marten's confirmation hearing has not yet been scheduled. Neither Marten nor the White House returned requests for comment.