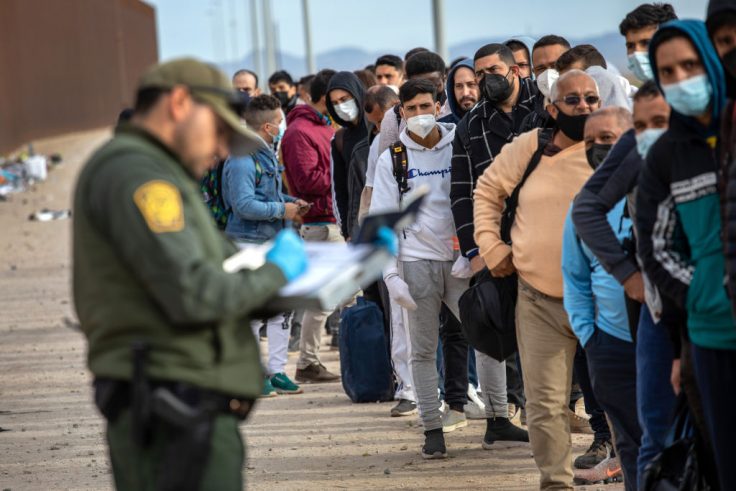 The Biden administration is actively recruiting journalists to provide communications and public relations services on behalf of the Department of Homeland Security as it struggles to contain the illegal immigration crisis on the southern border.
This week, DHS posted three job openings for the position of "writer-editor"—one at Customs and Border Protection (CBP) and two in the public affairs office of Immigration and Customs Enforcement (ICE). The timing and job descriptions suggest the Biden administration is already preparing for the onslaught of immigration-related congressional inquiries that will presumably occur if Republicans regain control of the House and Senate in 2023.
CBP, for example, is seeking a writer-editor whose duties will include drafting "responses to congressional inquiries on complex issues related to the enforcement of legislation." The position, which comes with a generous starting salary of between $89,834 and $116,788, will also involve "presenting information to maximize understanding and minimize controversy among the intended audiences."
ICE, meanwhile, is looking for two writers whose duties will include "creating talking points" for the senior agency officials who will presumably be called to testify before Congress if Republicans take power. According to the job listing, qualified candidates must have experience "following guidance from the leadership and adhering to the views of the organization's leadership." The position, which comes with an even more generous starting salary of between $126,233 and $164,102, requires a "secret" level security clearance and is classified as "high risk," which refers to its "potential to damage the public's trust in the Federal Government."
Despite the Biden administration's reluctance to address the border crisis, immigration remains a top concern among American voters. According to Gallup, immigration has consistently ranked among the top four issues Americans cite as the "most important problem" facing the country. Meanwhile, President Joe Biden's top priority—so-called voting rights, or "election reform"—barely registers as a top concern for voters.
Just one in three voters approve of Biden's handling of immigration, according to the RealClearPolitics polling average. Perhaps they are turned off by Vice President Kamala Harris's egregiously flippant attitude toward the situation. Fiscal year 2021 saw the highest level of migrant apprehensions (1.7 million) at the southern border in U.S. history, but because the Biden administration is already dealing with several significant crises, and because the mainstream media are reluctant to cover the issue for ideological reasons, immigration has largely been absent from the political conversation.
That will presumably change in the increasingly likely event that Republicans are victorious in this year's midterm elections and take charge of the congressional hearing schedule in 2023. If the DHS job listings are in fact part of an effort to confront that eventuality, it would be a rare display of competence and preparation from an administration that has proven itself hopelessly inept when it comes to solving the problems Americans actually care about.