Want proof that President Joe Biden's open border policies are deadly? A Texas National Guard soldier tragically drowned in the Rio Grande River this week while trying to rescue illegal border crossers from the water.
"I can tell you that it has been very dangerous in this stretch of the river this week," Fox News's Bill Melugin reported. "We've seen three migrants drown this week alone."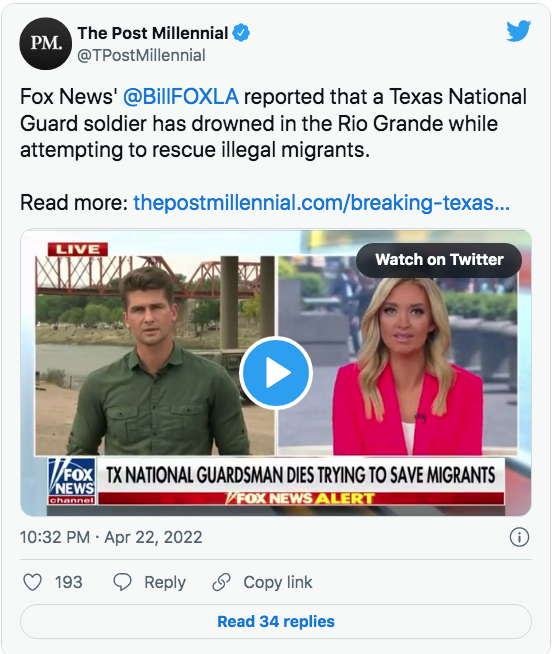 That news comes just weeks after a migrant woman died while trying to scale the U.S.-Mexico border wall.
It's difficult to calculate just how many tragedies have occurred at the U.S.-Mexico border since the Biden administration issued an unofficial gag order to cut off the press from accessing data held by federal officials but open border policies have long proved deadly. In 2021, at least 650 migrants died during their attempts to illegally cross the U.S.-Mexico border. Many of them succumbed to heat exposure and drowning but others were killed by feuding Mexican cartels.
If the United States' drug crisis, which is fueled by drug trafficking at the Southern border, wasn't enough, the rise in deaths among illegal border crossers and now Americans proves that Biden's open border policies are hurting people.
When Biden assumed office, he moved to eradicate many of the Trump administration's border security policies such as the "Remain in Mexico" policy which required asylum seekers to await court decisions in Mexico, and immediately halted construction on the border wall. Now, Biden is working to dismantle Title 42, a policy designed to expedite the expulsion of illegal border crossers during the Covid-19 pandemic, and which border agencies were barely enforcing anyway.
Aside from the Biden administration's official work to dismantle parameter protections, the president and his team essentially welcomed illegal immigrants into the U.S. by telling them they could come to the U.S. once an Obama-era catch and release system was reinstated.
The administration's weak border rhetoric and policy changes opened the door for many previously hesitant aliens to illegally cross the border without the same level of fear of retribution they felt under the previous administration. Multiple illegal immigrants have admitted as much.
That's why illegal immigration under Biden has skyrocketed and is only expected to get worse.
In March alone, border officials apprehended at least 221,303 migrants trying to illegally cross the border. That puts border officials on track to make more than two million arrests by the end of the 2022 fiscal year and endure even more tragic migrant and American deaths than last year.