BLUMENTHAL AND SCHUMER NEW TARGETS OF 'LIBERAL EXTREMIST" TV SPOT NOW IN 5 STATES
CONNECTICUT SENATE SEAT SUDDENLY IN PLAY
TV spot that recently shook up Arizona and New Hampshire races now on nightly broadcast news in Hartford.
HITS BLUMENTHAL:
"THE MOST DANGEROUS PLACE IN WASHINGTON AND CONNECTICUT IS STANDING BETWEEN BLUMENTHAL AND A TV CAMERA"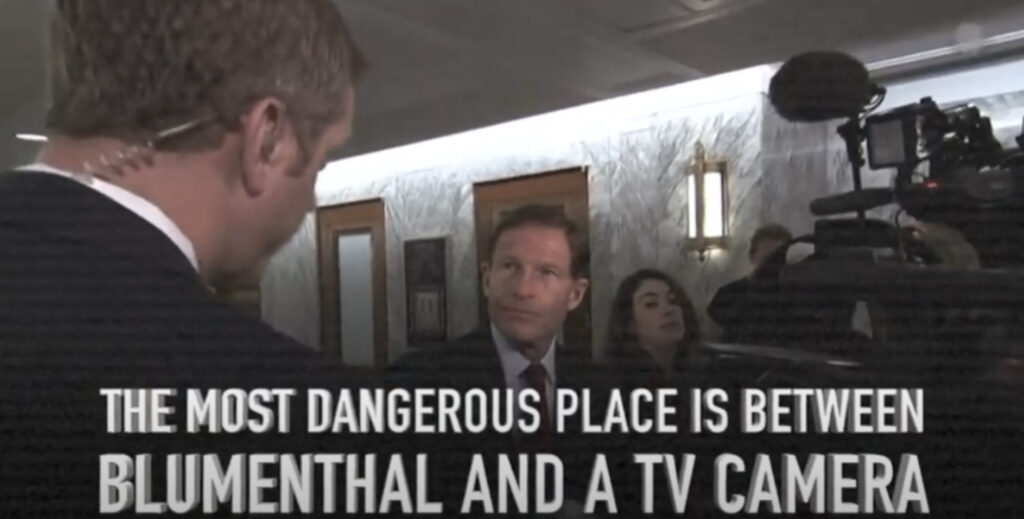 "COMPLETELY FABRICATED STORY ABOUT MILITARY SERVICE IN VIETNAM. INSULT TO VETERANS."
"Too Extreme for Connecticut"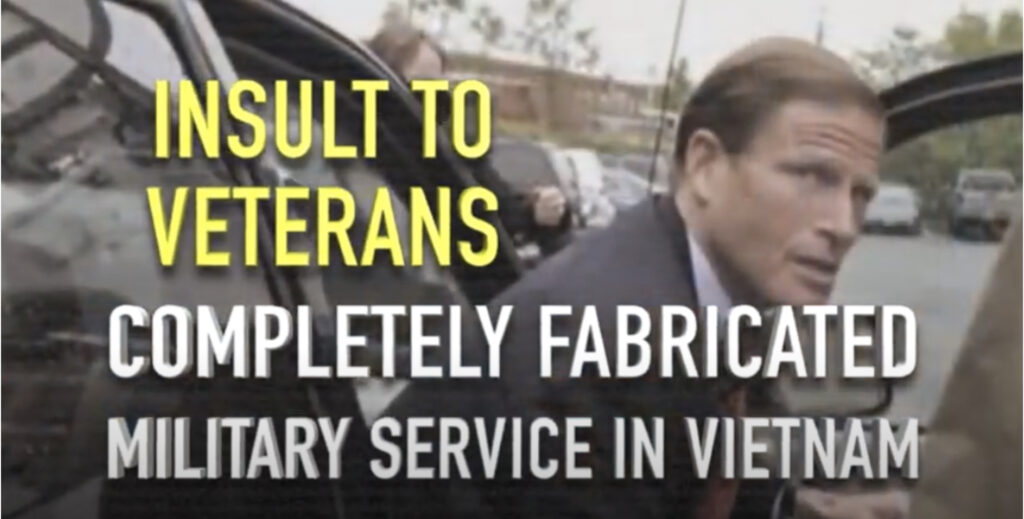 BLUMENTHAL'S "CORRUPT BARGAIN WITH LEFT WING EXTREMISTS" MADE HIM VOTE THEIR AGENDA IN ORDER TO AVOID PRIMARY CHALLENGE.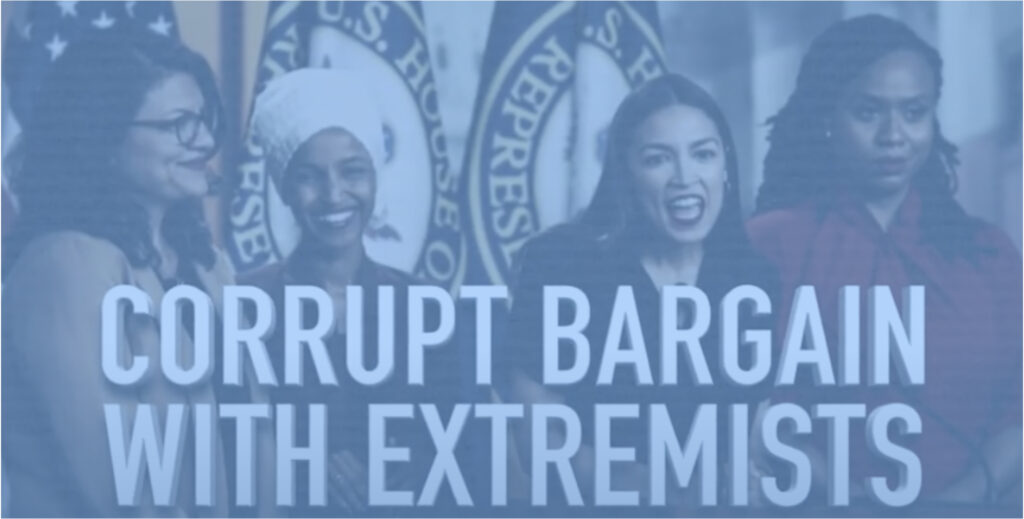 "KEY ENABLER" WHO VOTED 98% WITH BIDEN.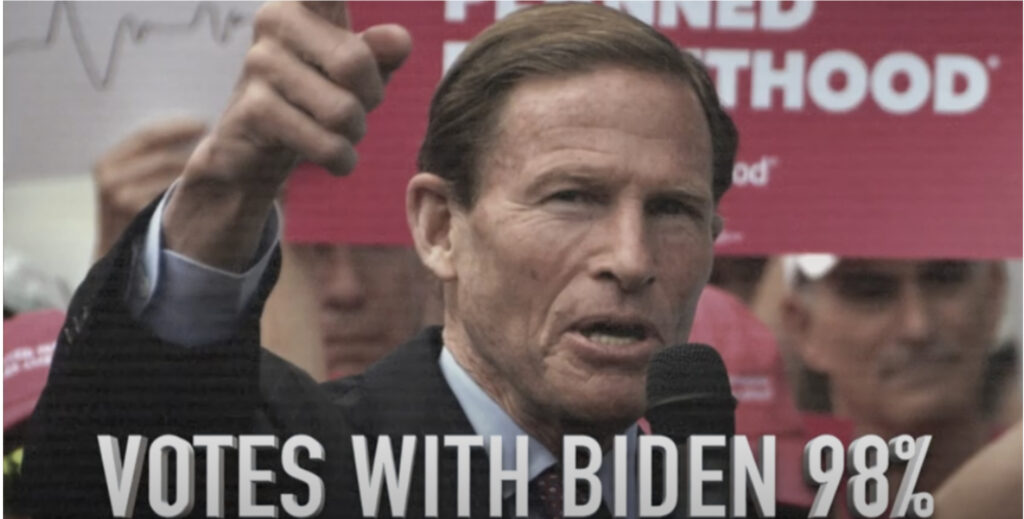 FOCUS is on Connecticut but
Also anti-Schumer version on nightly news in upstate cities of Rochester, Buffalo and Syracuse
Along with first buy in Nevada against endangered Democrat Cortez Masto
And new buy in Arizona against Mark Kelly
As well as New Hampshire ads against Maggie Hassan. 5 total states.
BLUMENTHAL IS VULNERABLE — Citing recent polling PAC chairman says:
"In Connecticut the polling has shown Blumenthal with weak support and his opponent Leora Levy pulled quite close in a recent Fabrizio poll and has momentum. She is an excellent candidate with very impressive educational and professional credentials but, most of all, she is an outspoken critic of Blumenthal's leftist swing." Frontiers of Freedom PAC President George Landrith.
"Republicans must expand the map and go for a big win in the Senate—people in Connecticut and New York are disgusted with Blumenthal and Schumer as symbols of a Democratic Party taken over by left wing extremists." George Landrith
TV SPOT:
"Richard Blumental made a corrupt bargain with left-wing extremists to not run a primary against him if he pushed far-left positions"
"Why did he let her fear of a primary make him cave into the left-wing extremist "squad'?" (Screen shows "CORRUPT BARGAIN WITH LEFT WING EXTREMISTS" emblazoned across photo of radical-left New York Representative Ocasio-Cortez and 3 other far- left members of "THE SQUAD" in Democrat House of Representatives)
"How can he say he isn't a left-wing extremist if every time he votes like one?"
VOTED AGAINST CONSTITUENTS
"Why did Richard Blumental go to the big city and forget the people who sent her there."
TV SPOT ASKS CONNECTICUT MEDIA TO END 'FREE RIDE" FROM "CORRUPT NATIONAL MEDIA" FOR ITS "CHOSEN CANDIDATE" WHICH MEANT HE NEVER HAD TO DENOUNCE EXTREMISTS WHO WANT TO " DEFUND THE POLICE" OR THE Democrat's "dark money alliance with notorious anti-American billionaire George Soros and lawless prosecutors" to the "destruction of women's sports" and childhood education with "gender lunacy."
2 MINUTE TV SPOT WON PLAUDITS "AS THE GREATEST CAMPAIGN AD EVERY MADE" AND "EVERY MAGA SHOULD IMITIATE THIS FORMAT" WHEN FIRST RELEASED IN AUGUST AGAINST SCHUMER.
UNIQUE NARRTIVE 2 minute ad takes its first minute to call national media "the most powerful and corrupt institutions in America" seeking to protect their own "chosen candidates," ask voters to "send a message to the media bosses" and then cites the media for covering up 1) China virus leak, 2) Hunter Biden laptop scandal, 3) illegal wrongdoing by Clinton and Biden, 4) FBI harassment of political dissenters 5)never apologized for two years of its Russian collusion hoax, 6)promoted smears and civil rights violations against conservatives, 7)phony impeachments and show trials.8)covered up Biden's ill health and incompetence by letting him run from basement.
AD ALSO CITES SENATE DEMOCRATS FOR
HUGE SPENDING BILLS CAUSING SHATTERING INFLATION AND RECESSION.
SHUT DOWN PIPELINES, DROVE UP GAS PRICES
CAUSED FOOD SHORTAGES EVEN BABY FORMULA
AND OPPOSING SCHOOL REFORM.
DESTROY WOMEN'S SPORTS AND CHILDHOOD EDUCATION WITH GENDER LUNACY (Pix of Lia the swimmer and drag queens at kindergarten)
AD HITS SENATE DEMS FOR "SCORCHED-EARTH" "RULE-OR -RUIN" ATTACK ON AMERICAN DEMOCRATIC INSTITUTIONS
WILL DESTROY –
THE SUPREME COURT
THE SACRED SECRET BALLOT (No voter ID, unlimited vote harvesting and mail-ins) & (DC bureaucrats' takeover of elections)
CITIZENSHIP (Open borders)
US SENATE (Add new states, no filibuster)
ELECTORAL COLLEGE (Elections decided by a few counties in a few states)
IMPOSE ANTI-CATHOLIC RELIGIOUS TEST FOR FEDERAL OFFICE