Agency still under fire for Lois Lerner-tea party targeting scandal.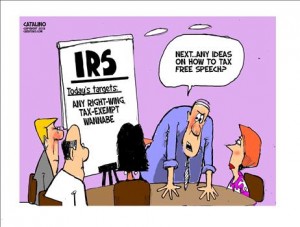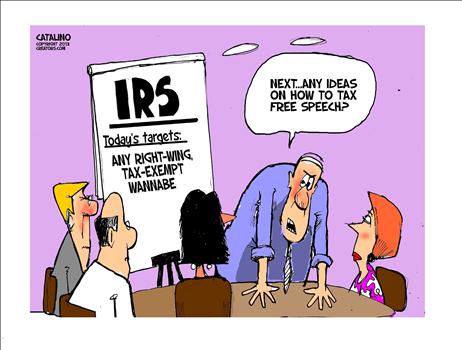 by Stephen Dinan
Even as the IRS faces growing heat over Lois G. Lerner and the tea party targeting scandal, a government watchdog said Wednesday it's pursuing cases against three other tax agency employees and offices suspected of illegal political activity in support of President Obama and fellow Democrats.
In one case the Office of Special Counsel, which investigates federal employees who conduct politics on government time, said it was "commonplace" in a Dallas IRS office for employees to have pro-Obama screensavers on their computers, and to have campaign-style buttons and stickers at their office.
In another case, a worker at the tax agency's customer help line urged taxpayers "to re-elect President Obama in 2012 by repeatedly reciting a chant based on the spelling of his last name," the Office of Special Counsel said in a statement.
OSC said it is seeking "significant disciplinary action" against that employee.
Another IRS employee in Kentucky has agreed to serve a 14-day suspension for blasting Republicans in a conversation with a taxpayer.
"They're going to take women back 40 years," the IRS employee said in a conversation that was recorded. The employee also said that "if you vote for a Republican, the rich are going to get richer and the poor are going to get poorer."
That employee went on to tell the taxpayer she knew she wasn't supposed to be voicing her political opinions, and asked the taxpayer not to say anything.
In the Dallas situation, the OSC issued a letter to employees reminding them they aren't allowed to do anything that would appear to be campaigning.
"Specifically, it was alleged that employees have worn partisan political stickers, buttons, and clothing to work and have displayed partisan political screensavers on their IRS computers. It was alleged that these items expressed support for President Barack Obama," the OSC said.
The IRS issued a statement saying it couldn't comment on specifics, but vowing it took complaints of politicking seriously.
"The IRS regularly reminds employees of the Hatch Act guidelines," the agency said, adding that when reports of potential violations are received, the agency follows "proper procedures and protocols."
Republicans on Capitol Hill, though, said the report showed an agency "out of control."
"It's no surprise that this is coming from the very same agency that targeted Americans based on their political beliefs," said Rep. Sam Johnson, Texas Republican. "How can the American people trust IRS employees to perform their job duties in good faith?"
The federal Hatch Act prohibits most government employees from conducting politics on government time. OSC is charged with looking into those violations.
The accusations come as the IRS is still facing tough questions from House Republicans over its targeting of conservative groups seeking nonprofit status.
On Wednesday, the House Ways and Means Committee voted to approve a resolution officially referring Ms. Lerner, who headed the tax-exempt division of the IRS during the targeting, to the Justice Department for criminal prosecution. The resolution, which was approved on a party-line 23-14 vote, now goes to the full House for action, presumably next month.
Ms. Lerner's lawyer, William W. Taylor III, issued a statement Wednesday morning questioning the committee's plans and calling the timing "odd."
"We have not heard from the House Ways and Means Committee. Nor has the Committee previously issued a report of its findings," Mr. Taylor said.
He also said the committee's referral would be meaningless since the Justice Department is already investigating the IRS over targeting.
"This is just another attempt by Republicans to vilify Ms. Lerner for political gain," Mr. Taylor said. "Ms. Lerner has done nothing wrong. She did not violate any law or regulation. She did not mislead Congress. She did not interfere with the rights of any organization to a tax exemption. Those are the facts."
.     .     .     .     .     .     .     .     .     .     .     .
by Stephen Dinan is a writer for the Washington Times.