House Ways and Means Committee Chairman Dave Camp lays out damning evidence of Lois Lerner's targeting of conservative groups.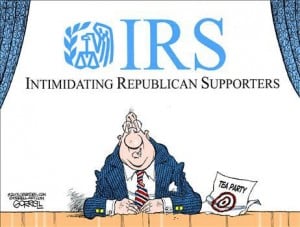 by Kimberley Strassel
Nearly a year into the IRS scandal, we still don't know exactly what happened—though we are finally getting an inkling. That's thanks to the letter House Ways and Means Chairman Dave Camp sent this week to the Justice Department recommending a criminal probe of Lois Lerner.
The average citizen might be dizzied by the torrent of confusing terms—BOLO lists, Tigta, 501(c)(4)—and the array of accusations that have made up this IRS investigation. Mr. Camp's letter takes a step back to remind us why this matters, even as it provides compelling new information that goes to motive and method—and clarifies some of the curious behavior of Democrats during the investigation.
Motive: Republicans began this investigation looking for a direct link between the White House and IRS targeting. The more probable explanation all along was that Ms. Lerner felt emboldened by Democratic attacks against conservative groups to do what came naturally to her. We know from the record that she disdained money in politics. And we know from her prior tenure at the Federal Election Commission that she had a particular animus against conservative organizations.
As the illuminating timeline accompanying the Camp letter shows, Ms. Lerner's focus on shutting down Crossroads GPS came only after Obama adviser David Axelrod listed Crossroads among "front groups for foreign-controlled companies"; only after Senate Democrats Dick Durbin, Carl Levin, Chuck Schumer and others demanded the IRS investigate Crossroads; only after the Democratic Congressional Campaign Committee launched a website to "expose donors" of Crossroads; and only after Obama's campaign lawyer, Bob Bauer, filed a complaint with the Federal Election Commission about Crossroads.
The information in Mr. Camp's letter shows that Ms. Lerner sprang to action following a January 2013 meeting with Democracy 21, a campaign-finance outfit petitioning for a crackdown on Crossroads and the liberal big-dollar Priorities USA. (She never touched Priorities, run by former Obama aides.) The Camp outline suggests cause and effect, and that's new.
Method: The general prohibition on releasing taxpayer information has meant that—up until Ways and Means voted Wednesday to release this info—it was impossible to know what precise actions Ms. Lerner had taken against whom. We now know that she took it upon herself to track down the status of Crossroads, to give grief to an IRS unit for not having audited it, to apparently direct another unit to deny it tax-exempt status, and to try to influence the appeals process.
We know, too, that Ms. Lerner did some of this in contravention of IRS policy, for instance involving herself in an audit decision that was supposed to be left to a special review committee. We have the story of a powerful bureaucrat targeting an organization and circumventing IRS safeguards against political or personal bias. That ought to mortify all members of Congress. That Democrats seem not to care gets to another point.
Aftermath: Democrats quickly dropped any feigned outrage over IRS targeting and circled the wagons around the agency. Why? The targeting was outrageous, the public was fuming, and nobody likes the IRS. Joining with Republicans would have only been right and popular.
That is, unless Democrats are worried. As the Camp timeline and details show, the IRS responded to liberal calls to go after conservative groups. Democrats weren't just sending letters. Little noticed in the immediate aftermath of the IRS scandal was a letter sent May 23, 2013, by Carl Levin and (Republican) John McCain to the new acting director of the IRS disguised as an expression of outrage over IRS targeting. Artfully hidden within it was Mr. Levin's acknowledgment that his subcommittee on investigations had for a full year been corresponding and meeting with IRS staff (including Ms. Lerner) to ask "why it was not enforcing the 501(c)(4) statute."
What was said in the course of that year? How much specific information was demanded on conservative groups, and how many demands dispensed on how to handle them? Good questions.
In 2012, both the IRS and Democratic Rep. Elijah Cummings were targeting the group True the Vote. We now have email showing contact between a Cummings staffer and the IRS over that organization. How much more contact was there? It's one thing to write a public letter calling on a regulator to act. It's another to haul the regulator in front of your committee, or have your staff correspond with or pressure said regulator, with regard to ongoing actions. That's a no-no.
The final merit of Mr. Camp's letter is that he's called out Justice and Democrats. Mr. Camp was careful in laying out the ways Ms. Lerner may have broken the law, with powerful details. Democrats can't refute the facts, so instead they are howling about all manner of trivia—the release of names, the "secret" vote to release taxpayer information. But it remains that they are putting themselves on record in support of IRS officials who target groups, circumvent rules, and potentially break the law. That ought to go down well with voters.
.     .     .     .     .     .     .     .     .     .     .     .
Kimberley Strassel is an author for the Wall Street Journal.