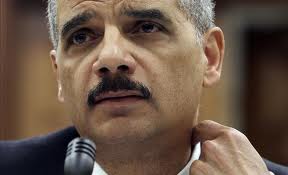 by John Fund and Hans Von Spakovsky
A veteran Justice Department lawyer says that Attorney General Eric Holder has politicized the department in a way he hadn't seen before. In short, "Holder is the worst person to hold the position of attorney general since the disgraced John Mitchell."
Now in his sixth year as attorney general, Holder has increasingly tilted the department in an ideological direction. It's one thing to emphasize President Obama's legal priorities. It's quite another to decide not to enforce certain federal laws — such as the ban on marijuana — or urge state attorney generals to refuse to defend local laws on same-sex marriage. Legal changes are achieved through legislation, not through a sudden whim not to enforce them. No other attorney general has acted in this manner.
Holder clearly believes he has the inherent power to politicize his department. When House Judiciary Committee Chairman Bob Goodlatte asked him last week whether he believed there were any limits to the administration's prosecutorial discretion. "There is a vast amount of discretion that a president has — and more specifically that an attorney general has," Holder responded.
But courts have frequently disagreed with Holder's interpretations of the law. Just last week, a US District Court judge issued an order denying Justice's request for veto power over school-choice scholarships awarded to students by the state of Louisiana. Justice had sued Louisiana last August seeking an injunction to stop it from distributing school vouchers to kids seeking to escape failing schools using the pretext of decades-old desegregation orders. Justice's action is pure politics, driven by the fact that Democrats are beholden to teachers unions.
Justice's ideological zealotry is on display across a host of other issues.
It stopped asking states that accepted federal funds for election machine upgrades to comply with provisions requiring them to clean up their voter rolls. It used a radical interpretation of civil-rights laws to sue school districts over dress codes. It launched an unprecedented crusade against government leaks by targeting The Associated Press and Fox News' James Rosen while at the same time it refused to pursue any leaks of classified material that likely came from the White House and were clearly intended to burnish the president's image.
Modal TriggerLast week, Congress recommended that Holder's office pursue a criminal investigation against Lois Lerner, the IRS official who admitted that conservative groups were targeted for added scrutiny. Lerner has repeatedly taken the Fifth even as she proclaims her innocence.
But does anyone believe the attorney general will seriously investigate this?
Of course, when you call Holder out on his biases and selective enforcement, he cries racism.
Last Tuesday, Holder appeared before the House Judiciary Committee for an oversight hearing. He got into a stormy exchange with Rep. Louie Gohmert, a Texas Republican and a former chief justice of the Texas Court of Appeals. Gohmert had read a Fifth Circuit court opinion noting how Justice had made available 9,600 summaries of transcripts of sensitive conversations to "attorneys for the terrorists."
Gohmert could not understand why Holder would provide documents to terrorists' lawyers but not provide information sought by Congress. Gohmert added that he realized that "contempt is not a big deal to our attorney general," referring to the fact that the House has voted to hold Holder in contempt for not turning over documents sought by Congress in its probe of Operation Fast and Furious, probably the most reckless law-enforcement operation Justice has ever instigated. As Gohmert noted, it led to the death of a US Border Patrol agent and dozens of Mexicans.
Holder responded in anger by warning Gohmert that "You don't want to go there, buddy . . . you should not assume that that is not a big deal to me. I think that it was inappropriate." As Gohmert calmly pointed out, however, the Justice Department has refused to turn over the documents sought by Congress and Holder has been in court making virtually the same arguments that Richard Nixon made during Watergate to avoid disclosure. Holder replied he didn't need any lectures from a congressman.
On Wednesday, Holder used Al Sharpton's National Action Network platform to complain how he had been "treated" by the House committee, claiming it was evidence of the "unprecedented, unwarranted, ugly and divisive adversity" faced by him and President Obama. Holder obviously believes he has been treated with disrespect because of his race. After all, he asked "what attorney general has ever had to deal with that kind of treatment? What president has ever had to deal with that kind of treatment?"
In truth, Holder would only have to look back at how congressional Democrats questioned George W. Bush's competence and used hearings to bully Alberto Gonzalez, his attorney general, for an answer. Hardball doesn't even begin to describe it.
Congress is angry at Holder not because of race, but because justice is only reserved for his Democratic allies.
His only respect for the law is his belief that he and President Obama are above it.
.     .     .     .     .     .     .     .     .     .     .     .     .     .     .     .
John Fund and Hans von Spakovsky are co-authors of the forthcoming "Obama's Enforcer: Eric Holder's Justice Department" (Broadway Books), out in June. This article was published in The New York Post.