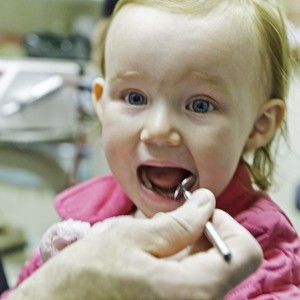 by Kerri Toloczko
Capitalism is good for everyone. Entrepreneurs access financial resources to create businesses. Businesses hire workers, and workers provide services to consumers. Consumer payments create profit, leading to more services,employees and entrepreneurs.
And according to one of America's foremost economists, capitalism is even good for children's teeth. You'd think everyone would be happy. But of course, they're not.
Mainstream dentistry and Medicaid have habitually underserved low-income children — with painful consequences. Chronically untreated cavities can turn into painful abscesses, leading to costly Emergency Room visits and excruciating pain for a preventable problem. Poor children without dental care often suffer long-term health issues, school absences and even death.
Abysmal Medicaid dental reimbursements well below standard rates are the main access barrier. Because most dental practices are small, they cannot afford accommodating children in Medicaid. Only 20% of American dentists accept Medicaid, and 17 million poor children go without dental care every year.
An avalanche of Medicaid provider paperwork, high rates of missed appointments in low-income populations and no incentives to set up practices in inner cities or low-density rural areas also contribute to making Medicaid services untenable for traditional dentistry.
Enter Dental Service Organizations (DSOs) – a new model for dental practice. DSOs perform the business requirements of a dental practice, leaving dentists free to perform dentistry. The model has attracted investment dollars, some in the form of private equity .
Using economies of scale and leveraging business efficiencies, DSOs overcome constraints on traditional dentistry. Many operate in inner cities and rural areas, and some are specifically designed to serve Medicaid children. After DSOs appeared in the mid-1990s, Medicaid population children seeing a dentist doubled from 20% to 40%.
DSOs have a couple of problems; they are a private sector solution, which automatically vilifies them for left leaning media. As with any industry, DSOs have had a few bad actors who have rightfully suffered swift retribution by regulators and the courts – but not before the trial bar caught wind of a potential new cash cow. The industry is profitable, accusations are free, and it is easy to find "victims" in fragile economic populations.
The Public Broadcasting System and the anti-capitalist Center for Public Integrity (funded by wealthy capitalist George Soros) has declared war on DSOs and by extension, poor children's teeth. With CPI input, PBS's Frontline aired a baseless hit piece on DSOs in June. CPIs David Heath recently gave another interview on what he calls with great disdain "corporate dentistry," vaguely noting he "found evidence" on one allegation, and had "one example" of another, while speaking derisively of private equity. Heath acknowledges traditional dentistry fails the poor, but does not seem to care. In his world, investors help poor kids find dental care is far worse than leaving children in pain.
CPI and Frontline's story has been completely debunked, including an audit CPI cites as "evidence" and the story's primary witness who was found to be a convicted felon terminated from a DSO for falsifying documents.
One of America's leading and most respected economists, Dr. Arthur Laffer, has challenged these accusations, using Texas (the largest DSO state) as his model with State-provided Medicaid data. In the interest of fairness, Laffer associate Ford Scudder politely asked CPIs Heath for the data used in the Frontline report so Laffer Associates could recreate the calculations.
Heath ran and hid from his failed reporting, answering Scudder with: "We don't know who you are working for or what you've been hired to do." This was after explanatory correspondence from Scudder to Heath. A ten second Google search reveals Scudder is a financial analyst working for the very famous Dr. Laffer.
Laffer's objective economic analysis of Texas's Medicaid Data is devastating to CPI claims against DSOs. It proved the exact opposite of what CPI was claiming, PBS was reporting, and trial lawyers were suing.
In 2011, DSOs performed 10.15 procedures per patient, DSO Kool Smiles (which Laffer openly noted funded the study but had no input) performed 8.24 and non-DSO dentists performed 12.39.
As for X-rays, the per-patient cost per year was $48.60 for DSOs and higher at $51.20 for non-DSOs. DSO dentists performed 40% fewer extractions than non-DSOs, and 16% fewer crowns.
As poor children suffer from painful, gaping holes in their teeth, the American public is exposed to painful, gaping holes in the truth.
It will be a tragedy if low-income families shy away from DSOs because of falsehoods circulated by stakeholders unable and unwilling to defend their accusations and with self-interests at heart – not those whose welfare they purport to defend.
–   –   –   –   –   –   –   –   –   –   –   –
Kerri (Houston) Toloczko is a Senior Fellow for Public Policy at Frontiers of Freedom, a public policy institute dedicated to promoting individual freedom, peace through strength, limited government, free enterprise, and traditional American values. Ms. Toloczko's article was originally published at Forbes.com.