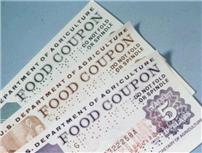 by Todd Beamon
Food stamps will be the only way 42.2 million Americans will pay for their Thanksgiving Day dinner this year – more than ever.
This Thanksgiving, 42.2 million Americans will be on food stamps – the Economic Policy Institute reports – or about as many people living in California and Connecticut combined, according to U.S. News & World Report.
And a report by the Sunlight Foundation, a nonprofit government watchdog group, said that its Food Stamp Challenge program estimates that a person receiving such aid has a budget of about $1.25 per person, per meal.
In other words, a family on food stamps must buy an entire meal for each person for less than the average cost of a cup of coffee, U.S. News reports.
The foundation's program tests the ability of higher-income families to live on food stamps.
A huge number of families with low income or no income have been living on food stamps since the start of the economic recession four years ago.
The U.S. Department of Agriculture reports that the average participation in the Supplemental Nutrition Assistance Program, or food stamp program, has jumped 70 percent since 2007, U.S. News reports.
Last year, the cost of the SNAP program totaled $72 billion, the highest to date, according to the Congressional Budget Office, according to U.S. News.
–   –   –   –   –   –   –   –   –   –
Todd Beamon write for NewsMax.com and this article was originally published there.