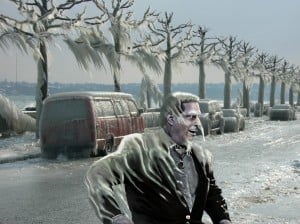 by James Taylor
Global warming alarmists are howling in outrage as Charles Krauthammer followed up a surgical takedown of global warming alarmism in his Washington Post column last week with a similarly brilliant appearance on Fox News' O'Reilly Factor this week. For all the alarmists' collective outrage, they have yet to identify a single error in what Krauthammer wrote and said. In the process, they have perfectly illustrated the difference between global warming skepticism, which relies on scientific evidence, and global warming alarmism, which relies on name-calling and temper tantrums.
Krauthammer began his Washington Post column by expressing concern about human carbon dioxide emissions. He followed that up by pointing out the virtues of critical inquiry and the Scientific Method. In particular, he pointed out several global warming subtopics in which alarmists have been wrong on the facts. Krauthammer documented how hurricanes have become less frequent and severe, how tornadoes have similarly moderated, how climate models show global warming should increase rather than decrease California rainfall, and how alarmist computer models consistently predict far more warming than occurs in the real world.
Concluding his article, Krauthammer noted how global warming alarmists typically respond to such evidence and factual data by attempting to silence scientific dissent through bullying tactics rather than scientific debate.
As if intentionally attempting to prove Krauthammer correct, global warming alarmists have responded to Krauthammer's column and O'Reilly appearance with shrill outrage, bullying tactics, and not a single shred of scientific data to contradict Krauthammer's long list of scientific arguments. In a response that perfectly summed up the alarmist response. Time magazine senior editor Jeffrey Kluger repeatedly called Krauthammer an "unfrozen caveman," failed to present any scientific data to contradict Krauthammer's, and concluded by appealing to an abstract notion of "settled science."
This leads one to wonder when the science became "settled." Was it seven years ago when alarmists claimed global warming would reduce the frequency and severity of Arctic cold fronts reaching the United States, or this winter when they blame an increase in such repeated Arctic cold fronts on global warming? Was it three weeks ago when Time claimed global warming is bringing an end to snowfall, or two weeks ago when every state but Florida had snow on the ground and alarmists blamed it on global warming? Was it in 2007 when alarmists claimed global warming was melting Antarctic ice sheets, or in 2013 when they said global warming is causing record Antarctic ice extent? Was it in 1998 when alarmist computer models predicted dramatic warming during the following 16 years, or today after no such warming has occurred?
When Charles Krauthammer and others ask such questions, one would expect global warming advocates who feel secure in their supporting scientific evidence to present the evidence and let the science do the talking. When prominent global warming advocates such as Barack Obama, John Kerry, and Jeffrey Kluger respond instead by engaging in juvenile name-calling – "flat earthers," "unfrozen caveman" – this tells us where the science really stands. It's like watching a spoiled three-year-old respond to his parents' logical admonition to not eat sugar all day by flailing himself on the floor and throwing a three-hour temper tantrum. It may make for good theatrics, but it hardly addresses the sound science behind his parents' admonition.
Year after year, I have invited many of the most prominent advocates of a global warming crisis to make their scientific case at the Heartland Institute's International Conference on Climate Change. Year after year, the alarmists shy away from the science and resort instead to the sort of long-distance name-calling that Time magazine launched against Charles Krauthammer. Their name-calling temper tantrums may help them vent their anger and rage at being proven wrong by the science, but it doesn't change the fact that they are continually proven wrong by the science.
While global warming alarmists ramp up their unscientific temper tantrums, Charles Krauthammer's sound science looks better with each passing day.
.     .     .     .     .     .     .     .     .     .     .     .     .     .     .     .     .     .
James Taylor writes about energy and environmental issues and is a contributor at Forbes.