Journalists and pundits turn on Obama for failing to make their fairy tales come true.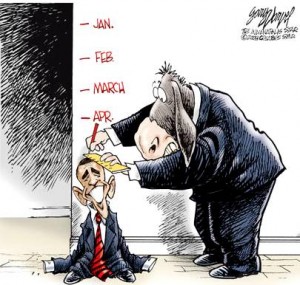 by  James  Taranto
Maybe there's something to be said for clean living after all. Although Mitt Romney is closer in age to the venerable Jim Lehrer than to the callow Barack Obama, it was the Republican nominee who came across in last night's debate as energetic and vigorous. And if Obama looked put upon when the cameras were on, imagine what he must've come home to. You spent our anniversary doing WHAT?!
About the private reaction of Obama's wife, of course, we can only speculate. But many of his lovers went public with their devastation: "I don't know what he was doing out there," wailed Chris Matthews. "He had his head down, he was enduring the debate rather than fighting it." One expected Matthews to burst into song: "The thrill is gone baby / The thrill is gone away / You know you done me wrong baby / And you'll be sorry Election Day."
Even better was Andrew Sullivan: "Look: you know how much I love the guy. . . . But this was a disaster for the president for the key people he needs to reach, and his effete, wonkish lectures may have jolted a lot of independents into giving Romney a second look. Obama looked tired, even bored; he kept looking down; he had no crisp statements of passion or argument; he wasn't there."Cue Shania Twain: "So you got the brain but have you got the touch / Don't get me wrong, yeah I think you're all right / But that won't keep me warm in the middle of the night."
We could spend hours quoting disparaging reviews of Obama's performances from journalists who were never as head-over-heels as Matthews and Sullivan, but we like to pretend as if we have space constraints, so we'll just take one representative example, also from the Daily Beast, where our friend Tunku Varadarajan writes: "My God, in the four years that we've seen him in the White House, I don't think we've ever seen the president so flaccid, so dull-brained, so jejune, so shifty, so downcast."
This columnist has to disagree. Obama's lame performance last night seemed typical to us. We can think of a few occasions in which we've seen the president less flaccid, less dull-brained, less jejune, less shifty, less downcast. But only a few.
But these qualities–or, to put it another way, this lack of quality–was harder than usual to miss last night because of the contrast with the highly effectual Romney. One reason it came as such a shock to Obama is that it was the first time in his career that he shared a debate stage with a serious opponent.
Think about it: John McCain was feeble. Alan Keyes, whom Obama beat in his 2004 Senate campaign, was crazy. All the Democrats who ran in 2008 were preposterous except Hillary Clinton, and she, as a beneficiary of nepotism, was highly overrated as a politician. He used Chicago-style dirty tricks to dispatch his original opponent in 2004, as well as the state senator he replaced back in the 1990s. The test he failed last night is one to which he had never been put.
But the journalists who are pointing the finger at Obama have three fingers pointed back at themselves. Instead of challenging the president, the press corps–with a few honorable exceptions, like ABC's Jake Tapper and the guys from Univision–have spent the past four-plus years puffing him up and making excuses for him
The American Spectator's Jeffrey Lord explains:
The great James Taranto . . . long ago posited what is called the "Taranto Principle." In short, it means that the liberal media so coddles liberal politicians that they have no idea how to cope outside that liberal media bubble. . . .
Barack Obama has been so totally coddled by the liberal media that he looked absolutely shell-shocked in this debate. Stunned, unhappy, angry, sour–and at some points genuinely incoherent.
Romney has had nowhere near that kind of treatment. He had serious opponents in the primaries–all of whom in their own way forced him to confront his ideas in a serious fashion. Conservatives were on his heels. The Obama media never let up. The man went through the political equivalent of boot camp.
Tonight, the Taranto Principle kicked in. Big time.
Outside the liberal bubble–forced to be alone on a stage with a very serious, very prepared candidate–Barack Obama was in trouble. Big Trouble.
One quibble, on a point of personal privilege: "Great" is not the right adjective. Isn't "inimitable" in the Spectator stylebook?
Otherwise, though, Lord is right. What we saw last night was the real Obama–a bright but incurious and inexperienced man who four years ago was promoted well beyond his level of competency. The Obama that guys like Matthews and Sullivan expected instead was a character in a fairy tale–a fairy tale written by guys like Matthews and Sullivan….
–   –   –   –   –   –   –   –   –   –   –
James Taranto's full article appears in The Wall Street Journal.