New Yorker magazine cover pokes fun at Obama's disaster debate and vindicates Clint Eastwood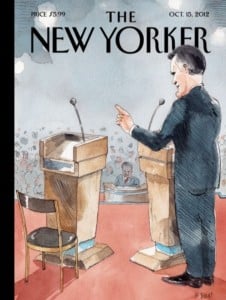 by Toby Harnden
We had Clint Eastwood debating an empty chair that represented Barack Obama at the Republican convention. Now, the 'New Yorker' magazine is depicting the President as a debate podium with an empty chair behind it.
Next week's cover carries an illustration entitled 'One on One' by Barry Blitt , who explains: 'This image seemed like a proper response to the first Presidential debate but I'm not sure I realised how hard it is to caricature furniture.'
Blitt shows a confident looking Mitt Romney on the right wagging his finger, a diminutive Jim Lehrer, the moderator, looking downwards in the centre, and on the right – no-one, just an empty chair.
The cover echoes the widespread criticism that Obama was effectively AWOL during the debate, declining to engage with Romney or rebut any of his points. Afterwards, liberal MSNBC host Chris Matthews wailed on air: 'Where was Obama tonight?'
For the liberal 'New Yorker' to carry such a cover is all the more remarkable because David Remnick, the magazine's editor, is an admirer of Obama who wrote a positive and well-received book on the President entitled 'The Bridge."
The cover – and Obama's debate performance – could be seen as a degree of vindication for the Romney advisers who gave Eastwood a prime-time slot on the final night of the Republican convention in Tampa and allowed him to ad-lib his speech.
At the time, senior Republicans were livid with some calling for top Romney aides to be fired. But although Eastwood's improv show was panned by the media, he appears to have created an enduring motif representing Obama – and one that has now been embraced to a large extent by the liberal establishment.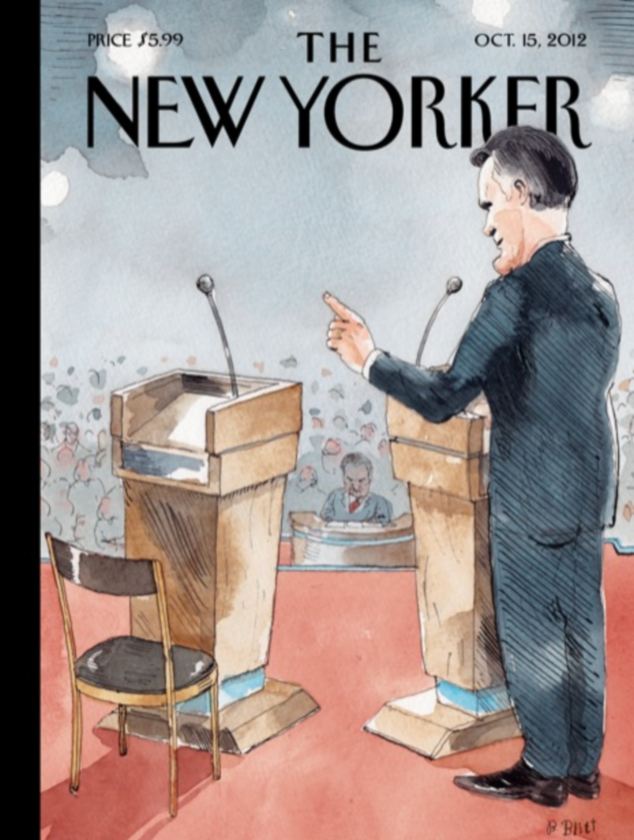 –   –   –   –   –   –   –   –   –   –   –
Toby Harnden's full article appears in the Daily Mail, a leading newspaper in London, England.