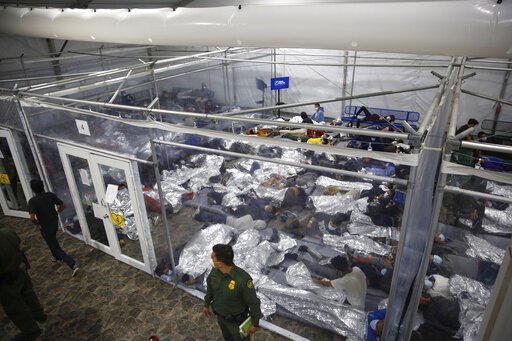 I did something that neither the President or Vice President of the United States are willing to do. I went to the border in Texas to learn and see with my own eyes what is going on. And to be blunt, it is far worse than I imagined — for everyone. The only people profiting from what is currently happening at the border are the human traffickers and drug cartels. Everyone else — on both sides — is a loser if this situation persists.
Here's what I saw with my own eyes and heard with my own ears when I went to Del Rio, Texas — a town of about 35,000 people about 150 miles west of San Antonio along the Rio Grande. Local law enforcement are overwhelmed and over run. The local sheriff's department was never intended to be a border security force. Their job is to enforce the law within the county, not monitor the border. They are stretched thin and only have four deputies to spare along almost 120 miles of border. That means one deputy to cover about 30 miles.
But even the US Border Patrol is overwhelmed. They have been put in an impossible position. Border walls are no longer being built. Technology to help border agents has been turned off. So they are left to patrol the border as best they can and even they believe they are only catching between 1/2 and 1/3 of those racing across the border.
Imagine living in a town of 35,000 people and having four times that many people flooding across the border in the space of only a few months. And that is only a low-ball estimate. Even the Border Patrol agents said that probably double to triple that many are actually crossing the border. But that they cannot count them all because so many evade detection.
I attended a townhall meeting where locals came to express their concerns. The auditorium was packed and many people were standing along side and back walls. For more than two hours a parade of local citizens — a slight majority of whom appeared to be people of color — came forward to the microphone an in a couple minutes told their experience. Here's what I learned:
Dozens and dozens of locals described how illegals had damaged their property, broken-in to their homes, sheds, and cars. I listened for more than two hours as they described how their families and children are now living in constant danger and fear.
Some of those who spoke were descendants of the original Mexicans who wanted to be free of the despotism of Gen. Santa Anna. Their ancestors defended and died at the Alamo. Others joined Sam Houston's army that ultimately defeated the Mexican army and won Texas' independence. Some of the speakers came to America legally in the last decade or so and spoke English with an accent. Not that any of that matters, but the point, is, it was a diverse audience with a diverse background, but they were all united in one thing — the current situation is unbearable and must be fixed.
They described how difficult it is to make ends meet even in better times — but that when there is a constant stream of trespassers damaging your property, destroying your fences, allowing your livestock to escape, stealing your vehicles, and putting you and your children in fear for their lives and safety, it just isn't worth it.
They described vehicles — stolen by human smugglers — driven recklessly and dangerously and colliding with locals — causing serious injuries. Several speakers referenced a young girl and her father who miraculously survived but suffered life changing injuries due to a head on collision with a human smuggler driving a stolen car.
They described having to hide inside their homes as a group of more than a hundred illegals streamed across their property in the dark of night.
A woman painfully described how her sister — who works as a house keeper at a local hotel which has been used by federal authorities as a place to house illegals before they are sent to other parts of the United States. This woman tearfully told us that her sister was brutally raped on the job.
They all had their own story, but they all expressed a sense of betrayal. And they also had a sense of anger and frustration that when they express their concerns, all too often, they are labeled as haters or intolerant and that they are ignored as if they don't matter.
A woman of hispanic descent holding babies and speaking in an accent described how she and her family had come to America legally years ago to have a better life and become an American. She spoke with pride of their home in America and the life that they had built here. But then she asked why she and her family don't matter, why their rights to freedom and the pursuit of happiness are now irrelevant.
Even Democrats told us that Joe Biden and Kamala Harris and their policies are the primary cause of their problems. In Washington, we are used to partisans covering for their fellow partisans now matter how absurd the defense. But reality has forced this sort of blind partisanship to the side.
But it isn't just the locals in Texas who are suffering. Many of those coming across the border are doing so because they've been invited to. But they, too, have become victims of the human smugglers and drug cartels who make them indentured servants and who threaten with physical harm and death their remaining family who serve as collateral for the cost of being smuggled across the border. These remaining family members live the rest of their lives under constant fear that the cartels and human smugglers will pay them a visit because of a late payment. Simply stated, our current policies are allowing human smugglers and drug cartels to flourish and profit and with those profits, they will not be building hospitals and schools. Instead, they'll be building armies to expand their human smuggling operations and militarizing the border.
The Biden-Harris administration says it is working on root-causes. But stamping out poverty in central America and around the globe, is not something that will happen this year or even this decade. America has spent literally trillions of dollars in the past generation to stamp out poverty and made little impact. So if they do as well in the rest of the world as they have in the US, 50 years from now, we will still be discussing the root causes of the problem and debating how many more trillions must be spent to fix it.
But for people on both sides of the border that will be very sad news — a constant flow of crime and fear for generations to come and a perpetual stream of cruel and inhuman treatment from human smugglers and drug cartels. This is what I saw. This is what I heard. It was heart breaking. These are the cruel results of the ill-conceived and poorly thought out policies of the Biden-Harris Administration. False narratives won't fix the problem. People on both sides of the border need solutions. And a secure border is where it all starts.