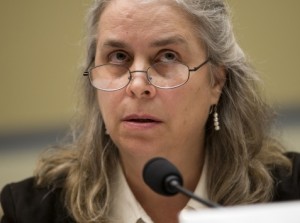 Embattled IRS official Sarah Hall Ingram made 155 visits to the White House to meet with a top Obama White House official with whom she exchanged confidential taxpayer information over email.
Of Ingram's 165 White House meetings with White House staff, a staggering 155 of them were hosted by deputy assistant to the president for health policy Jeanne Lambrew, according to a June Watchdog.Org analysis of White House visitor records.
Ingram exchanged confidential taxpayer information with Lambrew and White House health policy advisor Ellen Montz, according to 2012 emails obtained by the House Oversight and Government Reform Committee.
The White House recently took down visitor logs recording details of these meetings, citing the government shutdown.
Ingram headed the scandal-plagued IRS office that oversaw tax-exempt organizations between 2009 and 2012, when she left to take over the IRS office in charge of Obamacare implementation.
Former IRS Exempt Organizations division director Lois Lerner, who apologized for improperly scrutinizing tax-exempt applications of conservative groups between 2010 and 2012, also received an email alongside Ingram, Lambrew and Montz that contained confidential information.
In 2012, Ingram attempted to counsel the White House on a lawsuit from religious organizations opposing Obamacare's contraception mandate.
The emails provided to Oversight investigators by the IRS had numerous redactions with the signifier "6103."
Section 6103 of the Internal Revenue Code forbids a federal employee from "disclos[ing] any return or return information obtained by him in any manner in connection with his service as such an officer or an employee."
The "6103″ signifiers were repeatedly added to the emails in instances in which the officials were referring to the names of groups or organizations, according to a reading of the redacted emails.
Federal employees who illegally disclose confidential taxpayer information could face five years in prison.
The IRS does not respond to press inquiries during the government shutdown, citing law.
.     .     .     .     .     .     .     .     .     .     .     .     .     .     .     .     .
Patrick Howley is a journalist with The Daily Caller.