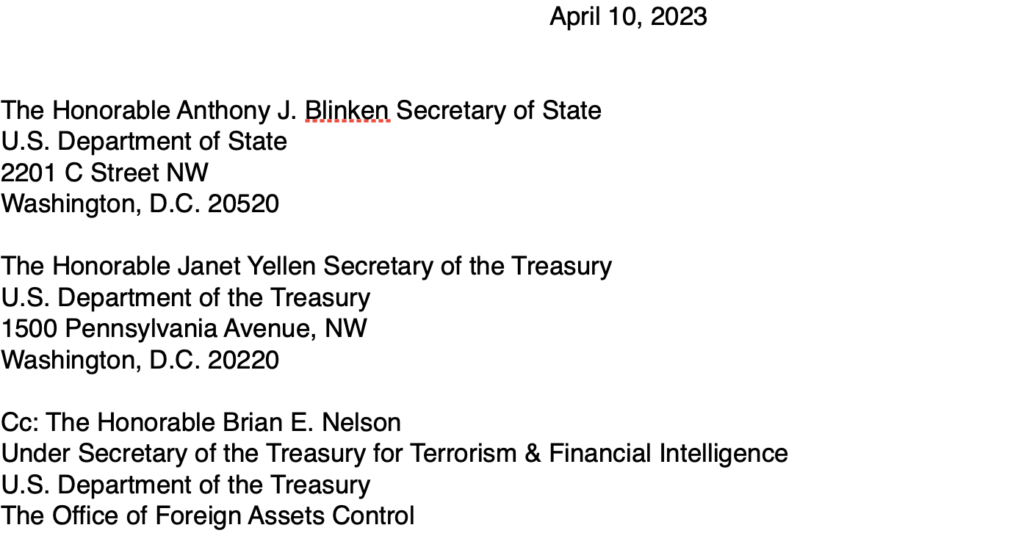 Dear Secretaries, Blinken and Yellen:
As an Institute dedicated to the universal promotion of human rights and the fight against corruption and the promotion of the rule of law, we commend you for your commitment to implementing the Global Magnitsky Human Rights Accountability Act (PL 114-328, Subtitle F), which authorizes the President of the United States to impose financial sanctions and visa restrictions on foreign persons in response to certain human rights violations and acts of significant corruption. We hope that the Biden administration will engage in "Robust and thorough enforcement" of the Act, and that the President will "fulfill his commitment to hold perpetrators of human rights abuses and corruption accountable."
"Global Magnitsky" is a potentially groundbreaking legal weapon. It allows the United States of America to sanction the worst human rights violators and corrupt individuals across the globe. Moreover, this Act also states unequivocally that, as far as the United States of America is concerned, accountability for political and private gangsterism knows no borders. Finally, uncompromising implementation of the Act has the potential to deter any present and future kleptocrats and those who use and would contemplate to employ violence to silence dissent to perpetuate their power, forcing these corrupt individuals to think twice before committing their criminal acts. This Act is a shining example of the principle that the United States of America intends to lead the rest of the world in eradicating gross violations of human rights and theft of public and private assets worldwide.
Yet, the great promise of the Act will only be realized if the American government turns its provisions into real actions. With this conviction in mind, we, the leaders of the Frontiers of Freedom Institute, have endeavored to compile and document a case from Romania that we believe satisfy the Act's strictest requirements, which in turn, deserve the most rigorous investigation by the American government. We are pleased to provide your departments with case files as summarized in the appended annex.
Throughout our discovery process, our objective has been to gather and organize pertinent evidence in a manner that we believe will assist your staffs in making timely, meaningful, fact based, and objective designations. Evidence in each case that we have assembled combines credible reporting from international governmental organizations, such as the European Bank for Development and Reconstruction ("EBRD") and local non-governmental organizations, and writings from investigative journalists, and personal accounts of senior executives of local and international companies.
Today, there is no rule of law, and there is no free market economy in Romania. Articles in the local as well as international press, exhaustive reports in the domestic and foreign media have laid bare the extent of lawlessness and corruption in Romania. The system of checks and balances has disappeared. The rule of law has become non-existent too. Economic freedoms also h ave fallen to the "pay to play" mentality that has introduced absolute corruption in every sphere of the Romanian economy and particularly in one of the most critical sectors, the financial services and insurance industries. Furthermore, US based institutional investors, such as Morgan Stanley, JP Morgan and investing clients of Interactive Brokers are greatly and detrimentally affected.
Even more alarming is the fact that highly corrupt individuals in the government leadership and administration have set about to destroy the unity of the European Union and NATO, in order to please Russia and its President Vladimir Putin. For all these reasons, the United States of America, as the leading power of the world, must take appropriate actions immediately to prevent further damage to the security of both alliances, Romania as a member state of NATO, and the European Union. Moreover, in the case of the European Union, the political and economic well-being of the entire organization will be in jeopardy. At stake are the fundamental principles and the basic value systems that we and our allies all over the world have cherished, have fought for, and have been determined to uphold.
And there is some evidence that Russia's Putin is able to capitalize and use this corruption to limit the ability of Ukrainians to travel and escape the war crimes that he has been formally accused of by the International Criminal Court. The corruption of financial services and insurance services is bad enough and corrosive enough by itself, but it has the added impact of making travel and obtaining required insurance for travel and shipments almost impossible due to the corruption that blocks access to these needed resources if one wishes to travel. The bottom line is that using endemic corruption in financial and insurance services to block ordinary citizens from traveling or fleeing a systematic imposition of crimes against humanity in Ukraine effectively allows corruption to be used as a tool to trap innocent people in a purposefully targeted and deadly assault aimed a wantonly killing civilians by the tens of thousands. So, while corruption is always bad and harms a civil society, this is a special case that offends even the most seared conscience.
The most important individuals who for the last few years have perpetrated acts of corruption by having been instrumental in passing laws and regulations against the liberty of Romanians and Ukrainians alike, and having participated in and/or having benefited of corrupt actions and practices are four officials and managers of Romania's Autoritatea de Supraveghere Financiară (Financial Supervisory Authority (ASF)), and four accomplices in public and private sector positions of influence, including:
Cristian Roșu, ASFVice-President Insurance Reinsurance (2018-Present).
Cristian-Adrian Muntean, Advisor to ASF Vice-President Cristian Roșu (ASF 2013 – 2021); former President, Association of Independent Auto Service Companies (ASSAI).
Marcel Valentin Ionescu, Director, ASF Department of Strategy and Financial Stability, Office of the President (ASF 2013 – Present).
Florin Golovatic, ASF Director (ASF Positions: 2015 – Present).
Florin Pandele, Owner, AutoCar Group (among the largest car repair shop networks in Romania); Vice-President, Confederaţia Operatorilor şi Transportatorilor Autorizaţi din România (the Confederation of Authorized Operators and Transporters from Romania, (COTAR)) (representing approximately 1,500 automobile repair shops).
Florentin Pandele (aka Florentin-Costel Pandele), Politician – Mayor, City of Voluntari (2000 – Present); former Director, Ilfov Consumer Protection Office (1998-2000); Deputy Director, Bucharest Consumer Protection Office (1997-1998); Member, Social Democratic Party (PSD). Brother of Florin Pandele; Married to Gabriela Firea (September 2010).
Gab riela Firea, Politician – Romanian Government Minister of Family, Youth and Equality of Opportunity (November 2021 – Present); General Mayor of Bucharest (June 2016 – October 2020); Member, Romanian Parliament Senator, representing Bucharest (2020 – Pres.) and, prior to this, Ilfov County (2012 – 2016); Government Press Secretary to Prime Minister Mugur Isărescu (January – December 2000); Member, Social Democratic Party (PSD). Former print and broadcast journalist, director-moderator, producer of media reports focusing on economics and business (financial and banking) sectors.
Cătălin Tolontan, Journalist, Editorial Coordinator, Libertatea (daily tabloid reporting current events)(2018 – Present); and Gazeta Sporturilor (daily sports publication) (2003-Present).
As the information in the annexed materials demonstrate, the evidence of human rights violations and extreme corruption of these individuals are aptly proven by countless Romanian and international sources.
We urge you to consider our nomination of the above-named individuals for sanctions under the Global Magnitsky Act. Their actions have caused significant harm and grotesque injustice to the people of Romania, Ukraine and Bulgaria, and it appears that this corruption not only benefits the perpetrators of the corruption, but also benefits Russia's Putin and weakens NATO, and it is important that those who engage in corruption are held accountable for their actions.