By Tom Howell Jr.     •     The Washington Times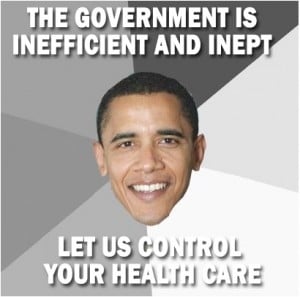 Obamacare has offered insurance to millions of people, but they're unhappy with the coverage they're getting and are particularly upset about the costs, according to a survey released Monday that suggests the health care law continues to struggle to win over Americans.
Just 30 percent of customers on Obamacare's exchanges were satisfied with their coverage, the health care research arm of the Deloitte consulting firm said.
Only a quarter of Obamacare customers in the survey were confident that they could get care when they needed it, and just 16 percent felt "financially prepared" to handle future health care costs, Deloitte said.
"Those are not high numbers," said Paul Lambdin, a director for Deloitte's work on insurance exchanges and retail practices.
Analysts said it is hard to tell at this point whether dissatisfaction is the inevitable byproduct of a new customer base or whether the law itself has structural problems.
"I think you'd have to go a lot deeper to really discern that at this point. They're muddied together," Mr. Lambdin said in an interview.
The polling contradicts findings in other surveys that seemed to show higher levels of satisfaction, including a Kaiser Family Foundation poll, that found three-quarters of people on exchange plans rated their overall coverage as "excellent" or "good."
The discrepancies could result from how the surveys measure satisfaction and how much weight is given to people who feel lukewarm about their plans.
Deloitte asked more than 3,800 adults, including 406 exchange enrollees, to rate their satisfaction from one to 10. More than half of exchange customers said they were in the "somewhat satisfied" range of four to seven.
Fourteen percent of exchange users said they were "not satisfied." By comparison, those who have coverage through Medicare, Medicaid or plans through their employers had dissatisfaction rates in the single digits.
Obamacare customers were twice as likely as the uninsured to see a primary care doctor, suggesting that the coverage is paying off in trying to create a more healthy population.
Also, 35 percent had a high level of confidence that the exchanges are providing good information.
The Affordable Care Act, as Obamacare is officially known, set up marketplaces in each state where those who lack insurance but make too much money to qualify for Medicaid can purchase plans, usually with government subsidies in the form of tax credits.
The Supreme Court has upheld the broad outlines of the law as constitutional, and in June issued yet another ruling finding that the law allows tax credits to be paid nationwide, putting Obamacare on surer footing.
Still, the law has suffered from a number of self-imposed hiccups, including potential fraud, lax verification and potentially rising costs for customers as insurers figure out the economics.
Going forward, Obamacare exchange plans will have to balance consumers' "overwhelming" preference for low premiums with a plan that minimizes risk to out-of-pocket costs and lets patients see the doctors they want, said Elizabeth Carpenter, a vice president at Avalere Health, a Washington-based consultancy.
"A low-premium plan may work well for some consumers, but over time, others may view this trade-off differently," she said.
Republican lawmakers said the Deloitte results reflect their critiques that high costs, mainly through big deductibles and copays, have left Obamacare's customers functionally uninsured.
"The fact that so few people receiving large subsidies to purchase Obamacare coverage are satisfied is another testament to how the law has been an expensive failure," Sen. John Barrasso, Wyoming Republican, said in response to the study.
Sometimes the hiccups with Obamacare have prevented people from signing up.
Two in five uninsured respondents to the survey said they experienced technical difficulties in trying to enroll on an Obamacare website, and 27 percent said they eventually stopped trying because of the glitches.
"Potential buyers report facing substantial technical and usability barriers, and need better decision-making support," the survey said.
Several states are going after tech vendors for faulty exchanges that spoiled the early rounds of enrollment, particularly in the first year.
A trio of Republican senators led by Finance Committee Chairman Orrin G. Hatch, Utah Republican, urged Andy Slavitt, acting administrator at the Centers for Medicare and Medicaid Services, on Monday to return any dollars recouped from faulty Obamacare contractors to the federal taxpayer.
"These wasted dollars originally flowed from the federal Treasury, which is where they should return when they are recouped from contractors," they said.