by Nick Wing  • The Huffington Post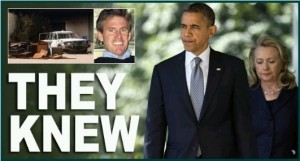 On the eve of the one-month mark since her son's death in a terrorist attack on a U.S. consulate Libya, Pat Smith, the mother of one of the slain in Benghazi, demanded the answers she said she'd been promised by President Barack Obama and other top administration officials.
Sean Smith, a computer specialist, was one of four Americans killed during the Sept. 11 assault on a U.S. compound in Benghazi. Days after the attack, Smith's mother, Pat Smith, attended a ceremony at Joint Base Andrews in Maryland, where she cried on the shoulder of Obama, Vice President Joe Biden and Secretary of State Hillary Clinton, as they honored her son and vowed to give her information on his final hours.
In an interview with CNN's Anderson Cooper on Wednesday, October 10, 2012, however, Smith claimed these promises hadn't been kept.
"I told them, 'Please don't give me any baloney that comes through with this political stuff. I don't want political stuff. You can keep your political, just tell me the truth — what happened,'" she said. "They haven't told me anything. They're still studying it. And the things that they are telling me are just outright lies."
Smith said that the pride and comfort she felt at the reception has faded in the month since her son's death, as she continues to look for a more detailed accounting of how and why the attacks took place. She also told Cooper that she'd confronted the president directly on that day, explaining to him how upset she was.
"I told Obama personally, I said, 'Look, I had him for his first 17 years and then he went into the service, then you got him,'" she recounted. "I said 'You screwed up, you didn't do a good job, I lost my son.' And they said, 'We'll get back to you. We — I promise, I promise you. I will get back to you.'"
Smith isn't the only one digging for answers. Congress conducted its first round of public hearings on the incident this week. Lawmakers grilled U.S. security officials, who admitted that protection had been scaled back in the lead-up to the attack. Republicans have attempted to pin the lack of preparedness on Obama, but have also been forced to acknowledge that they voted to reduce State Department funds for embassy security.
–   –   –   –   –   –   –   –   –    –    –
Nick Wing writes for the The Huffington Post. His full article can be found here.