After Shaking up Arizona Senate Race (GOP Senate candidate has picked up "extremist" theme in PAC's TV spots), Frontiers of Freedom Action expands its effort to hold New Hampshire's extremist Senator Maggie Hassan to account for her betrayal of New Hampshire voters.
NEW HAMPSHIRE'S OWN SENATOR VOTED TO PERMIT FEDERAL BUREAUCRATS TO END THE STATE'S GREATEST TRADITION — FIRST-IN-THE-NATION PRESIDENTIAL PRIMARY.
"Hassan was so afraid of a left-wing primary challenge she even went along with empowering Department of Justice bureaucrats to end New Hampshire's greatest tradition." — George Landrith President, Frontiers of Freedom
HASSAN'S "CORRUPT BARGAIN WITH LEFT WING EXTREMISTS" MADE HER "KEY ENABLER" WHO VOTED 96% WITH BIDEN. ("EXTREMIST" SENATE VOTING RECORD.)
Screen shows "CORRUPT BARGAIN WITH LEFT WING EXTREMISTS" EMBLAZONED ACROSS PHOTO OF RADICAL-LEFT NEW YORK REPRESENTATIVE OCASIO-CORTEZ AND 3 OTHER FAR- LEFT MEMBERS OF "THE SQUAD")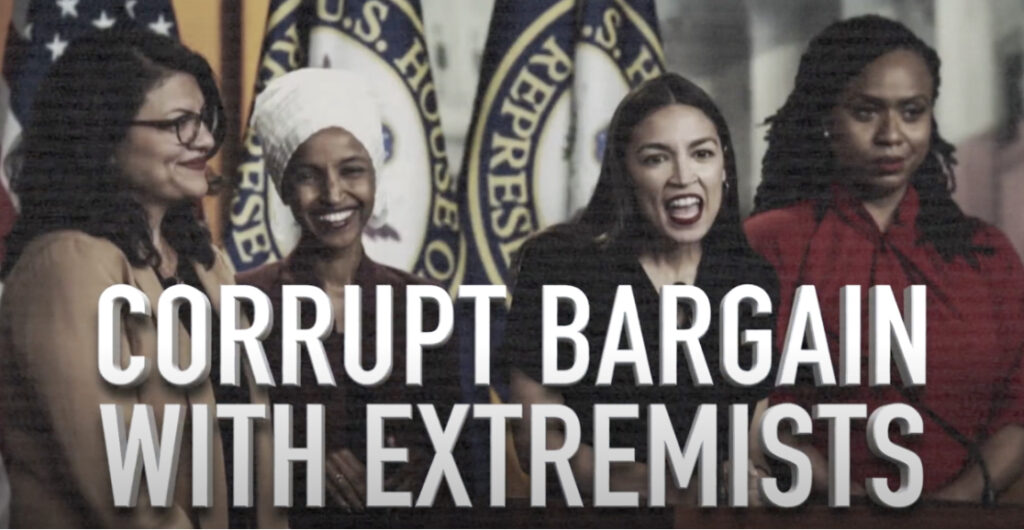 ASKS NEW HAMPSHIRE MEDIA TO "STAND UP TO CORRUPT NATIONAL MEDIA" AND END HASSAN'S 'FREE RIDE'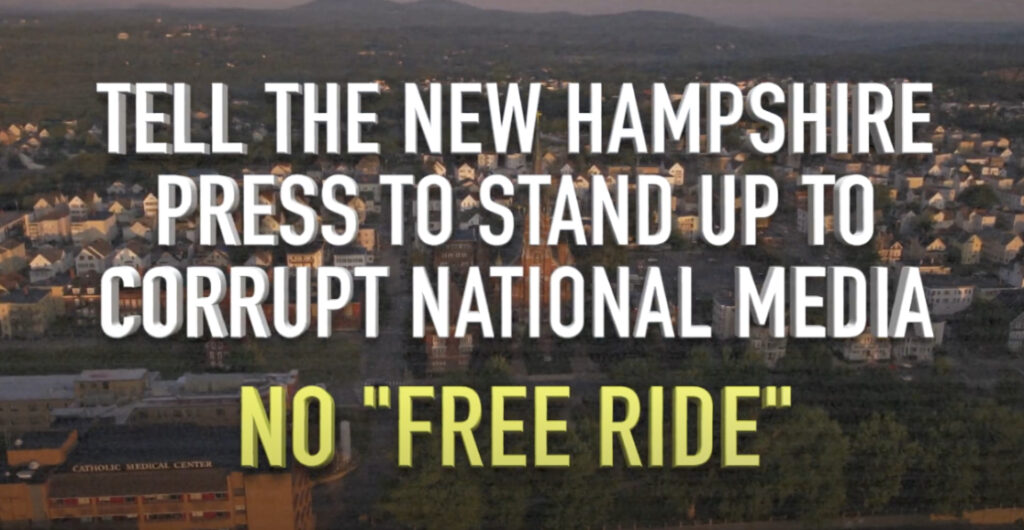 "The 50th Senator" who in a closely divided Senate who could easily have "stopped Biden debacles like the border crisis" the spot show vivid footage of illegal border crossings. Hits Hassan for supporting Biden's "Student loan giveaway."
"SCRIPTED LINES" AND "WHOLE CAMPAIGN" IS BEING RUN FROM WASHINGTON BY DC LIBERAL CONSULTANTS AND FINANCED BY FAR-LEFT DARK MONEY
MAKE HASSAN ANSWER FOR WHAT SHE HAD DONE TO NEW HAMPSHIRE & TO AMERICA:
"It is incredible she isn't even being asked about her far-left voting record and especially her votes to endanger the presidential primary or about who is really running her campaign?" — Landrith
"Everything she says and every TV spot she runs is out of the DC consultants' playbook — Who 's running her campaign?" — Landrith
"The extreme left has created all the problems that our nation is now facing — the border crisis, the murder and violent crime crisis, economic stagnation, runaway inflation, the fentanyl crisis, failure in Afghanistan, and an emboldened Russia, Iran, and China. All of this can be laid at Maggie Hassan's feet. In a 50-50 Senate, Hassan could have stopped the insanity at any point, but she didn't even try. Not once. As a result, New Hampshire and Americans are suffering from runaway inflation making the average family about $7,000 poorer than just 18 months ago. We also face a stagnant economy in recession — something Hassan and her allies have lied about constantly. New Hampshire deserves a Senator who will represent the people, not the extremist special interests. Maggie Hassan has consistently proven that she is not up to the job! It is time for a new direction and a new senator." — Landrith
HASSAN'S REPUBLICAN OPPONENT – GENERAL DONALD BOLDUC
"General Bolduc is credible and likable. He's one of those soldiers who has become a great candidate. He has proven that he will take on the extremist elements and the special interests in Washington. General Bolduc will help make Washington focus on what matters to New Hampshire's citizens — a strong economy, a government that promotes and protects freedom and opportunity for all, and a nation that is strong in the face of increasing threats from abroad." — Landrith
But he must use "the 'e' word" because the "extremist" charge really cracks the code against Democrats like Hassan for the simple reason it's the truth and the truth actually works in politics. Her voting record shows she cared more about the approval of the media and the left wingers who threatened her with a primary than that of her New Hampshire constituents. She can't claim to be a moderate." — Landrith
Spot also shows "news stories" repeating Hassan and Democratic party talking points.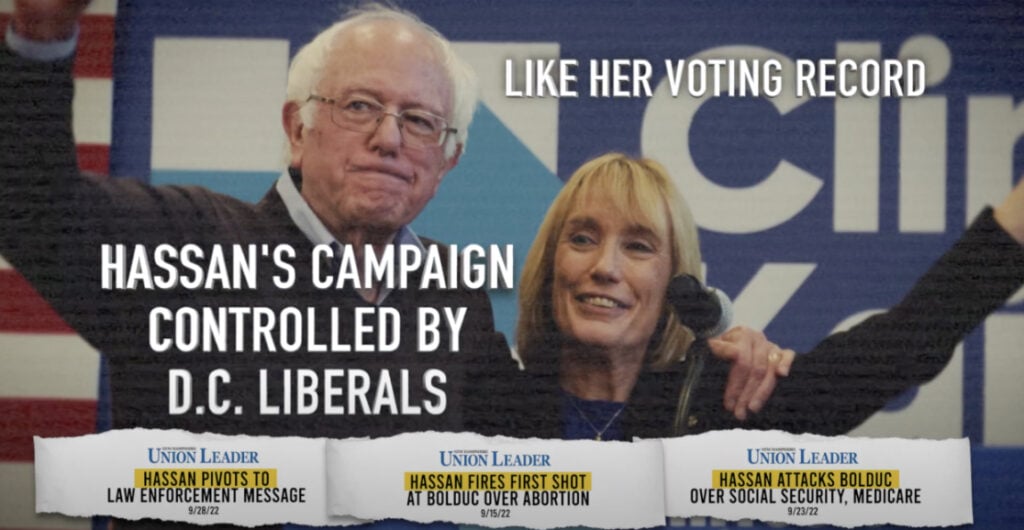 "We think the New Hampshire media wants to be fair, but they can't just repeat Democrat talking points. They need to give General Bolduc a hearing and ask Hassan some tough questions like those in our TV spot." — Landrith
SPOT SAYS FOR YEARS HASSAN "NEVER HAD TO DENOUNCE" EXTREMISTS WHO WANT TO DEFUND THE POLICE (until campaign trail) OR THE DEMOCRATIC PARTY'S "dark money alliance with notorious anti-American billionaire George Soros funding lawless prosecutors: to opposition to school reform and parental rights, as well as the destruction of women's sports and childhood education with "gender lunacy."
"Maggie Hassan made a corrupt bargain with left-wing extremists to not run a primary against her if she pushed far-left positions that have done so much harm to New Hampshire."
"Why did she let her fear of a primary make her cave into the left-wing extremist "squad'?"
"How can she say he isn't a left-wing extremist if every time he votes like one?"
HASSAN VOTED AGAINST HER CONSTITUENTS
"Why did Maggie Hassan go to the big city and forget the people who sent her there."

LONG-FORMAT, STORY-TELLING AD
"These are not 30-second attack ads that try to manipulate people, but heavily informative narrative ads that work particularly well with Independents, women, and young people who appreciate being given context and a story that put a larger perspective around the issues." Landrith
Landrith explained the 2-minute nightly news spot <Link> is followed by a 1-minute "chaser" <Link> that summarizes what the viewer has just seen.
"TEMPLATE" AD IS DESCRIBED AS "GREATEST AD IN HISTORY OF CAMPAIGNS"

One conservative website called an earlier version of the spot (directed against Senate Majority Leader Chuck Schumer) "The greatest ad in the history of campaign ads" and said "Every MAGA candidate should imitate its format."
Three weeks of the ad in the Arizona TV market recently led to the adoption of its theme by GOP Senate candidate Blake Masters.
WHY THE "EXTREMIST" CHARGE IS KEY
"The reason Joe Biden and Democrats are trying to use the 'extremist' charge against Republicans is they realize it is their own biggest vulnerability. But the truth is clear – Democrats are the real extremists today." — Landrith
SPOT SPELLS OUT HASSAN AS BIDEN'S AND SCHUMER'S "CHIEF ENABLER"
HUGE SPENDING BILLS CAUSING SHATTERING INFLATION AND RECESSION.
SHUT DOWN PIPELINES, DROVE UP GAS PRICES
CAUSED FOOD SHORTAGES EVEN BABY FORMULA
AND OPPOSING SCHOOL REFORM
DESTROY WOMEN'S SPORTS AND CHILDHOOD EDUCATION WITH GENDER LUNACY (Pix of Lia the swimmer and drag queens at kindergarten)
AD HITS SENATE DEMS FOR "SCORCHED-EARTH" "RULE-OR -RUIN" ATTACK ON AMERICAN DEMOCRATIC INSTITUTIONS
THE EXTREMIST LEFT WILL DESTROY –
THE SUPREME COURT
THE SACRED SECRET BALLOT (No voter ID, unlimited vote harvesting and mail-ins & DC bureaucrats' takeover of elections)
CITIZENSHIP (Open borders)
US SENATE (Add new states, no filibuster)
ELECTORAL COLLEGE (Elections decided by a few counties in a few states)
IMPOSE ANTI-CATHOLIC RELIGIOUS TEST FOR FEDERAL OFFICE
About Hassan's support for Schumer assault on democratic institutions:
"The GOP has never gotten across to the people how those bills would have destroyed the secret ballot, put Department of Justice bureaucrats in charge of our elections, abolished citizenship rights, packed the Supreme Court into irrelevance, radically changed the U.S. Senate, and made a few states the only thing that mattered in presidential elections by abolishing the Electoral College," said Landrith.
ACCUSES HASSAN OF DESTROYING ELECTION INTEGRITY BECAUSE SHE BACKED BIDEN-SCHUMER
"She voted for a federal takeover of elections that would corrupt the secret ballot and completely reduce New Hampshire's historic role in presidential elections." — Landrith
SPOT DESCRIBES "PEOPLE'S FURY" AGAINST
MEDIA AS AMERICA'S "MOST CORRUPT INSTITUTIONS"
The Mainstream Media has COVERED UP: 1) China virus leak, 2) Hunter Biden laptop scandal, 3) illegal wrongdoing by Clinton and Biden, 4) FBI harassment of political dissenters, 5) never apologized for years of its Russian collusion hoax, 6) promoted smears and civil rights violations against conservatives, 7) phony impeachments and show trials, 8) covered up Biden's ill health and incompetence by letting him run from basement.