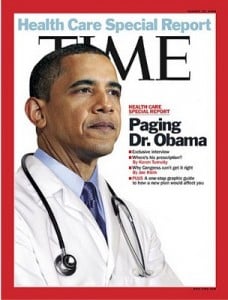 The only question is precisely when …
by Peter Roff
The Republicans are at loggerheads over the issue of health care.
Some, believing the party's commitment to "repeal and replace" was written in blood, advocate using the upcoming continuing resolution necessary to keep the government open to "defund" it. Others, sensing that President Obama would regard such a move as leaving him no choice but to allow the government to shut down – and it's doubtful anyway that such a measure would be approved by the Senate so that it could get to the president's desk – are taking the position that repeal cannot be accomplished in one bold stroke but must instead be done piecemeal.
Even though there is plenty of polling data showing the American people do not support Obamacare in its current form and would like to see it repealed or fundamentally altered, it is the proponents of the gradualist approach that seem to slowly be winning the argument. The reason for this is simple: They have the president on their side.
Not intentionally of course. The president still stands squarely behind his singular – perhaps even his only – legislative accomplishment of any substance. The sad fact is however that his team has made such a hash of the implementation phase of Obamacare that "delay" is already a reality.
According to the nonpartisan Congressional Research Service, the Obama administration has missed nearly half the statutory implementation deadlines – and not in the way the new kitchen is not ready on the date the contractor promised it would be. The dates that have been missed were set in law – a fact which presents an interesting problem for the White House should anyone choose to pursue it.
Nevertheless, with the administration already in the "delay" phase it seems only natural that Congress should follow along, the difference being the Democrats want to "delay" until they get it right while the Republicans want the "delay" in order to get something else.
That something else, call it a do-over, may be the Republican Study Committee's "American Health Care Reform Act," which is set to be rolled out by several GOP congressman include RSC Chairman Steve Scalise of Louisiana on Wednesday. It may also be a plan being developed by health care policy experts Peter Ferrara and John Goodman of the National Center for Policy Analysis. Georgia Rep. Tom Price, who is also a medical doctor, also has a bill he has offered repeatedly that contains a number of pro-market-reform incentives that would improve health care in America without raising costs and without having to resort to rationing, as is inevitable under Obamacare.
It is a given that things will not remain as they are. It is highly unlikely that the new law will ever be fully implemented as its authors and the White House intended. Even Warren Buffett, the "Oracle of Omaha" and one of the president's best billionaire buddies and staunchest defenders seems to be climbing on the do-over bandwagon.
In between "delay" and "do-over," is "dismantle," taking the new law apart piece by piece in order to accelerate its collapse under its own weight. The Obamacare advocates who say the public will never go for repeal if it means losing the goodies that are being bestowed upon them are probably right. This means the opponents of the new law have to act in such a way as to force hard choices above and beyond the hard choices that reality is already hitting them with. The premium increases, layoffs, and conversion of full time jobs into part time jobs are not coincidental; they are a direct result of the costs Obamacare is already imposing on private insurance and on employers.
The government of course knows nothing about this. They have all those tax dollars to spend so they can insulate themselves from the consequences of what they are imposing on the rest of us in the outside world. Almost. The maneuvering between the White House, congressional Democrats and the U.S. Office of Personnel Management to spare legislators and congressional staff the economic costs of Obamacare and the reality of the health care exchanges they have forced most of the rest of us into was too much for Louisiana Republican Sen. David Vitter and Florida Rep. Ron DeSantis, who have introduced legislation to block the taxpayer subsidies OPM recently okayed.
For their trouble, because they have it in mind to prevent the taxpayers from being stuck with an even bigger bill, Vitter has been viciously and unfairly attacked by his senate colleagues:
"Although Senator Vitter has happily allowed the federal government to pay for a portion of his health insurance for many, many years, as a member of the House of Representatives and as a member of the Senate, now he wants to force these 16,000 congressional workers to cover the full cost of their health insurance," Senate Majority Leader and Obamacare subsidy supporter Harry Reid said recently on the Senate floor. "With this background one must ask, if Senator Vitter opposes the employer contribution to congressional staffers, does he oppose it also for the 150 million other Americans whose employers help pay their health insurance premiums? Does he want to discourage private employers from doing the right thing and providing their employees with affordable health insurance? Is that what he wants? Just to do away with health insurance that 150 million Americans have in America? Millions, I repeat, millions and millions of employers rely on this important benefit to attract the best and brightest and hardest working people they can find."
Reid may have dressed the argument up nicely and put a bow on it but a pig is still a pig. What he's talking about is what is already happening to millions of Americans whose employers have either cannot comply or have chosen not to comply with what Obamacare requires them to do. Even the unions that make up the once all-powerful AFL-CIO are squirming under its dictates – although all they want, typically, is an exemption for their members and only their members rather than outright repeal.
In the natural order of things, "repeal and replace" is evolving into "delay, dismantle, and do over" and there is little the president can do to stop it. Sometimes the waiting is the hardest part but, in the end, it's going to all come tumbling down.
.     .     .     .     .     .     .     .     .     .     .     .     .     .     .     .     .     .     .     .
Peter Roff is a Senior Fellow at Frontiers for Freedom, a Washington, D.C.-based public policy organization advocating on behalf of limited government. Follow him on Twitter at @PeterRoff.