by Stephen F. Hayes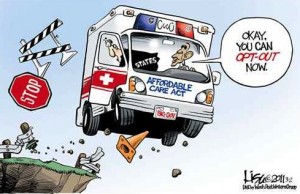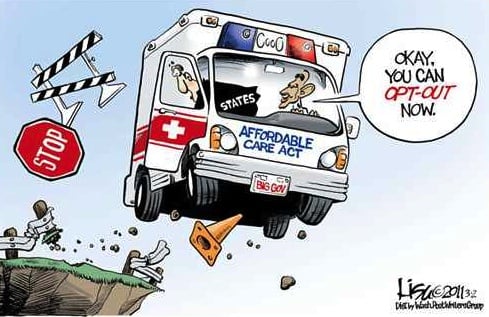 It's been one year since the Supreme Court decision that allowed Obama administration officials to begin implementing the Affordable Care Act, and the frequency and volume of reports about the challenges facing those reforms—and the difficulties they are visiting on those who were supposed to benefit from them—are increasing dramatically.
Jeff Vernon, an employee of Scrambler Marie's restaurant in Toledo, Ohio, told a local reporter that the owners were cutting his hours to avoid penalties under Obamacare. Businesses with more than 49 employees have to offer insurance to all "full-time" workers—defined as those who put in 30 hours or more each week. The result, for Vernon: $400 less in take-home pay every month. "That leaves me $27.50 for two weeks to live off of," he explained. Vernon said the owners tried to avoid the cuts but didn't have any other recourse. "They were real good about that," he added. "The last thing they wanted to do was cut people. They don't want to fire anybody."
Other business owners haven't been able to avoid eliminating jobs. A Gallup poll taken in June found that nearly one in five small businesses—19 percent of those surveyed—have cut workers "as a specific result of the Affordable Care Act." The same poll, first reported by CNBC, found that 41 percent of those interviewed had suspended hiring because of Obamacare. The poll of 603 business owners with less than $20 million in annual sales also found that 55 percent believe Obamacare will lead to higher health care costs, while just 5 percent saw future cost savings.
The steady stream of negative stories in recent months is one reason the Obama administration is preparing a massive public relations campaign to promote the launch of health care exchanges on October 1, 2013—which is fewer than 100 days away. The administration is seeking to enlist high-profile athletes and celebrities to sell Obamacare and its alleged benefits. Kathleen Sebelius, secretary of health and human services, told reporters last week that HHS officials are working with major American sports leagues on the campaign.
"We're going to be wherever people are," said Sebelius, noting that the talks included discussions of "partnership efforts" as well as paid advertising. "The NFL, for instance, in the conversations I've had, has been very actively and enthusiastically engaged because they see health promotion as one of the things that is good for them and good for the country."
But the top spokesman for the NFL gave The Weekly Standard a rather different characterization of those discussions. "The NFL, NBA, and others were contacted by the administration. We have made no commitments nor discussed any details with the administration," says Greg Aiello, the NFL's senior vice president of public relations. "We are in the process of clarifying what it is the administration would ask of us." There's quite a difference between "very actively and enthusiastically engaged" and "made no commitments nor discussed any details."
The comments from Sebelius concerned some owners and league executives who aren't eager to lend the NFL's brand to Obama's unpopular health care law. According to a Harris poll taken in December 2012, professional football remains the most popular sport in America, with 34 percent of those surveyed calling it their favorite (compared with just 16 percent for baseball and 7 percent for basketball). League sources say NFL officials were "surprised" by the comments from Sebelius.
Sebelius's remarks also concerned Representative Steve Scalise, a Republican from Louisiana who serves as chairman of the influential Republican Study Committee. On June 27, Scalise wrote to Roger Goodell and David Stern, respectively the commissioners of the NFL and NBA, asking for details about the administration's request. "Has the NFL or the NBA been asked by HHS to contribute funds or in-kind services to any third-party organization aiding the promotion or implementation of PPACA?" he asked. "Has the NFL or the NBA been asked by HHS to encourage enrollment in the new health insurance exchanges or other aspects of PPACA?"
Scalise, in an interview with The Weekly Standard, pointed to recent hearings the House Energy and Commerce Committee held examining previous requests Sebelius made to private entities as part of her drive to boost Obamacare. "I don't think any private organization should be pressured to help promote a law the administration is admitting isn't even ready," he says. "The NFL and the NBA shouldn't be put in this position—it's unethical for the administration to even ask. Secretary Sebelius needs to withdraw any requests she's made."
In the weeks before the momentous congressional votes on the Affordable Care Act, opponents warned of chaos in the health care field and broader economic upheaval if the bill became law and went from theory to reality. Implementation, they predicted, would be a nightmare. That point is no longer in serious dispute, with even proponents of the reforms acknowledging the obvious.
Democratic senator Max Baucus, a chief author of the Affordable Care Act, famously warned in April of an impending "train wreck" because implementation of the law is behind schedule. Gary Cohen, a top official at the Centers for Medicare and Medicaid Services, acknowledged the problems with implementing Obamacare during an appearance at the Brookings Institution last week, even as he insisted that the process is unfolding "on schedule." "I certainly wouldn't claim that we're not going to have any problems and everything's going to work perfectly. I would like for that to happen. But it would be a surprise, I think, if that were to happen."
It won't.
.    .    .    .    .    .    .    .
Stephen F. Hayes is a senior writer at The Weekly Standard.