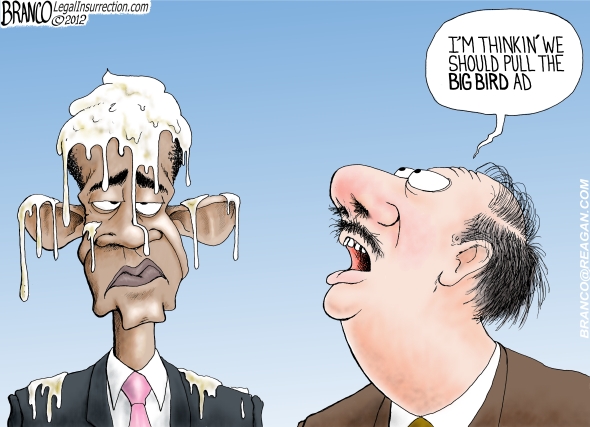 by Samuel P. Jacobs
In 2008, singer will.i.am provided Barack Obama's presidential campaign with music for its signature anthem, "Yes We Can." On Tuesday, at a rally for Obama in Columbus, Ohio, the performer chose to play something new: the theme song for "Sesame Street."
For Obama's supporters, already dismayed by the president's halting performance in last week's debate with Republican Mitt Romney, that change in tune is a new source for concern as they fret that a children's TV show has become a new backdrop for their candidate's campaign.
In a moment of tightening polls and climbing anxiety for Obama's supporters, the president's decision to grant Big Bird a starring role in his campaign this week has presented another reason to reach for the Alka-Seltzer
After Romney named Big Bird as part of a promise to pull government funding for public television, Obama's campaign released a caustic new ad mocking Romney for thinking the character was a "big, yellow menace to our economy."
Since the debate, Obama has been piling on, joking about Romney's designs for the TV show at every campaign stop.
Conservatives have been crowing that the silly turn in the campaign diminishes the president.
"President Obama tried to give the bird to Mitt Romney—but wound up laying an egg," the New York Post wrote Wednesday….
Now Obama, some Democrats fear, is seeking to revive his campaign with too light a jolt. They worry the president looks small by enlisting the eight-foot costume bird in his defense….
"I'm not sure I understand why he is doing it," said Bill Galston, a former Bill Clinton adviser.
It got worse for the Democrats on Tuesday when the makers of Sesame Street asked them to pull the ad because they did not want Big Bird associated with politics….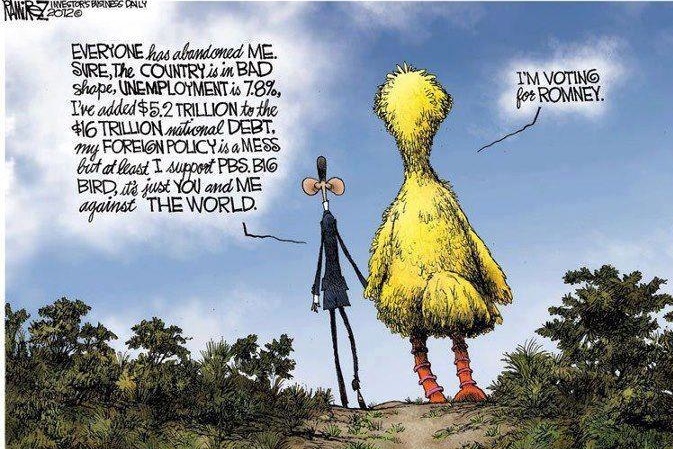 "These are tough times with real serious issues," Romney said in Iowa Tuesday. "So you have to scratch your head when the president spends the last week talking about saving Big Bird."
–   –   –   –   –   –   –   –   –   –   –   –   –
Samuel P. Jacobs' full article is printed at Reuters.com.