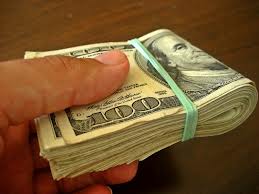 by Daniel Greenfield
"I don't think American elections should be bankrolled by America's most powerful interests, and worse, by foreign entities," Obama said in his 2010 State of the Union address.
But we have no idea who Obama is really being bankrolled by.
The Obama campaign, which is on track to become the first billion-dollar presidential campaign, reported raising $181 million from more than 1.8 million individuals in the month of September. However, just two percent of those donations were above the reporting threshold ($250) set by the Federal Election Commission (FEC). The average donation was $53, barely above the $50 limit threshold, under which campaigns are not even required to record a donor's name.
And with RoboDonations, it's ridiculously easy to split up donations below threshold level. A large enough volume of small donations makes it impossible to catch any but the occasional cheat. With 1.8 million donations, of which only 2 percent are known, that leaves 1.76 million unknown donors in just last month.
As the Government Accountability Institute's report, America the Vulnerable, has chronicled, lots of foreign entities are sending their money Obama's way with the complicity of the Obama campaign.
As had first been reported during the previous election, the Obama campaign is not using CVV verification for campaign donations, but is using it for selling Obama merchandise.
GAI notes that the Obama campaign's failure to use such security measures in its online donation system likely costs it "millions of dollars in additional fees" because "card processors charge higher transaction fees for campaigns that fail to use the CVV.
The Obama campaign isn't so incompetent that it will go on bleeding money by not adding CVV confirmation unless it were making more money on foreign and unverified donors than it is losing on transaction fees. This is a basic pro and con calculation that has clearly been made a while back.
That has consequences both high level and low level.
A Norwegian blogger posts a solicitation from the Obama campaign, including the link to the donate page. When another blogger opines that non-U.S. citizens cannot contribute because of American law, the blogger responds in Norwegian,"I have in practice given money to Obama, I had done it."
The big story to come out of the report and the Newsweek story on it is Obama.com
Obama.com is a domain drawing donations for Obama. The domain is owned by an Obama bundler who works with Chinese state owned communications industries and its traffic is mostly foreign. And the site is managed by some sketchy types.
Administration of the page was taken over by a small company with only four employees listed on its website. Wicked Global, of Waterville, Maine, registered to a 25-year-old former Harvard student named Derek Dorr. Another Dorr, Gregory, is listed as "Lead Marketing" for Wicked Global and lists additional work for himself on LinkedIn: fundraising and program director for Peace Action Maine and as a "private consultant" with Maine Voices for Palestinian Rights.
Robert Roche, born in Chicago to become China's infomercial king, has made deep alliances with China's ChiCom media elites and that puts him at the cross-section of any Chinese media strategy to influence the American election. He's also a co-chair of the Technology Initiative for the Obama campaign, has committed to raise half-a-million for Obama and has donated 100 grand to an Obama PAC. He's also made 19 visits to the White House.
Obama's people considered Roche important enough that during Hu Jintao's visit, they put him at a table with the Clintons, the Kerrys and the Carters, making it clear that Roche was there acting as some sort of broker between the two governments. But it's also likely that Roche is one of the figures in an overseas fundraising strategy. There are probably similar figures in the Muslim world and in Europe who find ways to move foreign money into Obama's campaign coffers.
For the Post-American Administration, taking in money from abroad poses no real challenge. Anyone can donate and until the donations are flagged, there's no problem.
Aside from directly supporting Obama, quite a few foreign governments need him to be reelected. Any country whose economy is tied to energy exports needs Obama to stay in power and continue suppressing American drilling. That includes Russia, Iran and Saudi Arabia. China needs a weak American government in order to continue throwing its weight around. And that may be the real scandal.
It's not just that Obama has opened his campaign chest to foreign donors, it's that his foreign and domestic policies give foreign donors an urgent need to keep him in office.
–   –   –   –   –   –   –   –   –   –   –   –
Daniel Greenfield's writings can be found here.