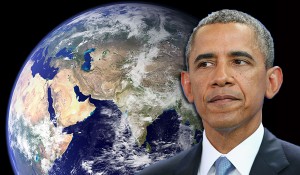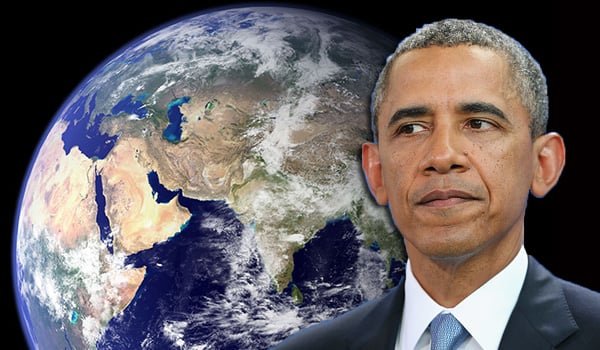 President Barack Obama has given the nation a new "Council on Climate Preparedness and Resilience" that expands government bureaucrats' role in how Americans use their lands, energy, waters and property.
Obama announced the executive order Friday, the day after Halloween.
The order is titled "Preparing the United States for the Impacts of Climate Change."
The new order was issued even though recent scientific data have contradicted claims that use of carbon energy — such as gasoline — will drive up the world's temperature and induce damaging climate change. Average temperatures have leveled for more than a decade, despite the sharply rising use of carbon energy in China and other countries.
U.S. use of carbon energy has stabilized with increasing market-driven efficiency and tightening regulations.
The council is officially intended "to prepare the Nation for the impacts of climate change by undertaking actions to enhance climate preparedness and resilience."
The order bypasses Congress, and is directly implemented by Obama's deputies and appointees in the federal bureaucracies.
It allows agencies to use the promise of environmental disaster to force changes on Americans' use of energy and land, and to increase taxpayer spending on expanding the fledgling renewable energy sector.
The new council will be co-chaired by the the chairman of the Council on Environmental Quality, the scientist who runs the Office of Science and Technology Policy, and by the Assistant to the President for Homeland Security and Counterterrorism.
It will include top-level representatives from numerous subservient agencies, including the Pentagon, Treasury, Justice, Interior, Agriculture and Commerce. The council can conscript any government agency to provide data on responding to global warming.
The executive justifies the increased role for progressive-style government by describing a threatened litany of environmental disasters
"The impacts of climate change — including an increase in prolonged periods of excessively high temperatures, more heavy downpours, an increase in wildfires, more severe droughts, permafrost thawing, ocean acidification, and sea-level rise — are already affecting communities, natural resources, ecosystems, economies, and public health across the Nation," the order claims.
"Managing these risks requires deliberate preparation, close cooperation, and coordinated planning by the Federal Government, as well as by stakeholders, to facilitate Federal, State, local, tribal, private-sector, and nonprofit-sector efforts to improve climate preparedness and resilience," the order insists.
.     .     .     .     .     .     .     .     .     .     .     .     .     .     .
Neil Munro is the White House Correspondent at the Daily Caller.