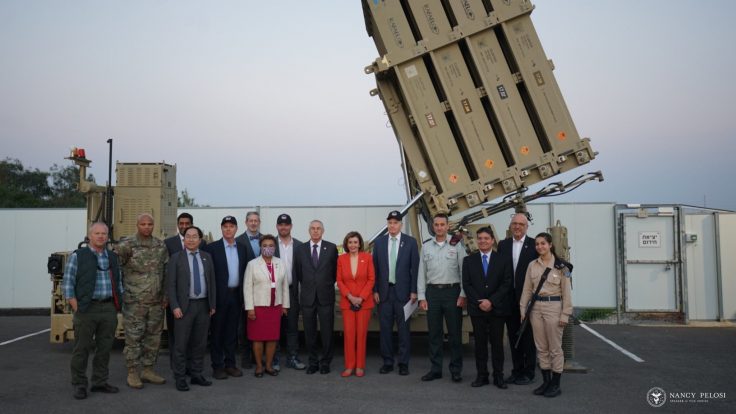 House Speaker Nancy Pelosi (D., Calif.) on Wednesday celebrated Israel's Iron Dome, just months after she backed down to pressure from the anti-Israel flank of her caucus and cut funding from the missile defense program from a major government spending bill.
Pelosi, who traveled to Israel this week to meet with leaders of the Jewish state, posed for a photo in front of an Iron Dome missile-interception launcher that she posted to Twitter. The speaker praised the system for saving "thousands of lives," and touted House legislation that funded the Iron Dome.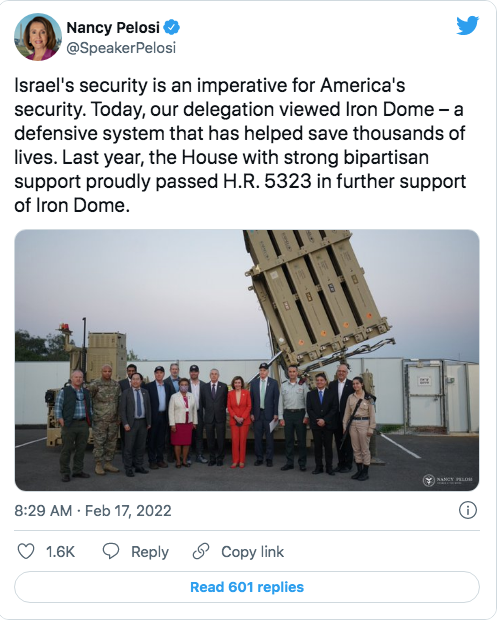 Unmentioned by Pelosi is that last September, as the House voted on a funding bill to avert a government shutdown, Democratic leadership cut $1 billion in Iron Dome funding from the bill after anti-Israel progressives threatened to derail it over its support for Israel's defense. "Squad" member Alexandria Ocasio-Cortez (D., N.Y.) reportedly persuaded Pelosi to remove the funding.
Days after Democratic leadership cut Iron Dome spending from the funding bill, the House overwhelmingly passed a stand-alone bill to fund the Israeli self-defense system, but its removal from the larger spending bill was a major victory for anti-Israel members of Congress. The progressive "Squad" members, including Reps. Ilhan Omar (D., Minn.) and Rashida Tlaib (R., Mich.), either voted "present" or against the funding.
Israel's Iron Dome has proven to be an effective self-defense tool. The sophisticated missile system is able to calculate whether missiles shot at the Jewish state will hit populated parts of the country, and shoot them down if they pose a danger to civilian or military targets.