President Joe Biden and his team at the White House won't be the first ones to tell you but record numbers of illegal aliens are still pouring across the Southern border with little to no vetting more than one year after the open-borders Democrat assumed office.
U.S. Customs and Border Protection logged approximately 153,941 migrant encounters along the Southern U.S. border last month, according to court documents obtained by Fox News. While that's nearly 20,000 fewer alien encounters than recorded at the border in December, 178,840, the alarming figures are nearly double the number, 78,414, of encounters recorded in January 2021.
The figures also indicate that border officials, in accordance with Biden's open-borders policies, released at least 62,573 into the U.S. last month alone. Most of these migrants were likely instructed to show up to U.S. Immigration and Customs Enforcement across the country but many will fail to report.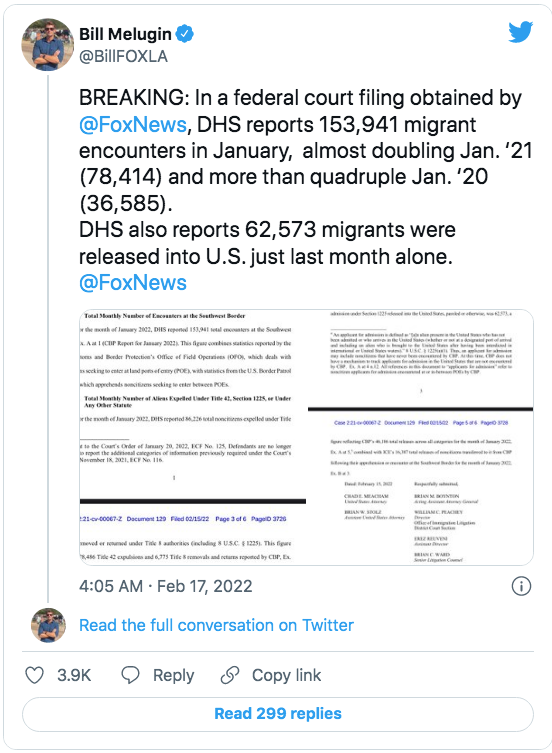 Since last February, there have been more than 100,000 illegal alien apprehensions at the Southern U.S. border every month. Already this fiscal year, the U.S. has recorded more than half a million Southwest border encounters. As peak migration season picks up in spring and summer months, border apprehensions are expected to climb and even exceed 2 million for the 2022 fiscal year. This would top the 2021 fiscal year's already record-breaking 1.7 million apprehensions.
The White House is predictably silent on the Biden administration's failures that led to the current border crisis despite the role the president has played in exacerbating it. The administration also appears to have no public plan to curb skyrocketing migration and humanitarian crises at the border as the year goes on.
The White House's silence on Biden's raging border crisis is going to hurt Democrats in the upcoming midterms. As the Washington Examiner's Byron York noted in his "Daily Memo," the White House's willful ignorance of the problems that come with open borders is hurting Democrat popularity among Hispanics.
Polling suggests that most Americans disapprove of the president's handling of the border crisis, including a majority of Hispanics, especially those in border states such as Texas. At least 56 percent of registered voters nationwide said they believe that Republicans would "do a better job on border security" than Democrats, who control the House, Senate, and White House right now.