"A troubled and afflicted mankind looks to us, pleading for us to keep our rendezvous with destiny; that we will uphold the principles of self-reliance, self-discipline, morality, and—above all—responsible liberty for every individual that we will become that shining city on a hill. I believe that you and I together can keep this rendezvous with destiny."
by Scott L. Vanatter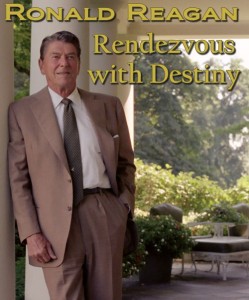 Ronald Reagan formally announced his presidential candidacy with an address which was nationally televised on November 13, 1979. He began by relating that he saw "our country [as] a living, breathing presence, unimpressed by what others say is impossible, proud of its own success, generous, yes and naïve, sometimes wrong, never mean and always impatient to provide a better life for its people in a framework of a basic fairness and freedom. . . ."
Reagan stated prime solution to economic the nation's economic problems, "The key to restoring the health of the economy lies in cutting taxes."
After telling why this works, he taught the nation what the Federal government should and should not do. "The 10th article of the Bill of Rights is explicit in pointing out that the federal government should do only those things specifically called for in the Constitution. All others shall remain with the states or the people. We haven't been observing that 10th article of late. The federal government has taken on functions it was never intended to perform and which it does not perform well."
Reagan then related a heart wrenching story where his father was given notice that he no longer had a job, on Christmas Eve. He then vowed, "I cannot and will not stand by while inflation and joblessness destroy the dignity of our people."
Energy problems were just as troublesome then as now. He outlined how we would solve the energy crisis. "First we must decide that 'less' is not enough. Next we must remove government obstacles to energy production. And, we must make use of those technological advantages we still possess. It is no program simply to say 'use less energy.'" He set a line in the sand by stating, "As President I will not endorse any course which has this as its principle objective."
Presciently he forecast, "In years to come solar energy may provide much of the answer but for the next two or three decades we must do such things as master the chemistry of coal. Putting the market system to work for these objectives is an essential first step for their achievement. Additional multi-billion dollar federal bureaus and programs are not the answer."
In the face of a supposedly strong Soviet Union, he overtly said that, "Negotiations with [them] must never become appeasement."
Comparing the situation in 1979 with George Washington's men freezing at Valley Forge, he reminded us of what Tom Paine told Americans: "We have it in our power to begin the world over again." Reagan assured us, "We still have that power."
Again, the future president harked to John Winthrop in 1630 telling the little band of pilgrims, "We shall be as a city upon a hill. The eyes of all people are upon us so that if we shall deal falsely with our God in this work we have undertaken and so cause Him to withdraw His present help from us, we shall be made a story and a byword throughout the world."
Then, in the depths of the malaise America supposedly found itself in, Reagan challenged, "A troubled and afflicted mankind looks to us, pleading for us to keep our rendezvous with destiny; that we will uphold the principles of self-reliance, self-discipline, morality, and—above all—responsible liberty for every individual that we will become that shining city on a hill. I believe that you and I together can keep this rendezvous with destiny."
Click here to see the full transcript of this important speech.
Please see below for key excerpts.
I've seen America from the stadium press box as a sportscaster, as an actor, officer of my labor union, soldier, officeholder and as both Democrat and Republican. . . .
OUR CONTRY IS A LIVING, BREATHING PRESENCE
To me our country is a living, breathing presence, unimpressed by what others say is impossible, proud of its own success, generous, yes and naïve, sometimes wrong, never mean and always impatient to provide a better life for its people in a framework of a basic fairness and freedom. . . .
The crisis we face is not the result of any failure of the American spirit; it is a failure of our leaders to establish rational goals and give our people something to order their lives by. If I am elected, I shall regard my election as proof that the people of the United States have decided to set a new agenda and have recognized that the human spirit thrives best when goals are set and progress can be measured in their achievement.
ECONOMY
The people have not created this disaster in our economy; the federal government has. It has overspent, overestimated, and over regulated. . . .
The key to restoring the health of the economy lies in cutting taxes. At the same time, we need to get the waste out of federal spending. This does not mean sacrificing essential services, nor do we need to destroy the system of benefits which flow to the poor, the elderly, the sick and the handicapped. We have long since committed ourselves, as a people, to help those among us who cannot take care of themselves. But the federal government has proven to be the costliest and most inefficient provider of such help we could possibly have. . . .
We must force the entire federal bureaucracy to live in the real world of reduced spending, streamlined functions and accountability to the people it serves. We must review the functions of the federal government to determine which of those are the proper province of levels of government closer to the people.
TENTH ARTICLE OF THE BILL OF RIGHTS
The 10th article of the Bill of Rights is explicit in pointing out that the federal government should do only those things specifically called for in the Constitution. All others shall remain with the states or the people. We haven't been observing that 10th article of late. The federal government has taken on functions it was never intended to perform and which it does not perform well. There should be a planned, orderly transfer of such functions to states and communities and a transfer with them of the sources of taxation to pay for them. . . .
I CANNOT AND WILL NOT STAND BY
All these things are possible; none of them will be easy. But the choice is clear. We can go on letting the country slip over the brink to financial ruin with the disaster that it means for the individual or we can find the will to work together to restore confidence in ourselves and to regain the confidence of the world. I have lived through one depression. I carry with me the memory of a Christmas Eve when my brother and I and our parents exchanged modest gifts – there was no lighted tree as there had been on Christmases past. I remember watching my father open what he thought was a greeting from his employer. We all watched and yes, we were hoping for a bonus check. It was notice that he no longer had a job. And in those days the government ran radio announcements telling workers not to leave home looking for jobs – there were no jobs. I'll carry with me always the memory of my father sitting there holding that envelope, unable to look at us. I cannot and will not stand by while inflation and joblessness destroy the dignity of our people.
ENERGY
Another serious problem which must be discussed tonight is our energy situation. Our country was built on cheap energy. Today, energy is not cheap and we face the prospect that some forms of energy may soon not be available at all. . . .
Solving the energy crisis will not be easy, but it can be done. First we must decide that "less" is not enough. Next we must remove government obstacles to energy production. And, we must make use of those technological advantages we still possess.
It is no program simply to say "use less energy." . . . As President I will not endorse any course which has this as its principle objective.
We need more energy and that means diversifying our sources of supply away from the OPEC countries. Yes, it means more efficient automobiles. But it also means more exploration and development of oil and natural gas here in our own country. The only way to free ourselves from the monopoly pricing power of OPEC is to be less dependent on outside sources of fuel.
The answer obvious to anyone except those in the administration, it seems, is more domestic production of oil and gas. We must also have wider use of nuclear power within strict safety rules, of course. There must be more spending by the energy industries on research and development of substitutes for fossil fuels.
In years to come solar energy may provide much of the answer but for the next two or three decades we must do such things as master the chemistry of coal. Putting the market system to work for these objectives is an essential first step for their achievement. Additional multi-billion dollar federal bureaus and programs are not the answer. . . .
NEVER APPEASEMENT
On the foreign front, the decade of the 1980's will place severe pressures upon the United States and its allies. . . . Negotiations with the Soviet Union must never become appeasement. . . .
LOST CONFIDENCE
In recent months leaders in our government have told us that, we, the people, have lost confidence in ourselves; that we must regain the spirit and our will to achieve our national goals. Well, it is true there is a lack of confidence, an unease with things the way they are. But the confidence we have lost is confidence in our government's policies. Our unease can almost be called bewilderment at how our defense strength has deteriorated. The great productivity of our industry is now surpassed by virtually all the major nations who compete with us for world markets. And, our currency is no longer the stable measure of value it once was.
IN OUR POWER TO BEGIN THE WORLD OVER AGAIN
But there remains the greatness of our people, our capacity for dreaming up fantastic deeds and bringing them off to the surprise of an unbelieving world. When Washington's men were freezing at Valley Forge, Tom Paine told his fellow Americans: "We have it in our power to begin the world over again." We still have that power.
We—today's living Americans—have in our lifetime fought harder, paid a higher price for freedom and done more to advance the dignity of man than any people who ever lived on this earth. The citizens of this great nation want leadership—yes—but not a "man on a white horse" demanding obedience to his commands. They want someone who believes they can "begin the world over again." A leader who will unleash their great strength and remove the roadblocks government has put in their way. I want to do that more than anything I've ever wanted. And it's something that I believe with God's help I can do.
SPIRITUAL REVIVAL
I believe this nation hungers for a spiritual revival; hungers to once again see honor placed above political expediency; to see government once again the protector of our liberties, not the distributor of gifts and privilege. Government should uphold and not undermine those institutions which are custodians of the very values upon which civilization is founded—religion, education and, above all, family. Government cannot be clergyman, teacher and parent. It is our servant, beholden to us.
A RENDEZVOUS WITH DESTINY
We who are privileged to be Americans have had a rendezvous with destiny since the moment in 1630 when John Winthrop, standing on the deck of the tiny Arbella off the coast of Massachusetts, told the little band of pilgrims, "We shall be as a city upon a hill. The eyes of all people are upon us so that if we shall deal falsely with our God in this work we have undertaken and so cause Him to withdraw His present help from us, we shall be made a story and a byword throughout the world."
A troubled and afflicted mankind looks to us, pleading for us to keep our rendezvous with destiny; that we will uphold the principles of self-reliance, self-discipline, morality, and—above all—responsible liberty for every individual that we will become that shining city on a hill.
I believe that you and I together can keep this rendezvous with destiny.