Patriotism…is good, but it won't count for much, and it won't last unless it's grounded in thoughtfulness and knowledge.
by Scott L. Vanatter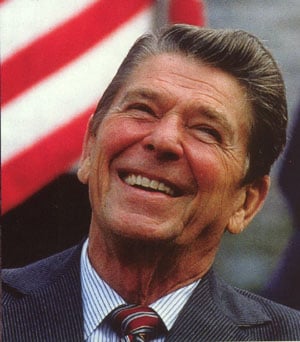 Both Republicans and Reagan Democrats fondly recall our 39th President. Everyone benefited from not only from his foreign policy, and economic policy accomplishments, but also how he restored a belief in America.
On January 11, 1989 Reagan spoke from the Oval Office and gave his Farewell Address. It was broadcast live on nationwide radio and television.
Click here for the full transcript of this Farewell Address.
See excerpts below.
It's been quite a journey this decade, and we held together through some stormy seas. And at the end, together, we are reaching our destination. . . .
And in all of that time I won a nickname, "The Great Communicator." But I never thought it was my style or the words I used that made a difference: it was the content. I wasn't a great communicator, but I communicated great things, and they didn't spring full bloom from my brow, they came from the heart of a great nation — from our experience, our wisdom, and our belief in the principles that have guided us for two centuries. They called it the Reagan revolution. Well, I'll accept that, but for me it always seemed more like the great rediscovery, a rediscovery of our values and our common sense. . . .
The lesson of all this was, of course, that because we're a great nation, our challenges seem complex. It will always be this way. But as long as we remember our first principles and believe in ourselves, the future will always be ours. And something else we learned: Once you begin a great movement, there's no telling where it will end. We meant to change a nation, and instead, we changed a world.
Countries across the globe are turning to free markets and free speech and turning away from the ideologies of the past. For them, the great rediscovery of the 1980's has been that, lo and behold, the moral way of government is the practical way of government: Democracy, the profoundly good, is also the profoundly productive. . . .
And I hope we have once again reminded people that man is not free unless government is limited. There's a clear cause and effect here that is as neat and predictable as a law of physics: As government expands, liberty contracts. . . .
Finally, there is a great tradition of warnings in Presidential farewells, and I've got one that's been on my mind for some time. But oddly enough it starts with one of the things I'm proudest of in the past 8 years: the resurgence of national pride that I called the new patriotism. This national feeling is good, but it won't count for much, and it won't last unless it's grounded in thoughtfulness and knowledge.
An informed patriotism is what we want. And are we doing a good enough job teaching our children what America is and what she represents in the long history of the world? Those of us who are over 35 or so years of age grew up in a different America. We were taught, very directly, what it means to be an American. And we absorbed, almost in the air, a love of country and an appreciation of its institutions. If you didn't get these things from your family you got them from the neighborhood, from the father down the street who fought in Korea or the family who lost someone at Anzio. Or you could get a sense of patriotism from school. And if all else failed you could get a sense of patriotism from the popular culture. The movies celebrated democratic values and implicitly reinforced the idea that America was special. TV was like that, too, through the mid-sixties. . . .
So, we've got to teach history based not on what's in fashion but what's important — why the Pilgrims came here, who Jimmy Doolittle was, and what those 30 seconds over Tokyo meant. . . .
And let me offer lesson number one about America: All great change in America begins at the dinner table. So, tomorrow night in the kitchen I hope the talking begins. And children, if your parents haven't been teaching you what it means to be an American, let 'em know and nail 'em on it. That would be a very American thing to do.
And that's about all I have to say tonight, except for one thing. The past few days when I've been at that window upstairs, I've thought a bit of the "shining city upon a hill." The phrase comes from John Winthrop, who wrote it to describe the America he imagined. What he imagined was important because he was an early Pilgrim, an early freedom man. He journeyed here on what today we'd call a little wooden boat; and like the other Pilgrims, he was looking for a home that would be free.
I've spoken of the shining city all my political life, but I don't know if I ever quite communicated what I saw when I said it. But in my mind it was a tall, proud city built on rocks stronger than oceans, wind-swept, God-blessed, and teeming with people of all kinds living in harmony and peace; a city with free ports that hummed with commerce and creativity. And if there had to be city walls, the walls had doors and the doors were open to anyone with the will and the heart to get here. That's how I saw it, and see it still.
And how stands the city on this winter night? More prosperous, more secure, and happier than it was 8 years ago. But more than that: After 200 years, two centuries, she still stands strong and true on the granite ridge, and her glow has held steady no matter what storm. And she's still a beacon, still a magnet for all who must have freedom, for all the pilgrims from all the lost places who are hurtling through the darkness, toward home.
We've done our part. And as I walk off into the city streets, a final word to the men and women of the Reagan revolution, the men and women across America who for 8 years did the work that brought America back. My friends: We did it. We weren't just marking time. We made a difference. We made the city stronger, we made the city freer, and we left her in good hands. All in all, not bad, not bad at all.
And so, goodbye, God bless you, and God bless the United States of America.