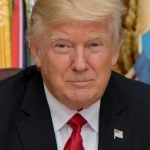 By Peter Roff • RealClearPolitics
The relationship with Kuwait should be one of the United States' strongest, but it is starting to fray. There's still time to set it right, and the Kuwaiti Emir's visit to Washington last week was a good start. Meanwhile, however, investors remain on edge, as they have been ever since officials in this Gulf state froze millions of dollars in American and international assets without any clear explanation.
Candidly, there's a lot going on in Kuwait that's suspect. The regime seems to be cozying up to Iran and China, officials have made remarks about Israel that are just short of incendiary, and corruption surrounding the delivery of supplies to U.S. troops stationed there has been highly disruptive. Americans, it seems to me, have the right to expect better from those whom they saved by leading an international intervention after their country was invaded by Saddam Hussein.
It seems instead that much has changed since President Donald Trump hosted Sheikh Sabah Al-Ahmad Al-Sabah last year and hailed the countries' bilateral relationship, calling it as strong as it had ever been. Indeed, the country continues to be a key regional security partner with 20,000 U.S. troops stationed there.
Recently though, officials in the Kuwaiti government seem to have gone to great lengths to offend America's allies and get close to our adversaries. Their outspoken defense of the Palestinians inside the U.N. Security Council has undermined the White House's effort to make peace and has caused problems for Israel. The United States was even forced to veto a Kuwaiti-drafted resolution calling for the protection of Palestinians in the West Bank and Gaza. Continue reading →
---