The House hearing on Benghazi reveals that Hillary Clinton's spin about the attack was a politically expedient fiction.

by Kimberley A. Strassel     •     Wall Street Journal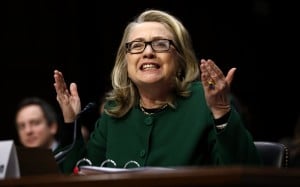 Thanks to Hillary Clinton's Benghazi testimony on Thursday, we now understand why the former secretary of state never wanted anyone to see her emails and why the State Department sat on documents. Turns out those emails and papers show that the Obama administration deliberately misled the nation about the deadly events in Libya on Sept. 11, 2012.
Don't forget how we came to this point. Mrs. Clinton complained in her testimony on Capitol Hill that past Congresses had never made the overseas deaths of U.S. officials a "partisan" issue. That's because those past deaths had never inspired an administration to concoct a wild excuse for their occurrence, in an apparent attempt to avoid blame for a terror attack in a presidential re-election year. Continue reading →
---