If the deal approved, this much is certain — Iran will obtain nuclear weapons, terrorism will increase, an arms race in the Middle East will ensue, and America and our allies will be far less secure.
by George Landrith   •   President of Frontiers of Freedom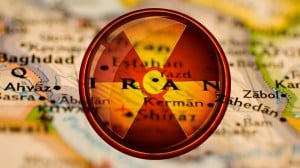 Under the agreement now being celebrated by the Supreme Leader of the Islamic Republic of Iran, Ali Khamenei, and by the President of the United States, Barack Obama, Iran will become a nuclear power in 15 years — perhaps sooner. Even the Obama administration admits that Iran could have nukes within about one year, if it cheats on the agreement. But in any event, the deal paves the way for Iran to have nukes in 15 years — all with the world's approval and blessings.
If 15 years sounds like a long time, think about your young child, grandchild, niece or nephew and ask if their world will be a safer place if the Islamic Republic of Iran has nuclear weapons when that child is in from high school.
Former Democratic Vice Presidential Candidate and former Senator Joseph Lieberman testified before Congress this week, "The agreement …ultimately allows Iran to become a nuclear weapon state, and indeed legitimizes Iran's possession of nuclear weapons….  This is a bad deal for America, a bad deal for Iran's neighbors in the Middle East, and a bad deal for the world."  Continue reading →