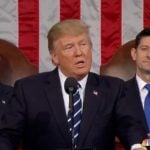 by Ali Meyer • Washington Free Beacon
In a speech to a joint session of Congress Tuesday night, President Donald Trump outlined five principles to guide lawmakers when repealing and replacing the Affordable Care Act.
"Tonight I am also calling on this Congress to repeal and replace Obamacare with reforms that expand choice, increase access, lower cost, and at the same time provide better health care," the president said. "Mandating every American to buy government approved health insurance was never the right solution for our country."
"The way to make health insurance available to everyone is to lower the cost of health insurance, and that is what we are going to do," the president said.
Trump criticized Obamacare, explaining how premiums have increased by double and triple digits, how one-third of counties in the United States are left with only one insurer participating on the exchanges, and how the law is "unsustainable and collapsing." Continue reading →
---