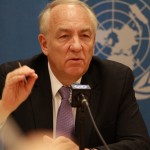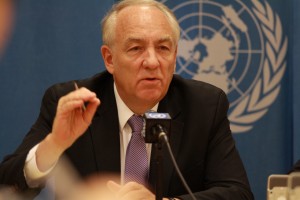 By Shawn Macomber • Lawfare Tyranny
Did you know the United States has an "Ambassador-at-Large for War Crimes Issues"?
Yes, well, don't feel too badly if you didn't. It's essentially the definition of an obscure post. Still, Stephen Rapp — the man who has held it for the vast majority of the Obama Administration's reign — is giving himself a public pat on the back for what he calls his "quite successful" part in "reversing our strategy of hostility to the ICC and engaging with the ICC supportively."
Here's what Rapp recently told JusticeInfo.net when asked, "What is the thing that you have been most proud of?":
Well I think first our engagement in a positive way with the International Criminal Court, having come out of a period under the Bush administration, at least the first term of George W. Bush, when they wanted to kill this court in the cradle. Under the Obama administration, we took up our position as observers and looked to our law, which restricted us to some degree (a law passed in 2002), but allowed us to assist the court on a case by case basis. So we're working closely to try to help the court succeed.
The Court, of course, needs all the help it can get — we're talking about an institution that has blown more than a billion dollars over the last thirteen years to secure exactly two convictions of obscure African warlords; that chases atrocities rather than deterring them; that fancies itself as above reproach as it selectively enforces murky law according to its own rent-seeking needs and whims.
---