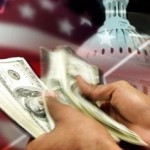 By Peter Roff • USNews
Serious people are starting to wonder if tax reform can pass, largely because they're only talking to people inside Washington.
Instead they should talk to the American people. Most of them are hungry for it. A quarter of small business owners surveyed by CNBC/Survey Money said taxes were the most critical issue they currently face. Overall it's their No. 1 concern and, since small business is the engine of growth in the U.S. economy, that's an important consideration.
Things have improved since Election Day 2016, but the economy is still not growing like it needs to if we are to have hope of ever paying down the national debt, now equal to about one year's U.S. GDP. Continue reading →
---