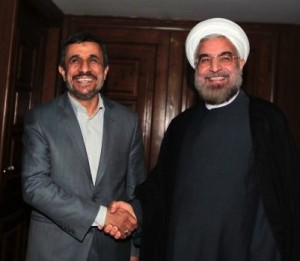 The search, now 30 years old, for Iranian "moderates" goes on. Amid the enthusiasm of the latest sighting, it's worth remembering that the highlight of the Iran-contra arms-for-hostages debacle was the secret trip to Tehran taken by Robert McFarlane, President Reagan's former national security adviser. He brought a key-shaped cake symbolizing the new relations he was opening with the "moderates."
We know how that ended.
Three decades later, the mirage reappears in the form of Hassan Rouhani. Strange résumé for a moderate: 35 years of unswervingly loyal service to the Islamic Republic as a close aide to Ayatollahs Khomeini and Khamenei. Moreover, Rouhani was one of only six presidential candidates, another 678 having been disqualified by the regime as ideologically unsound. That puts him in the 99th centile for fealty.
Rouhani is Khamenei's agent but, with a smile and style, he's now hailed as the face of Iranian moderation. Continue reading →