The Biggest Obamacare Disaster You've Never Heard About
by Mark Tapscott     •      Daily Caller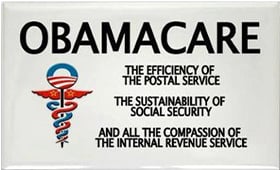 It's an Obamacare story with every imaginable outrage — blatant conflicts of interest, millions of tax dollars going to political cronies, thousands of Americans left without health insurance, lavish pay for incompetent executives, federal funds diverted illegally, multiple congressional investigations, insider trading convictions and big decisions made behind closed doors.
Tragically, there is even a child abuser. But search the New York Times web site for "Obamacare co-ops" and nothing comes up. Just three entries appear for the same search on the Washington Post web site.
Not so for Richard Pollock of the Daily Caller News Foundation's Investigative Group. Pollock has filed dozens of stories about the Obamacare co-ops since 23 of the tax-funded groups were created in 2011 at a cost of $2 billion. President Obama promised the co-ops would help lower medical costs by competing with profit-driven private companies.
Seven of the co-ops have closed. A recent report by the Department of Health and Human Services Inspector General said the rest of the co-ops are in deep financial trouble and more are expected to close.
None of these dismal developments come as a surprise to those following Pollock's byline for the past four years. Here are a dozen of his most significant co-op stories, some of which were reported when he worked for the Washington Examiner.
• One third of Obamacare co-ops have failed.
• New York's Obamacare co-op drew the most consumer complaints.
• Feds admit more Obamacare co-op failures are coming.
• Obamacare co-op execs hid millions in lavish pay, consulting fees.
• House panel says Obamacare co-op illegally diverted $25 million.
• 'Luxurious' funding lets Obamacare co-ops undercut commercial rivals.
• Obamacare co-ops mostly not ready for opening day.
• Four investigations of Obamacare co-ops.
• Obamacare's Louisiana co-op riddled with self-dealing, conflicts of interest.
• Groups led by insider trader, child abuser got Obamacare co-op loans.
• Obama political ally got $340 million Obamacare co-op loan.
• Obamacare co-ops being formed behind closed doors.
---