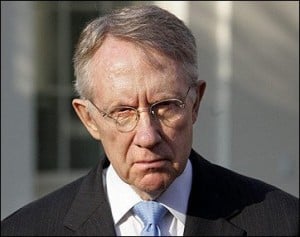 by Jim Geraghty
Ask voters what their top priority is, and the most frequent answer is "the economy," although that's a catch-all term for a wide variety of concerns and sub-issues. That March Gallup poll found 59 percent personally worry about "the economy" a great deal; 58 percent said they worry about "federal spending and the deficit," 57 percent "the availability and affordability of health care," 49 percent "unemployment," and 48 percent "the size and power of the federal government."
Rarely will you find a political environment as golden for a Republican policy agenda as this one.
To be sure, there's reason for Republicans to worry that the concern about "federal spending and the deficit" is a mile wide and an inch deep; previous polls indicated the public opposes spending cuts in just about every part of the federal government except foreign aid. (Foreign aid represents about 1 percent of federal spending.) But if the public is interested in cutting only the lowest of the low-hanging fruit, grab a pair of scissors and start cutting. There's no shortage of examples of dumb federal spending, and the GOP House can pass bill after bill zeroing out funding for these programs:
• The National Endowment for the Humanities can take a cut after spending $1 million to fund the "Popular Romance Project" exploring "the fascinating, often contradictory origins and influences of popular romance as told in novels, films, comics, advice books, songs, and internet fan fiction, taking a global perspective — while looking back across time as far as the ancient Greeks." Separately, the NEH and the National Endowment for the Arts teamed up to award $825,000 for a documentary about comic books.
• Push a bill to eliminate funding for the National Cowboy Poetry Gathering in Nevada, too, just because Harry Reid will eagerly defend that from the floor of the Senate.
• Rescind the Pentagon's decision to destroy, shred, and scrap $7 billion in excess equipment in Afghanistan.
• Once that equipment comes home, stop giving it to local law enforcement: "At a cost of $500,000 each, U.S. taxpayers gifted $82.5 million in surplus Mine Resistant Ambush Protected (MRAP) tactical vehicles to law enforcement agencies in 165 communities."
• The government spends approximately $1.5 billion per year on maintenance of properties and buildings it no longer uses.
You can even stop losing $1 million per year printing and attempting to sell government reports that are posted online for free, including a government report on . . . examples of wasteful spending.
Democrats will insist that the current economic pessimism stems from their usual villains — big corporations, rich people, the Koch brothers, and so on. Republicans will have a solid, easy message: that the government has borrowed and spent at unprecedented rates in recent years, only to see our economy sputter along. They can point to the dramatic difference in the rates of job creation in comparable red states and blue states.
If Republicans really want to promote higher wages, perhaps it's just a matter of talking up the successful companies, particularly low-cost retailers, that have gotten great results from paying higher wages and benefits to workers. QuikTrip, Trader Joe's, and Costco Wholesale boast they're getting better sales and more satisfied customers with a workforce that is well paid compared to competitors. Retail sales require people skills, and perhaps those skills aren't as easily replaced as some companies thought. Changing a company's philosophy toward wages will have far more far-reaching consequences than a minimum-wage hike.
Of course, the bread and butter for Republican candidates in 2014 will be rescuing the American people from the lost coverage, higher premiums, higher copays, higher deductibles, and mandated choices of Obamacare. The president's health-care law has never polled well, and there's no indication it will be popular by November. A new round of premium hikes is expected in the coming year.
In his first term, President Obama was fond of claiming that Republicans had driven the economy into the ditch. This year, GOP candidates will have an easy argument that the economy is still in the ditch, and our health-care system is now stuck in the mud down there, too.
.     .     .     .     .     .     .     .     .     .     .     .     .     .     .     .
Jim Geraghty writes the Campaign Spot on National Review Online.