by Dr. Miklos K. Radvanyi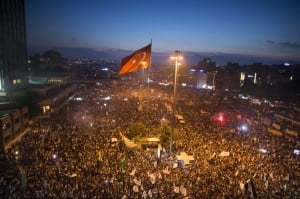 Since the proclamation of the Republic (Cumhuriyet) on October 29, 1923, Turkey had been a deeply divided country, and what had been even more problematic, either ruled by quasi­legitimate governments or the military. Oscillating between Western secularism and Oriental despotism both had existed under insoluble contradictions. While, officially they had declared allegiance to constitutional freedoms and to Ataturk's six principles, statism, reformism, nationalism, secularism, republicanism and populism, in reality they had ruled by attempting to fully control all the instrument of national sovereignty. Theoretically, Turkey had been governed by the principles of British parliamentarianism, but actually the people had had no say in politics. Thus having been deprived of real opposition, political modernization in a quintessentially Muslim state had been doomed to failure. Clearly, the governing elites and the people had been existing for almost a century within the narrow confines of their desire to be seen as Europeanized and their deep seated Islamic traditions. The political and cultural schizophrenia had poisoned Turkish society with lies and had resulted in regularly recurring crises.
Amidst enduring political instability, military interventions and a series of economic shocks, the elections of 2002 had brought to power the Justice and Development Party, established in 2001 by the former mayor of Istanbul Recep Tayyip Erdogan and then his closest associate Abdullah Gul. Erdogan and his party had gained and maintained power for an unprecedented fourteen years overwhelmingly through the fanatical support of conservative and fundamentalist Muslims in the heartland of the country.
In his mind, Erdogan had always viewed himself as a revolutionary. Accordingly, he had presented himself as the mayor of Istanbul as a modernizer who had no patience with the status quo and its incompetence and bureaucratic defeatism. During his tenure between 1994­1998 he proved to be pragmatic, mostly avoiding religious conflicts. He improved water supply by laying a network of new pipelines, reduced pollution by building recycling facilities, switched to natural gas for heating, cooling and operating public transportation, and reduced traffic chaos by constructing more than fifty bridges, viaducts and highways. He also repaid the city's two billion dollar debt while investing four billion dollars in Istanbul.
However, while still the mayor of Istanbul, he recited a poem by Ziya Gokalp in the town of Siirt and added extemporaneously the following lines that were not in the original version: "The mosques are our barracks, the domes our helmets, the minarets our bayonets and the faithful our soldiers…." The criminal court found his doctored recitation under Article 312 of the Penal Code incitement to violence and religious hatred, and sentenced him to ten months in prison in 1999.
Installed as Prime Minister in March 2003, Erdogan had proved to be a Janus­faced politician. Toward the West he had shown himself as a pragmatic leader, striving to prepare Turkey for full membership in the European Union. Concerning Russia, he had pursued a policy of peaceful coexistence and good neighborliness. He had initiated negotiations with the Islamic Republic of Iran and strengthened relations with Syria. He also tightened bilateral relations with the Islamic states of the former Soviet Union. Finally, he intimated that he is ready to open a new chapter with Armenia by allowing Turkish scholars to research and publish works on the Armenian genocide.
Domestically, improvements in economic policies created a positive environment for businesses. Stricter regulations on the bank coupled with a more proactive Central Bank had helped to end chronically high inflation. During this reforming period, also hailed as the "Turkish Model", corruption had been curbed and transparency introduced to government procurement processes. The government had raised investment in education, infrastructure and healthcare. Yet after 2007, reforms had been reversed. The independence of the Central Bank had been significantly curtailed. Transparency had gone out of the window. Corruption had reached as high as Erdogan's children and other close relatives. Many sectors of the economy had been taken over by Erdogan's cronies and political grandees directly or indirectly.
Correspondingly, Turkey's limited democracy had suffered major setbacks too. The media had been decapitated by wholesale closure of independent outlets. Journalists had been arrested, tried and incarcerated in numbers that had made Turkey the number one jailer of intellectuals in the world. The judiciary lost its independence in similar fashion. The brutal suppression of the Gezi Park protests and the equally merciless crush of similar pro­democracy movements in several other cities, had heralded the end of civil society. Erdogan also triumphed over the military in the so­called "Ergenekon" case. Using trumped up charges, the by then highly politicized courts had sentenced numerous members of the military elite to life or long prison terms.
These contradictions and lies that had been inherent in Erdogan's deceptive attempt to harmonize Western democracy and Islam had given rise in 2011 to a highly misguided and megalomaniac foray into a dangerously adventurous foreign policy. Riding the tail of the tiger named "Arab Spring" Erdogan had masqueraded in the West as a Muslim democrat, while had been lending massive support to the theocratic regime of the Muslim Brotherhood in Egypt. His stupid interventions in Syria, Yemen Tunisia, Libya, Iraq and Sudan had been equally destructive. Ironically, tolerating and even encouraging the sobriquet "Sultan", he had openly speculated about the restoration of the Caliphate in Ankara. Tragically for the Arab world, Erdogan had viewed the Sunni states not as objects of national sovereignty but as supporting actors in his delusional farce.
The most recent attempt to bring down Erdogan's autocracy had failed. Undoubtedly, ruthless reprisals will follow. Also assuredly, Erdogan's powers will increase, at least in the short run. Yet Turkey is and will remain even more divided than before the coup d'etat, because its political system will continue to be based on a monstrous lie. Erdogan's Turkey is not an Islamic democracy. The "Turkish Model" is dead. NATO in general and the United States in particular have a major geopolitical challenge. Surrounded by a weakening alliance and a world that is falling apart, will NATO be able to stop the rot? The answer will depend on whether the United States will marshall its strength and will finally pay more attention to developing coherent strategies than mere tactics.