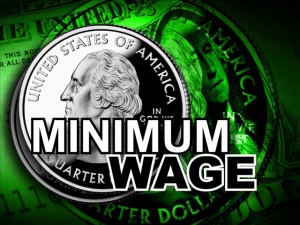 The article below discusses the push in Illinois to raise the minimum wage to $10 and hour. While we cannot endorse each point made in the article, it does a good job of describing the absurdity of solving current job growth and economic growth problems by focusing on the minimum wage. In North Dakota where there is an economic and energy boom, there is rapid economic growth and full employment. Kids working at McDonalds can earn up to $15 an hour. This was done not be raising the minimum wage, but instead, by the free-market creating jobs and thus, driving wages higher through natural natural means. The article makes some excellent points. Enjoy!
Beyond the minimum wage
Gov. Pat Quinn wants to raise the minimum wage in Illinois to at least $10 an hour. Some of the Republican challengers to Quinn have danced clumsily around the issue.  Our concern is that this narrow focus on a small shift in wages for a small number of workers misses the real point of debate.
Illinois is desperate for jobs of all kinds. This state has the fourth highest unemployment rate in the nation and, according to a recent, credible survey, the worst prospects for job growth. Unemployment is significantly higher than the state average in communities such as Rockford, Kankakee, Decatur and Danville. It is desperately high in some of Chicago's poorest neighborhoods.
Illinois increased the state minimum wage four times in recent years, from $6.50 in 2006 to $7.50 in 2007 to $7.75 in 2008 to $8 in 2009 and to $8.25 in 2010.
During that same period, the number of families living in poverty in the state increased, according to a 2013 report from Chicago-based Social IMPACT Research Center, a Heartland Alliance affiliate. The number of households living in poverty went from 11.9 percent in 2007 to 15 percent in 2011.
A national study by economists Joseph Sabia and Richard Burkhauser found that state and federal minimum wage increases between 2003 and 2007 had no effect on state poverty rates. "When we allow for negative employment effects, we find that the working poor face a disproportionate share of the job losses," they concluded.
The take-away: Increasing the minimum wage has a modest impact on those who are affected. It doesn't lift families out of poverty. It hurts workers and the unemployed when employers adjust to a higher cost of doing business by reducing staff or cutting hours and benefits.
We need a much broader discussion about how to put Illinoisans to work.
What works? Some ideas:
• Martin Singer, CEO of Bloomingdale-based PCTEL, a publicly traded company that makes equipment for the wireless communication industry, suggested in the Jan. 7 Tribune that Illinois could improve the jobs climate by lowering the corporate tax rate. If companies paid less in taxes, they would use the extra revenue to pay employees higher wages: "… businesses want to retain experienced employees and maintain a work environment that fosters productivity," he wrote. Singer recommended that lower-paid workers be eligible for bonuses based on the company's performance. Every small- to mid-sized business should offer its employees retirement accounts. The long-term benefit is a reduced reliance on Social Security and a personal safety net for the workers.
• Provide better access to affordable housing. One idea: Introduce or expand programs that reward landlords in stable communities for integrating their properties with low-income renters. Give landlords in good standing a property tax break for renting to low-wage earners. Mayor Rahm Emanuel announced a five-year housing plan last week that will encourage developers to rehab foreclosed and abandoned buildings, and rent to low-income earners. That's a good start.
• Encourage high schools in disadvantaged neighborhoods to incorporate job training and apprentice programs into their curriculum. Expand access to adult job training programs that produce results. This state throws grant money at dozens of training programs statewide with little accountability. Find out which programs actually work, and then consolidate and expand them.
• Reduce costly bureaucracy for those trying to legitimately access benefit programs. Illinois' Commission on the Elimination of Poverty's 2013 report said many people who are eligible for programs are unaware of them or don't know how to navigate the system. The people following the rules shouldn't have to break through a forest of red tape to get assistance, and the state should do a better job of restricting programs to those who abuse them. The General Assembly could start by requiring photo identification on food assistance cards, one way to limit abuse.
• Expand tax incentives and other programs that reward companies for hiring the disabled and those with criminal records, the commission recommended. Too many offenses are ineligible for expungement, and too many employers shy away from hiring anyone with a blemish on their record.
The best way to lift families out of poverty and improve living standards for everyone is to bring more jobs to Illinois. There are plenty more ideas. For Springfield, it starts with getting the state's fiscal house in order so potential employers don't have to worry about getting caught in a train wreck. And that means discipline: reducing the corporate tax rate, downsizing government, making required payments into the pension system and paying down an embarrassing backlog of unpaid bills.
Raising the minimum wage shows compassion, but it has not shown that it raises living standards in Illinois. There is much, much to do. It all starts with a job.
.     .     .     .     .     .     .     .     .     .     .     .     .     .     .     .     .     .     .     .     .
This article was written by the editorial board of the Chicago Tribune.